Launched in 2009, FanDuel's Daily Fantasy Sports (DFS) platform has been and still remains one of the best DFS sites around, with only the rivaling DraftKings coming close. In fact, many DFS players question, which is better, Fanduel, or Draftkings?
In this article, we will examine the FanDuel promo code needed to claim the $500 sign-up bonus, as well as their mobile app, the DFS contests they run, and the states they operate in.
FanDuel Promo Code
You can get the $500 deposit bonus when you use the FanDuel promo code BESTPROMOCODE. To use the code, simply head to FanDuel, then enter your email address, a screen name, and password, and click 'Play Now'.
After that, deposit funds into your account, and FanDuel will match the amount in the form of a bonus up to $500. In other words, deposit anything up to $500 and you'll receive a bonus for the same amount.
Is there a FanDuel App?
The FanDuel DFS app is available for both iOS and Android devices. Simply search FanDuel – Daily Fantasy Sports on the Apple App Store or Google Play Store.
What Contests Do FanDuel Run?
For those unfamiliar, Daily Fantasy Sports are an accelerated variant of traditional fantasy sports, conducted over short-term periods of time such as a day, a few days, or a week of competition.
Specifically, FanDuel's DFS offers more traditional DFS contests which involve building a roster (or lineup) of professional players within a designated salary limit. As opposed to prop-based contests newer platforms such as MonkeyKnifeFight and PrizePicks offer.
Before contests start, each player eligible for a contest is assigned a salary (determined by FanDuel's proprietary algorithm). Owners must then build a complete roster without exceeding the roster limit. Winners of contests are determined by the total amount of fantasy points produced by the rosters.
Fan Duel Promo Code Information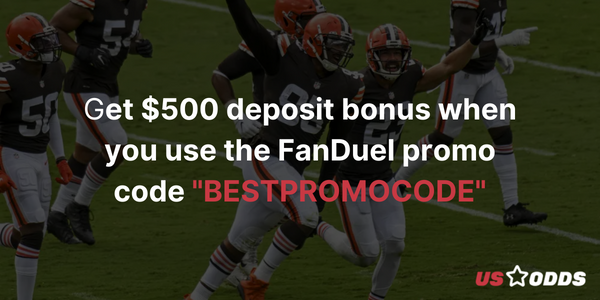 Promo Code
Sign up today and you can get an exclusive $100 sign-up bonus with the FanDuel promo code "BESTPROMOCODE".
FanDuel Eligible States
AZ, CO, CT, IA, IL, IN, LA, MI, NJ, NY, PA, TN, VA, WV
FanDuel is available to residents over 18+, please gamble responsibly.
FanDuel Sports
NBA, NFL, MLB, Golf, UFC, College Football, College Basketball, Soccer, NASCAR, NHL, Super Bowl, World Series, CFB and more!

Traditionally, FanDuel has offered two main forms of contests: 'cash games' and 'GPPs.'
In cash games (also known as double ups), users compete to finish in the top 50% of the contest to win double their entry fee. A special version of the cash game is the Head-to-Head contest, where two users compete directly against each other to double their money.
In GPPs, a field of contestants play for a limited number of larger prizes. In this sort of game, the prize structure is somewhat exponential–the first place winner may win upwards of 25% of the prize pool, while the last qualified winner (about the 75th percentile) wins about 1%.
Although contest structure has generally remained the same, FanDuel has recently begun to experiment with roster structure. Within each sport, FanDuel now offers a bevy of different roster builds.
Some new roster structures include:
Single Game contests, which feature smaller lineups that focus on a single match. In this lineup, fantasy managers designate a 'MVP' player that receives a multiplier on their points.
For instance, if you designate a player as your MVP in an NFL contest and they score 20 fantasy points, the MVP multiplier of 1.5x would scale their point total up to 30.
Snake Draft contests, wherein fantasy managers draft their fantasy lineup directly against other users as opposed to building one with a salary limit.
Sport-Specific Variations
For NFL games, FanDuel now offers a SuperFlex roster contest, which is an roster that includes a 'superflex' position that allows users to play two quarterbacks (as opposed to the usual one).
Within the NBA, FanDuel offers a 3-Point Challenge, wherein users select three shooters that only earn points when they make a three-point shot.
Sports Leagues Covered by Fanduel
Football (NFL/NCAAF)
MLB
Basketball (NBA/NCAAB/WNBA)
NHL
Soccer (English Premier League)
Golf
What states can you play DFS on FanDuel?
Alabama
Alaska
Arizona
Arkansas
California
Colorado
Connecticut
Delaware
Florida
Georgia
Illinois
Indiana
Iowa
Kansas
Kentucky
Maine
Maryland
Massachusetts
Michigan
Minnesota
Mississippi
Montana
Nebraska
New Hampshire
New Jersey
New Mexico
New York
North Carolina
North Dakota
Ohio
Oklahoma
Oregon
Pennsylvania
Rhode Island
South Carolina
South Dakota
Tennessee
Texas
Utah
Vermont
Virginia
West Virginia
Wisconsin
Wyoming