Who are OwnersBox?
Going live in 2020 and licensed to offer real-money fantasy sports contests in over 25 US states, OwnersBox is an innovative site that's ideal for people of all skill levels. Indeed, it doesn't matter if you're a daily fantasy sports master or a complete newbie, this DFS betting site has something to suit everyone. From head-to-head contests to tournaments with mega-prizepools, you can test your player-picking skills in a variety of ways.
What's more, you can win real money through a combination of contests, promotions, and loyalty bonuses. Put simply, if you're a fantasy sports fan, OwnersBox is the place to be. So, if you're ready to learn a little more about this impressive platform, scroll down and check out our OwnersBox review.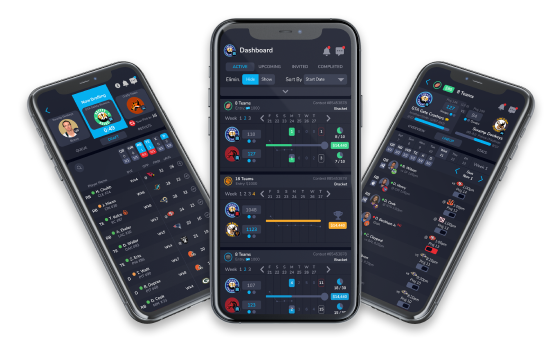 | | | |
| --- | --- | --- |
| Countries/States | OwnersBox Authorized To Operate? | License Pending? |
| Canada | Yes | |
| Alabama | Yes | |
| Alaska | Yes | |
| Arizona | | DFS Prohibited |
| Arkansas | Yes | |
| California | Yes | |
| Colorado | Yes | |
| Connecticut | | DFS Prohibited |
| Washington DC | Yes | |
| Delaware | No | |
| Florida | Yes | |
| Georgia | Yes | |
| Hawaii | | DFS Prohibited |
| Idaho | | DFS Prohibited |
| Illinois | Yes | |
| Indiana | No | |
| Iowa | No | |
| Kansas | Yes | |
| Kentucky | Yes | |
| Louisiana | No | |
| Maine | Yes | |
| Maryland | Yes | |
| Massachusetts | Yes | |
| Michigan | No | |
| Minnesota | Yes | |
| Mississippi | No | |
| Missouri | Yes | |
| Montana | | DFS Prohibited |
| Nebraska | Yes | |
| Nevada | | DFS Prohibited |
| New Hampshire | Yes | |
| New Jersey | Yes | |
| New Mexico | Yes | |
| New York | Yes | |
| North Carolina | Yes | |
| North Dakota | Yes | |
| Ohio | Yes | |
| Oklahoma | Yes | |
| Oregon | Yes | |
| Pennsylvania | No | |
| Rhode Island | Yes | |
| South Carolina | Yes | |
| South Dakota | Yes | |
| Tennessee | Yes | |
| Texas | Yes | |
| Utah | Yes | |
| Vermont | Yes | |
| Virginia | Yes | |
| Washington | | DFS Prohibited |
| West Virginia | Yes | |
| Wisconsin | Yes | |
| Wyoming | Yes | |
OwnersBox New Customer Sign-Up Offer
All new customers can get a $25 in bonus cash when they click here to join OwnersBox and deposit at least $10. You'll also get a $5 no deposit bonus that you can use to enter a contest.
The caveat with the $25 deposit bonus is that it requires a 5x playthrough by taking part in real money DFS contests. Meanwhile, the $5 free entry bonus requires a 10x playthrough.
The important point to note here is that your VIP status determines how much it costs to convert $1 in OwnersBucks into $1 worth of real cash. Since every new customer starts at Level 1, aka Rookie, your conversion rate will be 4%. In other words, for every $10 you wager on DFS contests, $0.40 will be converted from OwnersBucks into cash.
How to Claim this Offer Using Our Exclusive OwnersBox Promo Code
You can get the $25 OwnersBox new customer offer by following these simple steps:
Click here to register for your first (and only) OwnersBox account.
Create your OwnersBox login details.
Input our exclusive OwnersBox promo code ODDS when asked for a referral code.
Verify your new account and log in.
Earn $5 to enter contests.
Make a deposit of at least $10
Earn $25 bonus
Start entering paid DFS contests.
OwnersBox Contests
OwnersBox weekly fantasy sports contests cover four different sports:
Football
Hockey
Baseball
Basketball
Once you've chosen your sport, there are two ways to take part in daily fantasy matchups and weekly fantasy matchups. The most popular way to enjoy fantasy sports at OwnersBox is by taking part in tournaments.
However, in a bid to give experienced fantasy sports fans something extra, this DFS site also offers head-to-head contests. Unlike PrizePicks or Monkey Knife Fight, OwnersBox does not offer prop-style contests.
OwnersBox Head-to-Head Contests
Head-to-head fantasy sports contests at OwnersBox are single elimination showdowns. First, you have to choose how many teams you want to compete against 2, 4, 8, or 16. The next thing you have to do is decide how many weeks you want to play for 1, 2, 3, or 4.
Once you've set the basic structure, everyone is paired up. You then go through a live draft where everyone chooses their athletes. The showdowns start after this point. Your aim is the beat your opponent and move on to the next round. The player that makes it through all the rounds is declared the winner and takes the cash prize.
What's great about OwnersBox is that you can get live alerts and player stats. This allows you to see how your team is performing and make changes during the contest. That's what separates this daily fantasy sports site from many of its peers. Having easy access to information means you can stay on top of your game at all times.
OwnersBox Tournaments
If you prefer to take on more players and compete for larger prizepools, OwnersBox DFS tournaments are perfect. There are daily fantasy sports tournaments and weekly fantasy sports tournaments available at all times. Whichever ones you enter, the format will always be the same.
You choose your 10-player team in whichever sport you prefer (football, hockey, basketball, or baseball). Your selections must be within budget. At OwnersBox, you get a $200,000 salary cap.
You get to manage your team over a seven-day period and make player swaps if necessary.
Once the DFS tournament starts, you'll get live updates and stats so you can monitor your progress and make adjustments if they're required.
Approximately 25% of the field receives a return on their investment. That's impressive, particularly if you're a fantasy sports novice. Naturally, the winner takes the lion's share of the pot. However, the fact a quarter of entrants get something back is a real selling point.
OwnersBox Promo Code Information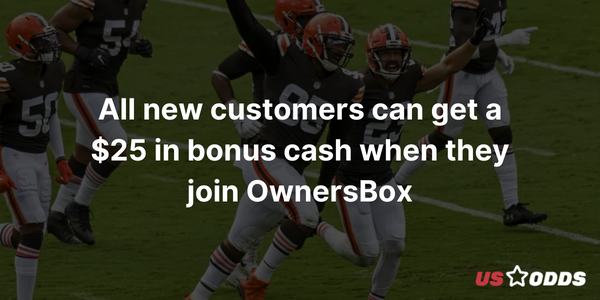 Promo Code
Sign up today and you can get an exclusive $100 sign-up bonus with the OwnersBox promo code "BESTPROMOCODE".
OwnersBox Eligible States
AL, AK, AR, CA, CO, DC, FL, GA, IL, KS, KY, ME, MD, MA, MN, MO, NE, NH, NJ, NM, NY, NC, ND, OH, OK, OR, RI, SC, SD, TN, TX, UT, VT, VA, WV, WI, WY
OwnersBox is available to residents over 18+, please gamble responsibly.
OwnersBox Sports
NFL, MLB, NHL, NBA, Baseball, Football, Hockey, Basketball and more!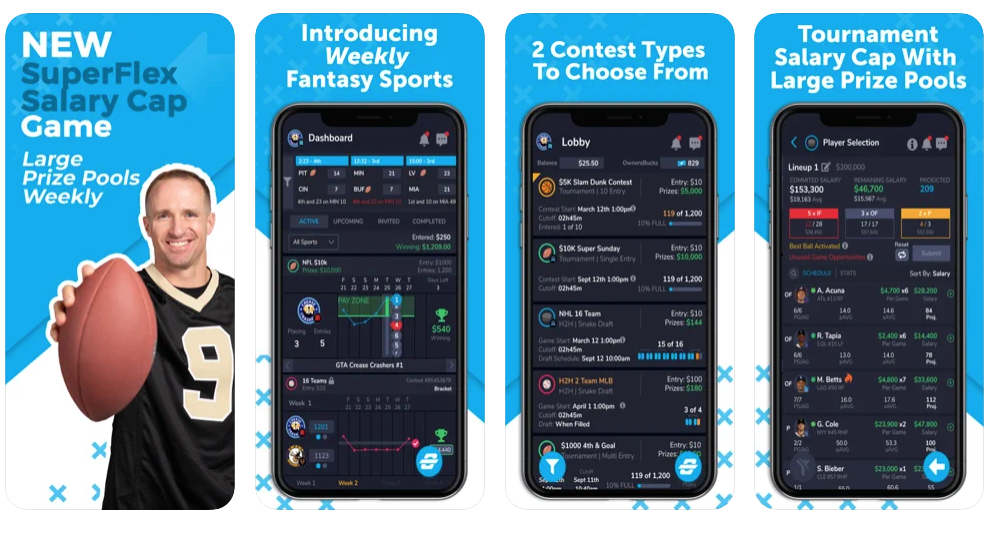 OwnersBox Mobile App
OwnersBox is available for desktop and mobile devices. Those that want to take part in live drafts and regular fantasy sports contests on the move can download the OwnersBox app. The software is available for iOS and Android devices and, although the interface is packed with a lot of stuff, it's fairly easy to use.
In fact, if you love statistics and data, this is one of the best DFS sites out there because you get access to tons of historical information and live updates. When you combine these features with push notifications to your mobile device, there's no excuse for not managing your team like a pro.
How to download on iOS
Click here to join OwnersBox
Register your details and input our OwnersBox promo code DREW9 when promoted
Verify your account
Once you've created your account, go to the Apple Store and search for "OwnersBox"
Download the OwnersBox iOS app and use your login details to start playing DFS contests via your mobile
How to download on Android
Click here to join OwnersBox
Register your details and input our OwnersBox bonus code DREW9 when promoted. Verify your account
Once you've created your account, go to Google Play and search for "OwnersBox"
Download the OwnersBox Android app and use your login details to start playing DFS contests via your mobile.
OwnersBox Deposit and Withdrawal Methods
All payments into and out of OwnersBox are 100% secure. This is a licensed and legal online fantasy sports betting site, so it adheres to strict regulations. In line with this, you'll find a selection of reputable payment processors, including:
Visa Debit or Credit Card
MasterCard Debit or Credit Card
Discover Debit or Credit Card
American Express Debit or Credit Card
ACH Bank Transfer
Finally, the default currency at this site is USD. The minimum deposit at OwnersBox is $10 and transactions are processed instantly. On the way out, the minimum withdrawal at OwnersBox is $10, and requests are, typically, processed within five days.
OwnersBox Rewards Program
Loyalty count at OwnersBox. The more contests you enter, the more added value you unlock. Like all the best loyalty schemes, the OwnersBox Reward Program works on a contest-for-credits basis. In other words, you earn credits each time you enter contests. The more contests you enter, the higher up the VIP ranks you'll climb, and the more lucrative the rewards become.
Everyone earns credits, aka OwnersBucks, at a rate of 1% the value of a contest's fee. For example, if you pay $100 in entry fees, you'll earn 1 OwnersBuck. At the same time, you're earning credits, you're also unlocking your existing balance at a rate based on your ranking. So, at the bottom level, the conversion rate is 4%. At the top, it's 5.75%.
Therefore, if you're at the top level, you'll receive $5.75 for every $100 worth of OwnersBucks you've got in your account. To put it another way, you can get cashback of up to 5.75% thanks to the OwnersBox loyalty scheme. Again, the more contests you enter, the better your bonus returns will be:
| | | |
| --- | --- | --- |
| OwnersBox VIP Status | Number of Paid Contests You've Entered | The rate At Which You Can Convert OwnersBucks to Cash |
| Rookie | 0-50 | 4.00% |
| Pro | 51-250 | 4.25% |
| Veteran | 251-500 | 4.50% |
| Hall-of-Famer | 501-625 | 4.75% |
| Hall-of-Famer Tier 2 | 626-750 | 5.00% |
| Hall-of-Famer Tier 3 | 751-875 | 5.25% |
| Hall-of-Famer Tier 4 | 876-999 | 5.50% |
| G.O.A.T. | 1,000+ | 5.75% |
OwnersBox Customer Service
Ther OwnersBox FAQ is one of the best we've seen. Not only is it packed with information about every aspect of the site, but the one-touch category buttons also make the database extremely easy to navigate. If you need a more direct form of support, you can use the internal ticketing system, email ([email protected]), or speak to an OwnersBox customer support agent via the live chat widget.