Harness the power of advanced computers with our NFL Computer Picks to make huge returns this weekend! Whip up boring, human predictions with our sleek analytics tool, giving you an edge on predicting football games.
What are NFL Computer Picks?
Our NFL Computer Picks are computer-based predictions on upcoming NFL games. We use a sophisticated sports betting algorithm that analyses huge amounts of sports data to calculate the best value bets to choose from.
Why Should I Use Your Computer Picks?
We've done all the leg work for you! Sure, if you prefer, you can spend hours collating team and player data and then spend hours – days even – analyzing that data and you might win at the end of it.
Alternatively, you can use our NFL Computer Picks that crunch data quicker than any handicapper ever could, and produces out more winning bets than not!
Therefore, the question is, why wouldn't you use our Computer Picks!?
How Our NFL Computer Picks and Predictions Work
Our NFL Computer Picks uses a betting algorithm to analyze NFL team and player data to calculate the best betting picks for upcoming games in the National Football League.
Furthermore, by using computer-generated picks to deliver the best betting NFL picks. All picks listed are completely unbiased and driven entirely by data trends. In other words, our NFL Computer Picks do the legwork for you to perform high-level statistical analysis and produce the best data-backed picks in the NFL.
Essentially, if you're looking for math led NFL picks and parlays that are backed up by strong data analysis then our NFL Computer Picks is a good place to start!
Interpreting Our NFL Computer Picks
We have made every effort to make our Computer Picks as easy to understand as possible. However, we understand that they can be difficult to comprehend for bettors, especially if they have not read them before.
Therefore, please find the below table, which details each component of our picks: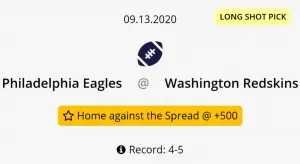 Date
The date the match is being played
Teams
Philadelphia Eagles @ Washington Redskins
Pick Rating
Strong Pick – Top Pick with Great Value
Solid Pick – A Good Value Pick
Long Shot Pick – A Riskier Picks but Good Value Odds
No Pick Rating – No value picks in the match
Pick
Pick type along with odds from our recommended sportsbook
Record
The recent win/loss form of this pick
Our NFL Computer Picks are calculated based on the betting lines for each matchup. Therefore, Thursday Night Football picks are live on a Tuesday/Wednesday, whereas Sunday and Monday's games are usually live by Friday latest.
As previously mentioned, our Computer Picks is powered by an algorithm that uses thousands of data points to produce machine-calculated picks.
However, if you'd prefer to get your picks from our experienced handicappers you can! Our betting experts analyze more than just the data when making their NFL picks. From the team and player form guide, the injury list, travels, or even the altitude for teams playing the Denver Broncos.
Similarly to our NFL Computer Picks, our experts release their Thursday Night Football picks on Wednesday, while their weekend picks and Monday night picks are released on Friday/Saturday.
If you are looking for more than just picks we also cover:
Maximize Our NFL Computer Picks At The Best NFL Sportsbooks
All NFL betting odds are supplied by Bet365 where new customers can get up to $500 in Free Bets using the promo code ODDS500. Find out how to claim the Bet365 bonus during sign-up and claim the free bet credits.
Alternatively, check out our NFL guide which has researched and reviewed the leading online sportsbooks to find the best NFL betting sites to play.
NFL Computer Pick FAQ's
How do NFL Computer Picks Work?
NFL computer picks from US Odds are based on computer-based predictions. Our sophisticated football sports betting algorithm analyses a huge amount of betting data to calculate a range of NFL picks for you to bet on.
Do NFL Computer Picks Always Win?
Although we use a range of sophisticated algorithms to help be as accurate as possible NFL computer picks do not always guarantee a winning wager.
Are NFL Picks services worth it?
NFL pick services such as our recommended computer picks can provide guidance on the best NFL game odds however if you do not have a full grasp in regards to how to bet on NFL games, picks services are not recommended.
If you have a good understanding of how to bet on National Football League (NFL) and how the game play works then computer picks could be the perfect addition to your current betting system.