The top DFS sites bring sports fans closer to the action through big promotions, fun contests, and a slick mobile app, but knowing which one to choose can be difficult.
Therefore, we have listed the best daily fantasy sports sites, which are fun, safe, and secure to play.
Best Daily Fantasy Sports (DFS) Sites in 2023
Get a $100 Deposit Bonus with Code: ODDS
Huge Bonus Offer
Slick Mobile App
Prop Based Contests

You must be 21 or older to play at PrizePicks.
Free Contests For Prizes
Great Customer Support
Rewards Program

Must be at least 18 years old (19 in Alabama & Nebraska and 21 in Massachusetts & Iowa). T&Cs apply.
Secure Payment Options
24/7 Customer Support
Tournament & H2H Contests

Deposit $10, Get Two Free Entries
Great For Beginners
Numerous Contest Types
Quick & Secure Payouts

What are the best DFS sites?
The most well-known DFS sites in the United States are Fanduel and DraftKings. In fact, they account for 95% of the market, which leads many people to ask, which is better, FanDuel or DraftKings?
However, there are newcomers to the DFS industry. For instance, PrizePicks and Monkey Knife Fight are challenging the big two to deliver the best product to play daily fantasy sports.
We only list the best daily fantasy sports websites on this page. However, each sportsbook comes with its own style of playing daily fantasy sports. Therefore, certain types of DFS players may favour one DFS site over another.
Let's take a look at each sportsbook and find out which one is best for you.
PrizePicks
PrizePicks run the simplest fantasy game on the market, which is excellent for those who are new to daily fantasy sports. Essentially, players predict whether a player will go over or under their fantasy points line.
For example, Patrick Mahomes' fantasy points projection is 22.8. Players can select Mahomes to go over his projected fantasy total or under it.
As a result, PrizePicks has no sharks, no optimizers, or mass-multi entry players that take advantage of inexperienced players, because it is just you vs the projection.
Furthermore, the PrizePicks mobile app is available to download in the App Store and Google Play. In fact, their mobile app has gained plaudits for how slick and easy to use it is with 4.8 out of 5 stars in the app store.
New customers can claim a deposit bonus up to $50 when they sign up with our exclusive PrizePicks promo code ODDS. Find out how to use the PrizePicks promo code and double your bankroll.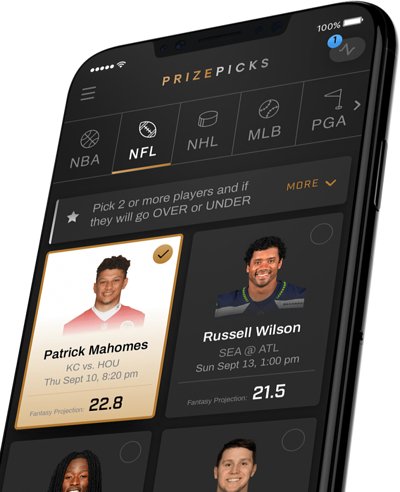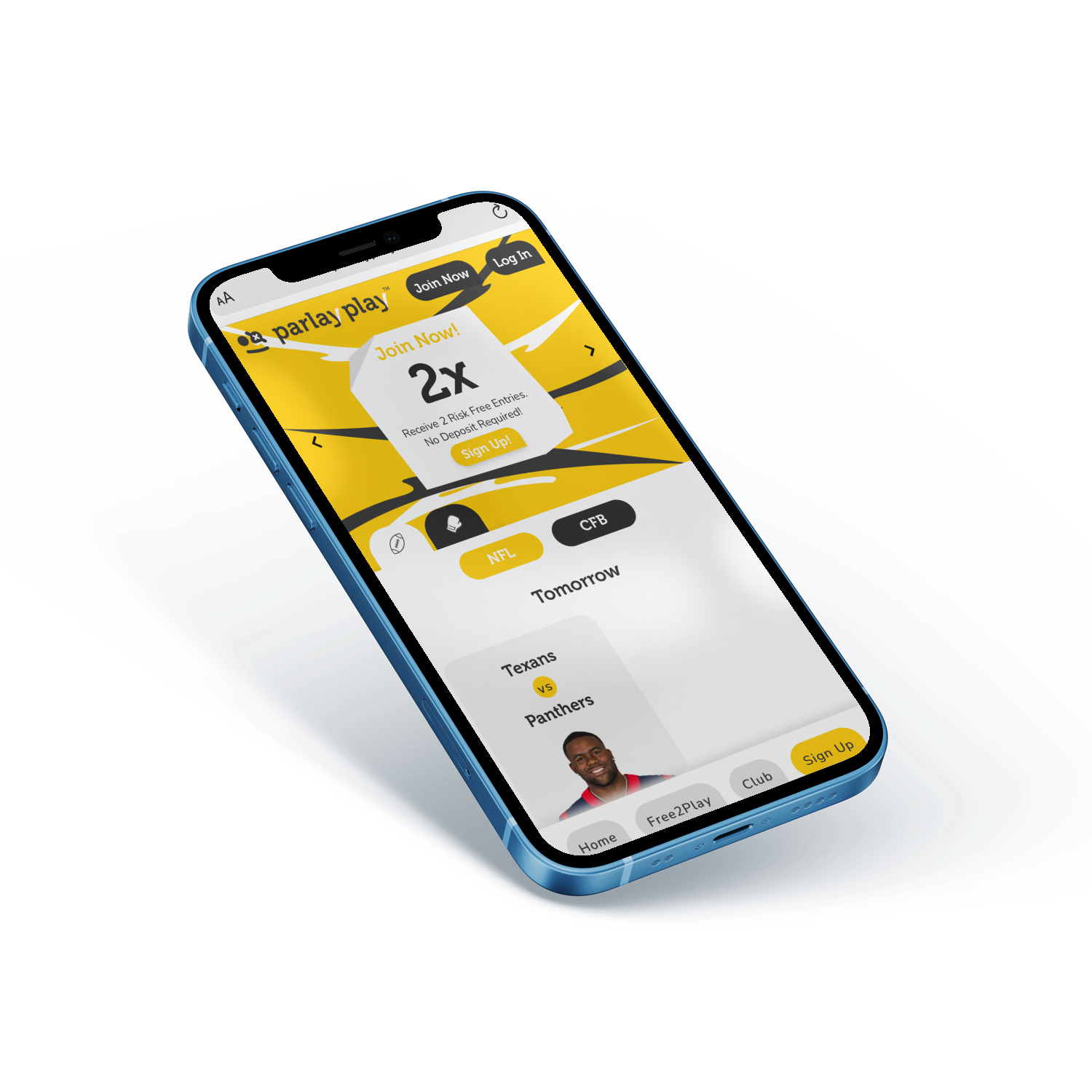 ParlayPlay
Legal in 28 states, up to $60 free for new customers, and neat innovations such as contest insurance. Whichever way you slice it, ParlayPlay is an impressive DFS site. What's even more impressive is that it's become one of the rising stars of Daily Fantasy Sports in a short period of time. It launched in 2020 and, today, it's thriving in California, Florida, Texas, and a host of other states.
All new customers that read our review and use the ParlayPlay promo code ODDS will get $10 just for creating an account. Then, once you've entered a couple of free DFS contests, you can make your first deposit and get up to $50 more in bonus credits. These promotions are great, but they're not the only ways to extract maximum value from this site.
ParlayPlay is the perfect place to test your picking skills. In addition to DFS competitions to suit all preferences, you can take advantage of generous offers such as contest insurance. This allows you to win even if you get a pick or two wrong. Between this, the endless stream of promotions, and the user-friendly interface, ParlayPlay has made itself accessible to everyone.
OwnersBox
If added value and innovative DFS competitions are your thing, make sure you check out OwnersBox. This daily fantasy sports site went live in 2020 and offers an impressive combination of head-to-head showdowns and big-money tournaments. Football, hockey, baseball, and basketball are the sports of choice, and you can choose to test your picking skills against as many or as few people as you like.
Head-to-head contests are round-robin competitions. You can take on a single person or create a pool of up to 16 players for a knockout contest that takes place over one to four weeks. For those that prefer a more traditional style of daily fantasy sports betting, OwnersBox has regular contests. Starting with a $20,000 salary cap, you have a week to construct and then refine your best 10-player team.
Backing you all the way is a huge database of statistics on every player. What's more, you'll earn points each time you enter a real-money contest. These points help to raise your VIP status which, in turn, allows you to convert bonus credits into cash! Finally, if all that doesn't pique your interest, the OwnersBox new customeroffer features a $25 free first deposit bonus.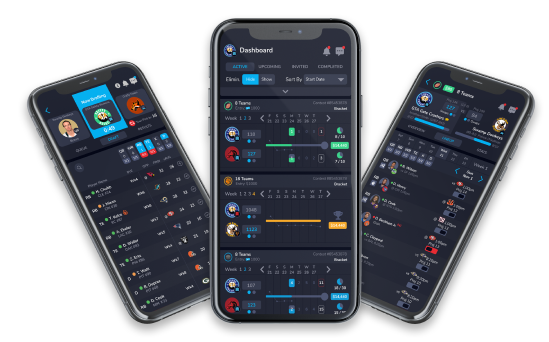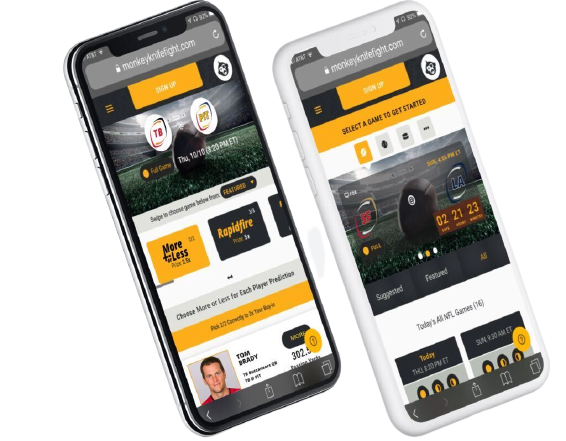 Monkey Knife Fight
If you're looking for something a little bit different, then Monkey Knife Fight is the DFS site for you. Named after a famous scene in The Simpsons, Monkey Knife Fight is a DFS sportsbook that is unique in every way.
The more traditional fantasy sports sites, such as FanDuel and DraftKings, run contests where players pick their line up within a salary cap and compete against each other.
Whereas at Monkey Knife Fight, players choose which props to wager on, as well as how much to wager. Essentially, players are pitting their wits against the DFS Operator. These prop games include Over/Unders, Stat Shootout, and Rapid Fire.
The Monkey Knife Fight mobile is app is only available in the app store at the moment. However, this is not a problem for Android devices, because their mobile site is slick and very easy to use.
If Monkey Knife Fight sounds like the right DFS Site for you, then new players can get a $50 deposit bonus with promo code USODDS. Alternatively, you can read our expert review to find out how to claim the Monkey Knife Fight promo code and the latest features.
Unfortunately, Monkey Knife Fight ceased trading in March 2023. Its parent company Bally's could not find a suitable buyer and so decided to close operations.
FanDuel
Founded in 2009 and based in New York, FanDuel is the second largest DFS site in the United States, behind DraftKings.
FanDuel offers an extensive list of daily fantasy sports options (NFL, MLB, NBA, and NHL) and tournament types to choose from. For instance, they offer traditional tournaments and guaranteed prize pool contests, but that's just the start. They also offer contests such as single game contests, beat the score games, and quick picks contests.
Plus, they separate the pros and the new players to give players the time to bed in and learn how to play DFS at FanDuel.
FanDuel also offers beginner guides and a research tab. The beginner guides help beginners to learn, improve and ultimately increase their enjoyment of playing daily fantasy sports. Meanwhile, the research tab provides expert information and stats to give players the best chance of winning contests.
Currently, new players can claim a $500 deposit bonus when they sign up today. Alternatively, read our FanDuel review for a more in-depth look at their bonus offer, contest types, deposit, and more.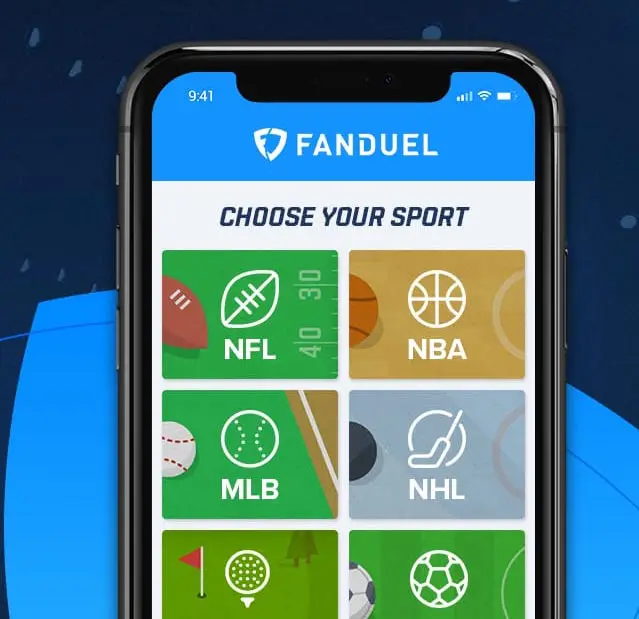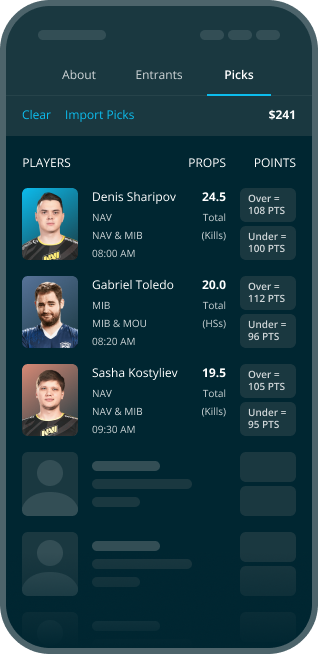 ThriveFantasy
ThriveFantasy offers DFS contests on major US sports, such as NFL, MLB, NBA, and NHL, as well as esports contests, such as CS:GO, League of Legends (LOL), and Defense of the Ancients (DOTA).
ThriveFantasy offers the traditional daily fantasy sports betting contests and a "versus" contest. This contest format offers a simple yet enjoyable DFS playing experience. For example, DFS players choose between two players who will perform better in the pre-selected stat category.
The ThriveFantasy mobile app is available on both iOS and Android devices to get players to the action quicker. Also, players will love the slick feel and easy navigation to select contests.
Furthermore, new customers are rewarded handsomely for signing up where they can get a deposit bonus of up to $50.
DraftKings
Launched back in 2012, DraftKings is the market leader when it comes to fantasy sports. The way they have risen to the top is due to offering a variety of offers and DFS contests, such as free entries, player bonuses, and guaranteed prize pools.
The large variety of contests offered by DraftKings makes them the perfect DFS site for the more traditional DFS players, including head to heads, 50/50s, and multipliers. Basically, DFS players who want variety and choice will be very happy playing daily fantasy sports at DraftKings.
Also, their slick mobile app is available on both iOS and Android devices for quick access to the action.
New customers can sign up for an account today and get a $500 bonus and a $3 free contest.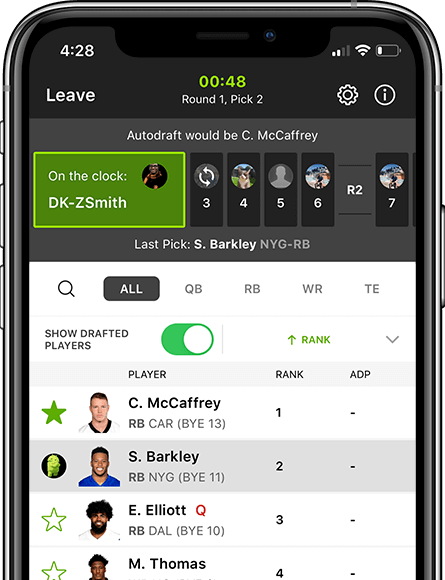 DFS Sites FAQ
Are Daily Fantasy Sites Legal in the USA?
Daily Fantasy Sites are legal depending on what state you are in. After it was found that the Unlawful Internet Gambling Act of 2006 contained language dictating that fantasy sports are not considered unlawful wagers of gambling. The legality of DFS sites is determined at the state level. As a result, there are conflicting opinions from state to state, where some states view daily fantasy sports as a form of gambling and so have banned it. Whereas, other states view it as a skills-based game and therefore perfectly legal for sports fans to play.
Is Daily Fantasy Sports Considered Gambling?
For most states, daily fantasy sports is not considered sports betting, because it is a skills-based game. Therefore, in the long run, better players will win more times than they lose against other players. Whereas, online sports betting is deemed to be a game of chance and so is a separate concept to daily fantasy sports.
On the other hand, some states argue that it is sports betting and so have outlawed DFS.
What Is The Minimum Age Required To Participate In DFS?
Across most states, you must be 18 years or older to play daily fantasy sports. However, some states vary. For example, the minimum age required in Massachusetts is 21 years or older.
What Is The Most Popular Daily Fantasy Sport?
In the US, fantasy football is by far the most popular sport to play DFS. Other popular sports also include fantasy baseball and fantasy basketball.
Can You Play On More Than One Daily Fantasy Sports Website?
Yes, you can play DFS contests on any daily fantasy sports sites listed here, provided they are legal in your state.