Sports betting is a fun and exciting way to make sports interesting but it can be confusing and difficult to understand how to bet on sport. Don't worry though, our sports betting for dummies guide will explain to you the basics of sports betting and begin your journey as a sports bettor!
How To Read Betting Odds
Betting odds indicate how likely one outcome is in comparison to the other. While there are different ways to display odds, you'll usually see odds displayed in a numerical or fractional form.
In numerical form, everything is based on $100 bets. You'll see something like -125 or +125: The negative numbers mean that they are the favorite – the positive numbers mean they're the underdog. For example, when the odds are -125 it means you have to risk $125 in order to win $100. On the other hand, when the odds are +125, you'll be risking 100 to win $125.
In fractional form, you'll see something like 1/3 or 3/1: The lower number on top (1/3) indicates that the team is favored to win by three times more than they are to lose. The higher number on top (3/1) indicates that the team is three times more likely to lose than they are to win.
Sports Bet Types
What Does Moneyline Mean?
Simply put, a moneyline bet is betting on a team to win the game. The moneyline odds are determined by the likelihood of that team winning.
Example: Atlanta Braves are -165 favorite to win, you have to risk $165 in order to win $100. Whereas, the Miami Marlins are +140, aka the underdog to win. Therefore, you would win $140 by risking $100.
Moneyline Bet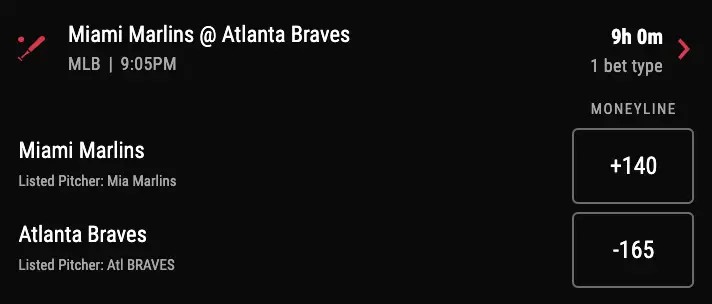 How Spread Betting Works
Betting the spread is when you bet on either the favorite or underdog to cover the points spread. The point spread is the number of points sportsbooks believe the favorite to better than the underdog.
Example: If you bet $100 on the favorite (Chiefs) to cover the spread at -9.5. The favorite would have to win by 10 points or more to win your bet. If you bet $100 on the underdog (Texans) to cover the spread at +9.5. The underdog can win, draw or lose by less than 10 points to win your bet.

How To Bet On Over/Under (Totals)
Over Under betting is based on how many total points/goals/runs will be scored in the game.
Example: If the total is 43.5 points, 44 or more points are needed to win the "over" bet – 43 points or less are needed to win the "under" bet. If the total is 50 points, and the final score hit 50 points right on the number, that's considered a push – or a tie. In that case, the bettor will get back their original investment.
Points Betting For Dummies
This is a new and innovative way of betting on sports, but what is points betting?
Points betting rewards the bettor for how right they are.
For instance, let's say you're betting on basketball where the Brooklyn Nets and New York Knicks. If you bet $10 on the Nets, who are favored by three points (-3), and they win by seven points, you will have won $40 because they covered the spread by four points.
How To Bet On Futures
A future bet is based on any future outcome. Most futures bets are on teams to win a championship, a conference/division, a certain amount of games or a total number of wins. However, there are also futures bets on individual players to win achievement awards such as NFL MVP or reach a certain number in a statistical category, like an NFL player to top the rushing yards table for that season.
How to Parlay Bet
A parlay bet combines two or more individual wagers and is dependent on each bet winning together. As a result, a parlay bet pays out higher because the chances of winning dependent on more than one outcome.
For example, if you bet New York Giants, Chicago Bears, and Dallas Cowboys in a parlay and they all win their individual games, you win. However, if New York Giants and Chicago Bears win, but Dallas loses, you lose the parlay.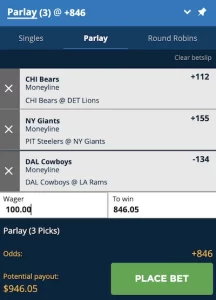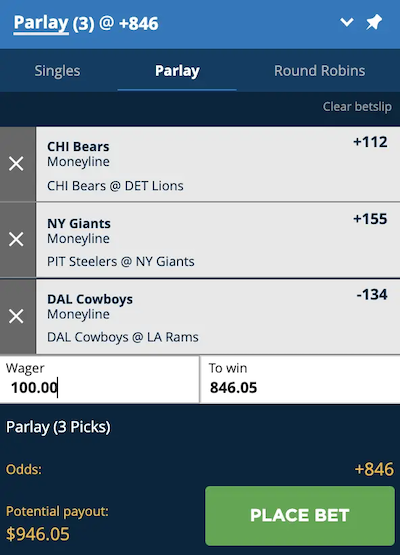 A teaser bet has similar characteristics to a parlay bet, in that all of the teams or totals you picked have to win. However, in a "teaser" bet, the point-spreads and totals are adjusted to lower the bettor's risk.
For instance, if New York is favored by 10 points, you can lower the spread down to three points and so on with other games that you chose. The drawback with teasers, though, is that the bettors will typically wager a lot more than they'll win. If the teaser loses, it could be a sizeable monetary collapse.
How To Bet On Props (Specials)
A prop bet based on a proposition (novelty, side bet) that something will happen that won't affect the outcome of the game.
Examples: Will Todd Gurley rush for more or less than 1.5 touchdowns? Will Tom Brady throw for more or less than 315.5 yards? Will Stephen Curry make more or less than 5.5 3-point field goals?
Cash-Out Sports Betting for Dummies
Many sportsbooks offer their customers the chance to 'cash-out' before the event has finished and their sports wager has been settled. The cash-out feature is a way for a bettor to lock-in profit from their sports wager, or minimize their losses. The size of the payout is determined at the time of cashing out your bet and depends on the likelihood of the bet winning.
For example, let's say you bet with BetRivers Sportsbook and you've wagered an NFL parlay bet on three matches. You picked the correct outcome in the first two matches and the final match is yet to play. In this situation, some sportsbooks will offer you the chance to cash-out your bet. If you're offered more than your stake to cash-out, then you can lock-in profit from your bet and cash out.
However, let's say you backed Clemson University to win on the moneyline in a College Football game. It's the fourth quarter and Clemson University is losing by a touchdown and don't look like they're going to win. You can minimize your loss by cashing out your bet with the sportsbook.
To sum up, cash-out is a way for a sports bettor and a sportsbook to minimize their losses/risk.
In-Game/Live Sports Betting for Dummies
Live betting also known as in-play betting is exactly what it says. The ability to wager on a sporting event that has already begun, but has not finished yet.
There are many Sportsbooks that offer their customers live betting capability, which are:
Caesars Sportsbook
Unibet
Bet365
Resorts Sportsbook
SugarHouse
Bet Responsibly
Gambling is a fun way to enhance the excitement of sport, but it is important to know how to bet responsibly and stay in control.
It may sound simple, but betting what you can afford to lose is the best advice ever given. If you set aside (for example) $50 each week, you know that is the maximum limit that you can lose – anything you win is a bonus. Now, just because you win $200 early in the week and then lose that, on top of the $50 you set aside, doesn't mean that you can expand the initial limit you set.
Chasing losses is always something that gets gamblers in trouble. Let's say you're betting on an NFL game early in the day and lose – that doesn't mean that you should make a bet that's double the amount later on. For starters, you probably didn't do as much research on that latter one, but more importantly, you could put yourself in an even bigger hole.
All in all, you shouldn't look at gambling as a way to be your primary source of income. It should be fun and done responsibly.
If you feel your betting is becoming a problem and you feel out of control, seek help at 800-GAMBLER.
Value Bets and How To Identify Them
Finding value in miscalculated lines is key to gaining an advantage for yourself against the sportsbooks.
For instance, there are certain teams that play much better in their home stadium than they do on the road. Other teams play better against others because of particular matchups – in basketball, one team may have another height advantage over the other, thus giving them a chance at more rebounds and possessions.
Online sports betting isn't easy – if it was, everyone would be swimming in money. On nearly every level, it's up to the bettor to make the best possible choices. Of course, some luck doesn't hurt, but sometimes you make your own luck. Fortunately, US-Odds has done the hard work for you through our Computer Picks algorithm which calculates bets offering the most value on each sport.
Summary
Now that you've read through the basics of our sports betting for dummies guide. You should now understand the main types of sports bets, as well as the idea of value bets and how to bet responsibly.
If you want to learn more about sports betting then make sure you check out the rest of our sports betting explained guides to become a betting pro.
Alternatively, if you're ready to begin online sports betting. Read our full and comprehensive Sportsbook reviews to find the best sportsbook for you or check out the best free bet bonuses being offered.