Who are ParlayPlay?
ParlayPlay has had one mission since it launched in 2021: to offer a simple, social and innovative Daily Fantasy Sports (DFS) experience. Naturally, we wanted to see if the company had managed this, which is why we've put together this ParlayPlay review.
Our experts have shone a light on this operator's $50 welcome bonus, taken a look at its payment options, and picked apart unique features such as contest insurance. So, if you're ready to find out how this mobile DFS site is bidding to become the industry's best, let's get on with our ParlayPlay review.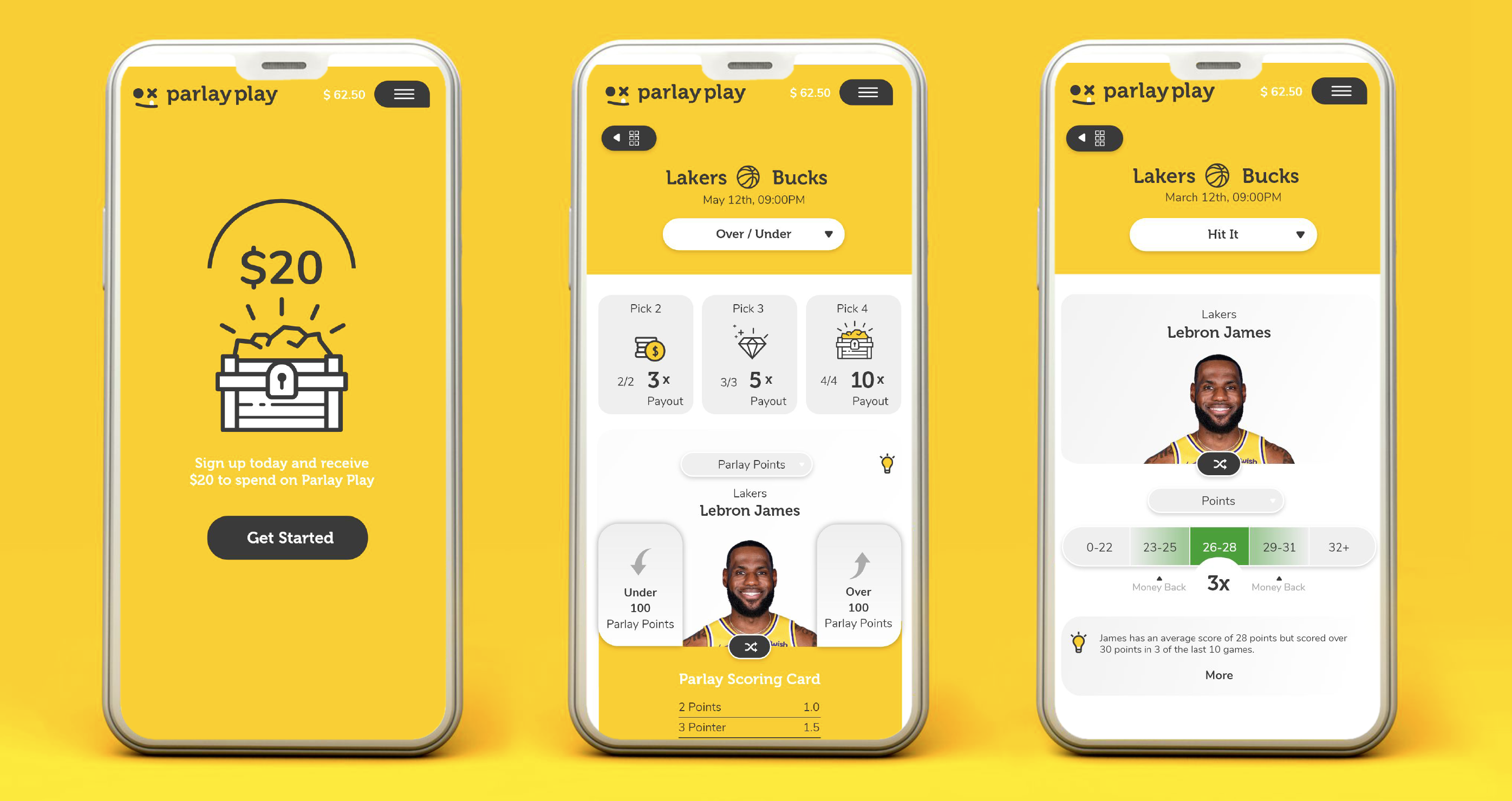 ParlayPlay Promo Code Information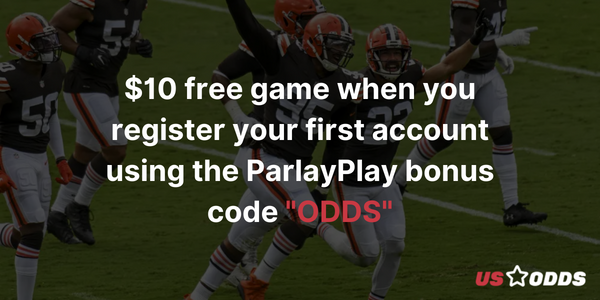 | | |
| --- | --- |
| Promo Code | $10 free game when you register your first account using the ParlayPlay bonus code "ODDS". |
| ParlayPlay Eligible States | AL, AK, AR, CA, CO, DC, FL, GA, IL, KS, KY, MD, MA, MN, NE, NM, NC, ND, OK, OR, RI, SC, SD, TX, UT, WI, WV, WY ParlayPlay is available to residents over 18+, please gamble responsibly. |
| ParlayPlay Sports | NFL, NCAAF, NBA, MCAAB, NHL, MMA, Baseball, Football, UFC & College Football |
Which States Is It Legal to Play ParlayPlay Daily Fantasy Sports?
Alabama, Alaska, Arkansas, California, Colorado, District of Columbia, Florida, Georgia, Illinois, Kansas, Kentucky, Maryland, Massachusetts, Minnesota, Nebraska, New Mexico, North Carolina, North Dakota, Oklahoma, Oregon, Rhode Island, South Carolina, South Dakota, Texas, Utah, Wisconsin, West Virginia, and Wyoming.
ParlayPlay New Customer Sign-Up Offer
Fans of added value rejoice because ParlayPlay offers two welcome bonuses. That's right, not one but two opening offers for new customers. The first is a no deposit bonus and the second is a $50 matched reward when you credit your account with at least $10.
ParlayPlay No Deposit Bonus = You can get a $10 free game when you register your first (and only) account using the ParlayPlay bonus code ODDS.
These no deposit bonuses are credited to your account as "risk-free" entries. In other words, you can a contest costing $10 for free. They must take place within 30 days of creating an account and be 2-pick higher/lower contest. Anything you win will be credited to your account in real cash.
ParlayPlay Deposit Bonus = You'll receive a 100% deposit match bonus when you credit your account with at least $10. The maximum amount you can receive is $50 and the bonus is paid into your account as a risk-free entry. This risk-free entry expires within 14 days and any winnings are yours to keep.
How to Claim Offer Using ParlayPlay Promo Code
In our opinion, the ParlayPlay welcome bonus is worth claiming. The fact you get $10 just for signing up is great. We also love the fact that your free credits, including the $50 deposit bonus, can be used to take part in DFS contests. Indeed, that's the reason you're reading this review. So, the fact you can enter contests without paying and win cash prizes is a great reason to follow the steps below:
Head to ParlayPlay.IO to register for your DFS account.
Choose a username and password to create your ParlayPlay login.
Enter the ParlayPlay promo code ODDS to activate your bonuses. (You can enter this at the bottom of the sign-up form)
Enter your name, date of birth, and email address.
Enter your phone number and wait for a text message. This message contains a code you need to complete the registration process.
Confirm your email address, log in, and collect your no deposit rewards.
Head to the cashier page, select a secure payment method, and deposit $10+ to get your second welcome bonus.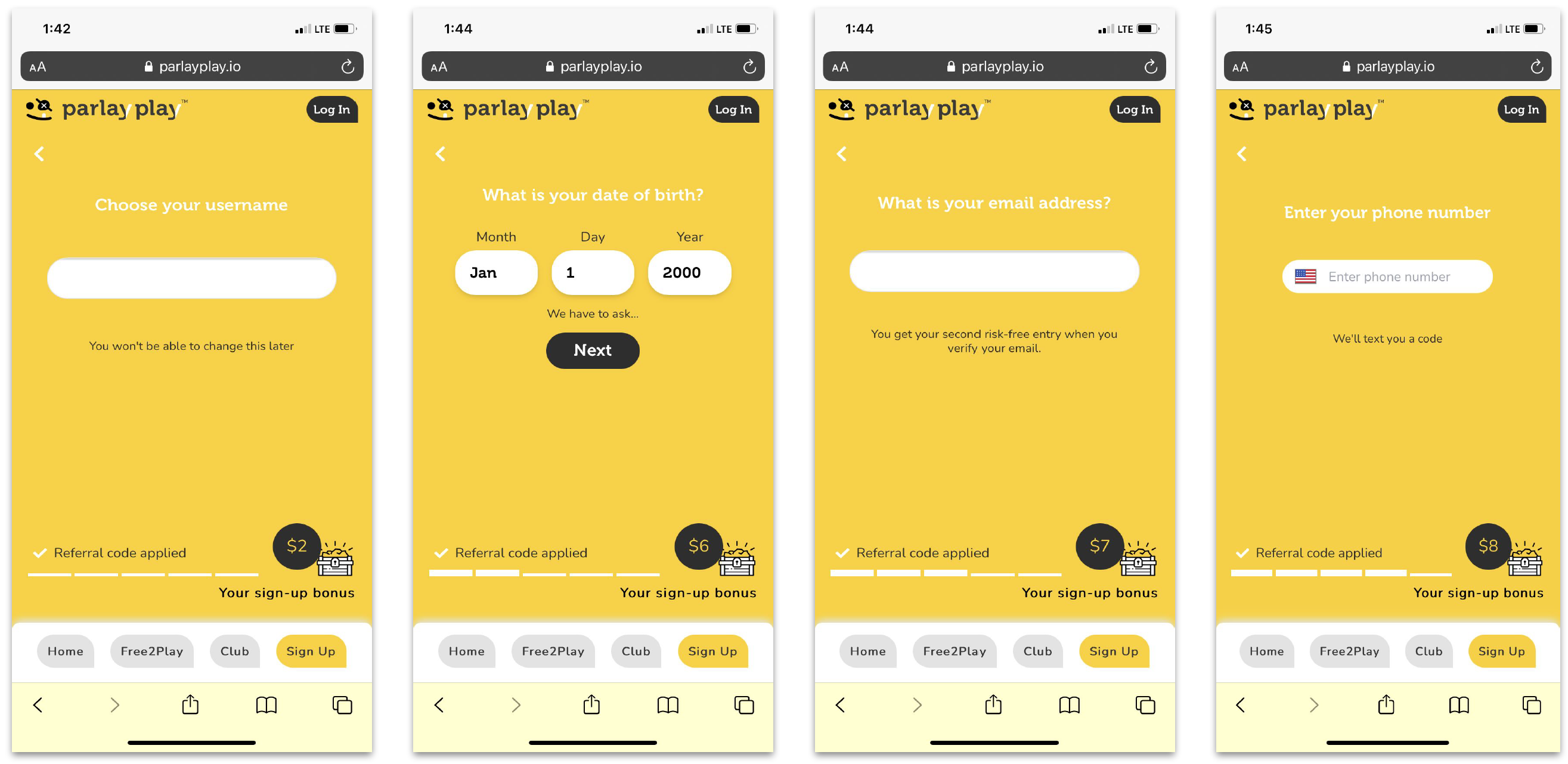 ParlayPlay Contests
ParlayPlay offers two types of real-money contests. One type, the Higher/Lower Showdowns are similar to those run by PrizePicks and they're great if you like assessing a line while predicting whether an athlete will go beyond it or fall short.
Alternatively, you can play Hit It contests where the onus is on you to set a target for your chosen athletes.
Like all the best DFS sites, ParlayPlay is big into football. However, it's not the only game in town. You'll also have the option to play Higher/Lower and Hit It contests for NBA and NHL events. If that's not enough, you can also speculate on the latest UFC fights.
Higher/Lower Contests
How do Higher/Lower contests work? Higher/Lower DFS contests on ParlayPlay are similar to over/under wagers. Basically, you'll choose 2, 3, or 4 athletes in a particular contest.
Once you've done that, you simply say whether or not they'll score higher or lower than a set line. For example, if the line on LeBron James was 50 points and you thought he was going to score 52 points in a game, you'd go higher.
But what about UFC events? ParlayPlay has a scoring system based on strikes landed. As a result, you can go higher or lower on a fighter's strikes landed at the end of the fight.
The other neat thing about ParlayPlay Higher/Lower DFS contests is that you can choose to go all-in or make an insurance bet. All-in bets are for when you're confident that every prediction you make will be right. In other words, all picks have to be correct for you to win 3X, 6X, or 10X, depending on the number of athletes you select.
If you take out an insurance bet, one pick can be wrong. This is a nice way to reduce your risk, but it does affect the potential payouts:
A 4-pick Insurance contest with 4 correct picks pays out 6X your entry fee.
A 4-pick Insurance contest with 3 correct picks pays out 1.25X your entry fee.
A 3-pick Insurance contest with 3 correct picks pays out 3X your entry fee.
A 3-pick Insurance contest with 2 correct picks pays out 1.25X your entry fee.
A 2-pick Insurance contest with 2 correct picks pays out 2X your entry fee.
A 2-pick Insurance contest with 1 correct pick pays out 0.5X your entry fee.
Hit It Contests
How do Hit It contests work? Hit It DFS contests require you to select two athletes and then assign them a stat/point range. These ranges are known as "main value" and "neighboring value." If both of your picks score the required number of points to fall within your main value range, you'll win 6X your entry fee.
If one player falls within your main range and the other falls within the neighboring range, you'll receive a 2X payout. Finally, if one or both of your picks falls within the neighboring range, you'll win 0.5X your buy-in.
ParlayPlay Mobile App
ParlayPlay is one of the first daily fantasy sports sites to a mobile-first app.  In fact, even though the site does function on desktop devices, it's not really designed to. Of course, you're welcome to use the desktop site, but you will have to accept that the layout and proportions are a bit out of whack. If you want the best experience, you need to use your mobile device.
The beauty of creating a web app is that it works on all devices. It doesn't matter if you've got an iPhone, iPad, Android, Windows Phone, or Blackberry, you can play Daily Fantasy Sports contests online. In terms of aesthetics and ergonomics, the black and yellow color scheme isn't too offensive on the eyes. Beyond that, it's extremely easy to move between different sports and contests.
Each sport has its own tab marked with an icon. For example, if you want to access the UFC lobby, you'll tap the boxing glove. There's also a carousel at the top of the page which scrolls through the latest promotions and offers. In line with this constant stream of information, you can also get a quick view of the day's latest matches direct from the homepage. That's something we really like. DFS contests are often about seizing the moment, so the fact you can jump into the mix with a tap or two is fantastic.
Deposit and Withdrawal Methods
If we're being honest, we'd like to see a few more deposit options at ParlayPlay because we do feel that variety is important when it comes to payments. However, this is unlikely to be an issue for most players because they can deposit by Credit Card (VISA, Mastercard, Discover), and ACH bank transfers.
The other positive is that all ParlayPlay payment options are safe and secure, as is the platform itself. Therefore, you can deposit up to $500 per day (using set amounts of $10, $20, $50, $100, $250, or $500) safe in the knowledge that your money is protected.
On the way out, the minimum withdrawal at ParlayPlay is $20. But unlike deposits, you can only withdraw funds through ACH bank transfers.
Finally, it can take between 3 and 5 days for requests to be processed, which means you may have to wait up to 10 days to receive your cash if you choose ACH.
Parlay Club
Loyalty counts at ParlayPlay, which is something that can't be said for all online DFS betting sites. As long as you're an active customer and you complete the following challenges, you'll get access to the Parlay Club:
Verify your email address
Enter a Free2Play contest
Refer 1 friend who creates a verified account
Those are easy tasks to complete and the kickbacks from the Parlay Club are great. As well as exclusive offers and bonuses, you'll receive risk-free entries to contests, a free t-shirt, access to special events, and premium player insights. Basically, you'll not only get more added value but more information that could help you win more when you play DFS contests.
ParlayPlay Free Contests
Free2Play DFS contests are exactly what you'd assume they are. They're free contests that you can enter and win cash prizes. The premise is simple: you're given a variety of athletes to focus on and you have to say whether they'll score more or fewer points than predicted. You score points for each correct prediction you make and the top 3 performers at the end of the week will win a cash prize.
ParlayPlay Customer Service
You shouldn't run into too many issues when you use ParlayPlay. The app is well-built and it's simple enough that very few things go wrong. Moreover, it's not hard to find your way around the platform. If, however, you do have any problems, there's a decent FAQ that will help you overcome a lot of common stumbling blocks.
If you need a more direct form of help, you can contact the ParlayPlay support team via the following methods:
That's about all you need to know. If you ever need to talk to someone, help is always available. Other than that, ParlayPlay is a simple, yet effective, mobile DFS app that offers great contests backed by clever innovations like insurance bets. So, if you're looking for a new site or you're a newbie to the game, we'd recommend ParlayPlay.