A parlay bet is a wager made up of combinations of single bets. For your parlay to win, each "leg" must win. Therefore, the more legs you include in your parlay, the higher the odds and the more you can win!
All the best online sports betting sites accept these wagers from customers, whether it is on the World Series, college football, or hockey, there's a parlay for you.
How Does a Parlay Bet Work?
The parlay is one of the most exciting wagers at online sportsbooks because it increases your potential payout by combining multiple results into one wager.
Here's how to place a parlay bet online:
Open the sportsbook lobby
Click on selections of your choice in any sport. These will be added to your bet slip.
Open the bet slip and click on the 'Parlay' tab.
Enter your stake and check the full odds and potential return of your wager. (The odds for each leg are multiplied together to form your final odds.)
Click on the 'Place Bet' button to place your wager.
If a game is canceled for any reason, it will be voided from your bet slip and the odds and payout of your bet will be recalculated.
Types of Parlays Bets
The most basic type of wager is one where all legs must come in for you to win. The odds of each leg are multiplied together to form one final price.
For example, you choose three hot favorites from the week's NBA, NHL, and soccer games: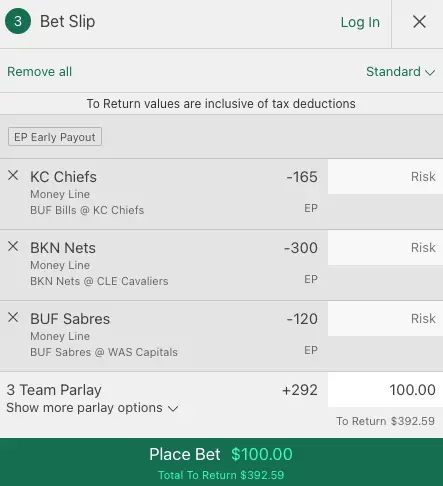 Based on the odds above, for a bet of $100, your potential return would be $392.
While it is is a simple way to combine multiple wagers, you can also find plenty more. Check out our betting guides for an in-depth look into alternatives like Trixies and Round Robins.
Round Robin Parlay Bet: A round robin bet is a type of parlay where all doubles are covered within your selections. In other words, only two of your legs need to be right for you to make a profit.
Systems: A Round Robin isn't the only combo bet you can make. As you add more selections to your slip, more 'system' bets will be available. As a result, you can cover doubles, 3-folds, singles, and more, depending on how many selections you have.
What to bet on in a Parlay Bet
Futures: Futures wagers are bets placed on sporting events before the season starts. Typically, futures odds of the next Super Bowl or MLS league championship winner can be higher months ahead of time.
Moneyline: A moneyline bet is a straight wager on who will win individual games. You can combine multiple moneyline picks into one single wager.
Point Spread: Point spread bets are wagers on a team to win with a given points handicap or advantage.
Over/Under: A bet on the total points in a game. You place a bet on whether the total will over or under the bookmaker's estimate. Combine multiple O/U picks in one parlay bet.
Props: Prop bets are special wagers that don't focus on the outcome of a game. They usually center on different outcomes during a game, like the number of touchdowns, home runs, or total team points.
You can also bet on player props like total rushing yards. If you like the look of three or four players from a game between Kansas City and the Denver Broncos, you can combine multiple prop bets in one parlay.
Teasers: Teasers are great for sports bettors who like betting on the point spread. In a teaser, your picks receive an increased points advantage before the game begins.
Is a Parlay Bet a Bad Bet?
Making a parlay bet can be a good strategy as it increases your overall odds. However, the overall risk also goes up.
Sensible sports betting strategy is all about doing research. Therefore you need to find value in the odds and choose legs that have a good chance of coming in.
In sports, a lot of parlay legs consist of odds-on favorites. For instance, backing futures wagers on a hot favorite at -150 won't return much, but your returns can increase if you combine the bet with two or more added legs.
You can also take advantage of parlay insurance at some sportsbooks in the United States. This is a special offer where you are still paid out, even if one leg of your wager does not win.
Parlay Bet Promotions
Parlay bets are available at all the best betting sites. Plus, you can enjoy a range of added bonuses when you place your wagers. In 2021 alone, you can earn great bonuses like the Unibet Level Up Booster or PointsBet parlay odds boosts.
Combine long shots with favorites in a single parlay or mix up a few futures bets on one slip and with a parlay boost, you can earn up to 20% on your winnings when you select up to 20 selections.