Thrive Fantasy is a new daily fantasy sports platform for prop-based DFS contests. Thrive isn't just another traditional draft-a-lineup kind of site, however. In fact, the platform has looked to shake things up in order to truly democratize fantasy sports.
Unlike other DFS sites where players draft a traditional fantasy lineup, players at ThriveFantasy pick over/under props of athletes within a given sport.
A crucial detail here is that only the props of top-tier athletes are available to play. By pushing the focus even more on star players and less on second-, third-, and fourth-tier players, the ThriveFantasy platform lessens the amount of research needed to get a fair piece of the action. This deters 'shark' bettors, making the site even more attractive for more casual sports fans.
Better yet, founder and CEO Adam Weinstein has revealed that ThriveFantasy takes only a modest 10% commission on every contest offered. As compared to other platforms' more cutthroat rates (up to 20%) Thrive offers users even more margin for error.
In this article, we will examine playing daily fantasy sports at ThriveFantasy, in particular, their sign-up bonus offer, their mobile app, their DFS contests, and in which states you can play ThriveFantasy.
ThriveFantasy Promo Code
New customers can get an instant bonus of up to $50 when they use the ThriveFantasy promo code USODDS during registration.
Simply head to ThriveFantasy, then enter a username, your email address, create a password and then enter the promo code USODDS into the promo code box. Afterwards click sign up and deposit up to $50 to receive a bonus matching your deposit amount.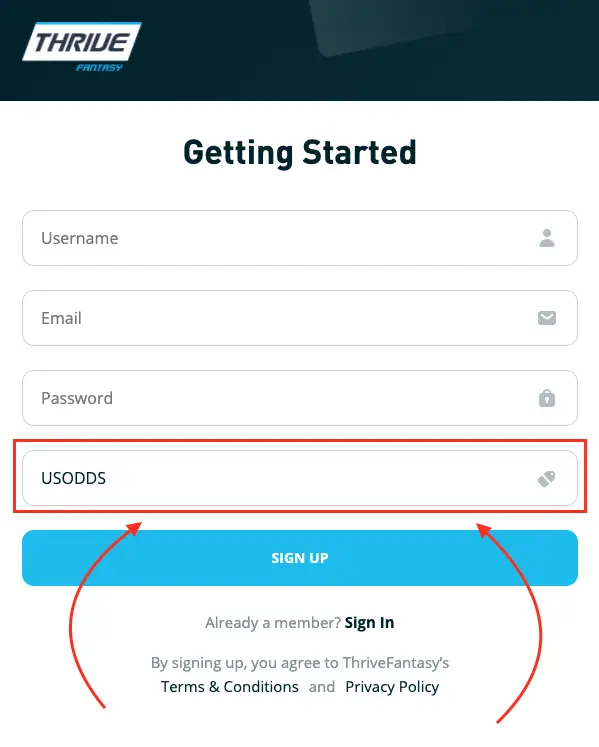 What is ThriveFantasy?
Thrive Fantasy is an online daily fantasy sports site founded in 2017 which currently operated in 33 US states. Thrive fantasy is specifically known for being one of the bigger player prop websites and focusses mainly on top tier athletes.
ThriveFantasy App
For mobile users, Thrive Fantasy offers an app for both iOS and Android devices.
How to Download ThriveFantasy App
To download on an iOS device, visit the Apple App Store and search for the ThriveFantasy app. Likewise, Android devices can visit the Google Play Store and search for the ThriveFantasy app.
ThriveFantasy Contests
Thrive offers two kinds of contests: Traditional and Versus.
Traditional Contests
In Traditional contests, users compete against a pool of users. Within Traditional contests, two distinct formats are currently available.
The first format may be familiar to some as 'cash game' style. In a cash game (also known as a Double-Up), about half the user pool wins double their entry fee (so a $5 Double-Up would pay $10).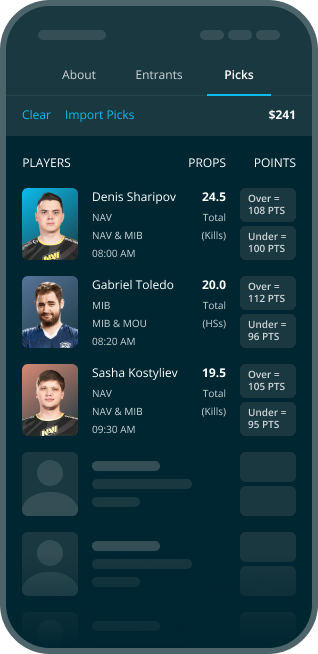 ThriveFantasy Promo Code Information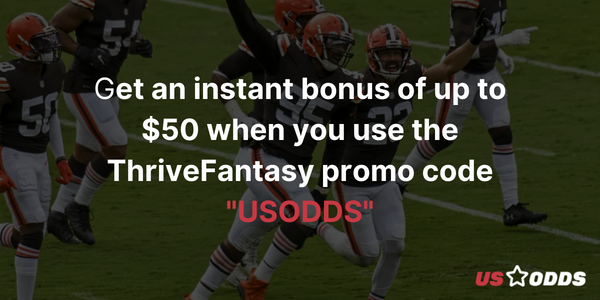 | | |
| --- | --- |
| Promo Code | New customers can get an instant bonus of up to $50 when they use the ThriveFantasy promo code USODDS during registration |
| ThriveFantasy Eligible States | AK, AR, CA, CO, CT, DC, GA, IL, KS, KY, ME, MD, MA, MI, MN, NE, NH, NJ, NM, NY, NC, ND, OH, OK, OR, RI, SC, SD, TX, UT, WV, WI, WY ThriveFantasy is available to residents over 18+, please gamble responsibly. |
| ThriveFantasy Sports | American Football, Baseball, Cricket, Basketball, Golf, Soccer and more! |
The second format is known as a 'GPP' (guaranteed prize pool) style contest, where a smaller portion of the users (about 20-25%) take all of the winnings. A signature feature of GPPs is that they often feature an exponential-like scaling of prizes. For instance, 1st place winners often receive upwards of 25% of the prize pool, while the lowest winner to qualify will receive about 1%.
Versus Contests
Meanwhile, Versus contests are essentially 1-on-1 (or Head to Head–only two people) Double-Ups–the winner receives the entire prize pool.
While the two types of contests have their differences, the scoring and general player-selecting formats are the same: users are given the same (usually 20) props, and they have to select half of them to their 'lineup.' Each prop has a fantasy point total that is scored if it occurs, and the winning lineups are those with the highest fantasy point totals.
Of course, some props will naturally be more likely to occur than others. To balance out risk and reward, Thrive awards more fantasy points to unlikely props that 'hit' versus the more likely ones.
Sports Covered By ThriveFantasy
Basketball
Football
Baseball
Golf
Cricket
E-Sports: League of Legends and Dota 2
Deposit Options
At ThriveFantasy, players can deposit using PayPal, E-check, or Credit Card.
ThriveFantasy Legal States
Alaska
Arkansas
California
Colorado
Connecticut
Florida
Georgia
Illinois
Kansas
Kentucky
Maine
Maryland
Massachusetts
Michigan
Minnesota
Nebraska
New Hampshire
New Jersey
New Mexico
New York
North Carolina
North Dakota
Ohio
Oklahoma
Oregon
Rhode Island
South Carolina
South Dakota
Texas
Utah
West Virginia
Wisconsin
Wyoming
Can I play Thrive Fantasy?
ThriveFantasy is currently available in 33 U.S. states, plus Canada.
Any US resident currently residing in any of the following states has the ability to play on Thrive Fantasy and take part in some of the most popular daily fantasy sports.
Residents of Alaska, Arkansas, California, Colorado, Connecticut, Florida, Georgia, Illinois, Kansas, Kentucky, Maine, Maryland, Massachusetts, Michigan, Minnesota, Nebraska, New Hampshire, New Jersey, New Mexico, New York, North Carolina, North Dakota, Ohio, Oklahoma, Oregon, Rhode Island, South Carolina, South Dakota, Texas, Utah, West Virginia, Wisconsin, and Wyoming
The best way to get started on Thrive Fantasy is to down the ThriveFantasy app and take advantage of our exclusive ThriveFantasy promo code "USODDS"