FanDuel vs DraftKings is a much-debated question among DFS players. As the two largest DFS sites in the United States, they are the first DFS brands you think of when starting daily fantasy sports.
In this guide, we will compare the two DFS Operators to help you decide whether FanDuel or DraftKings is the right DFS site for you.
FanDuel vs DraftKings: Verdict
Playing on either site can be enjoyable, but DraftKings is going to take the cake between the two. Which is strange, considering FanDuel is consistently the month-after-month handle leader in most states.
That being said, FanDuel has a number of different issues that should be brought to light.
For one, FanDuel is almost always having problems with its website and mobile app. During NFL Sundays, it becomes a rite of passage to scroll the Twitter timeline and see if everyone is having the same issues you are. Also, this season alone, FanDuel has already had issues with the scores not being updated in live time and the site or app just not working at all. This can be extremely frustrating in those late-swap contests where you can change different players in the 4 pm games.
Meanwhile, DraftKings hasn't had many issues on the DFS front, but it did have an issue once this season on an NFL Sunday on the betting side.
One thing most players will flock to DraftKings Daily Fantasy Sports for is the preciseness that exists in the scoring system. For example, fantasy football contests have pass-catchers receiving one whole point whereas it is only 0.5 on FanDuel. Not to mention, you don't have to roster a kicker on DraftKings like you would on FanDuel.
Furthermore, every statistic is accounted for as it is in the NBA and MLB. For instance, players receive bonuses for double-doubles, triple-doubles, and 3-pointers.
Overall, each player is going to find each site appealing for their own different reasons. In our opinion, though, it appears like the typical "stat junky" will like DraftKings more while the player who takes stats less seriously would probably prefer the straightforwardness of FanDuel.
FanDuel
DraftKings
Pros

Ease of learning the site
Visually appealling site/app

More in-depth statistics/bonuses
Bigger contest selection (more sports)
Visually appealling site/app

Cons

Too many crashes on the site/app

Tax taken out of immediate earnings in certain places
Which States Do FanDuel and DraftKings Operate In?
DraftKings and FanDuel are legal in most states across the US. In fact, it would be quicker to list the states that they aren't legal in.
Both fantasy sports sites are legal in all states, except:
Arizona
Hawaii
Idaho
Louisiana
Montana
Nevada
Washington state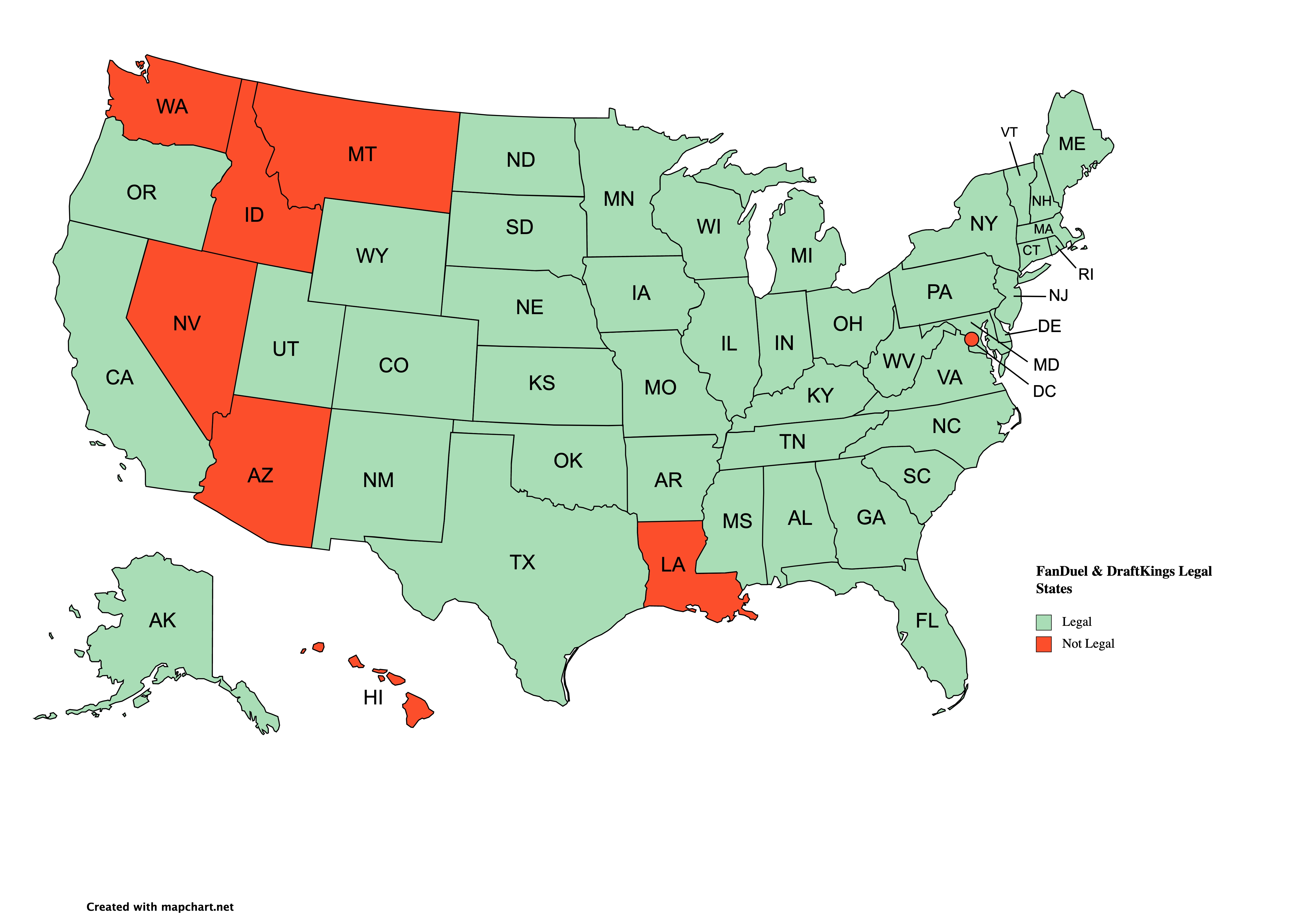 view
DraftKings and FanDuel are the market leaders in daily fantasy sports, but with the rise of competitors, such as Monkey Knife Fight and PrizePicks and their popular prop-based contests. That dominance has come under threat.
In response, the two operators offer a huge sign-up bonus to new customers who can claim the following bonus offers when they sign up for an account.
Promotions
DraftKings: Users can get an instant bonus of up to $500, as the company will match 20% of your first deposit.
FanDuel: Users can get an instant bonus of up to $500, as the company will match 20% of your first deposit. Yes, the exact same as DraftKings.
Again, DraftKings takes the cake when it comes to promotions in DFS – in sports betting, each of them provides an ample amount of promotions that cater to its customers. There are just a lot more chances to collect free money on DraftKings, albeit not in the greatest chances. Freerolls in DFS doesn't really add up to much, given how many people enter into each contest. These freebies may seem like a will of good gesture, but they are essentially nothing more than a lottery ticket with a much lesser prize.
Sports Available To Play
Overall, both DFS Operators offer a huge range of sports to play daily fantasy sports contests. However, DraftKings also offers contests on Esports, which FanDuel does not.
| | | |
| --- | --- | --- |
| Sport | FanDuel | DraftKings |
| NFL | | |
| NCAAF | | |
| NBA | | |
| NCAAB | | |
| MLB | | |
| NHL | | |
| NASCAR | | |
| Soccer | | |
| Golf | | |
| Tennis | | |
| Esports | | |
DFS Contests You Can Play
Both operators have a large list of list contests for players to choose from. Neither side really differentiates itself from the other, with the same types of contests being offered. Those contests are:
MME (Mass Multi Entry) & Tournaments
Single-Entry
Multipliers (50/50, 3x, 5x, etc.)
Head-to-Head
Satellites & Qualifiers

Deposit Options
DraftKings and FanDuel are the largest DFS Operators in the United States. Therefore, deposit options that are safe and secure is a must.
Fortunately, DraftKings and FanDuel accept a few established payment methods that keep a player's details protected.
For both companies, it really doesn't get much better than this – in terms of using the actual mobile app.
For FanDuel, though, many users have described a very meticulous and annoying sign-in process. Not only that, but FanDuel's mobile app and website have crashed numerous times already on an NFL Sunday.
The only unique feature that one has over the other is the ease with which DraftKings users can just log in and out of the site. This can really be an advantage when you're trying to place a live bet or any other type of bet at the last minute.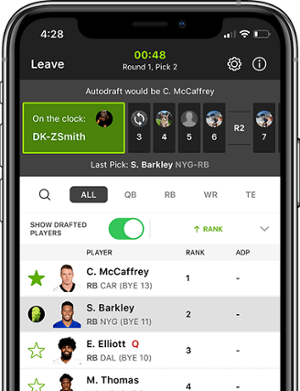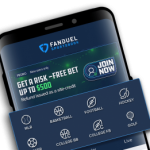 Downloading the apps on both sites is easy as pie. Just follow the directions that they layout for you. These companies are not going to hack your information, so be at ease that your personal information is safe.
Because the Google Play Store and Apple Store don't allowing gambling sites to advertise on their platforms, users need to go to the actual website on their mobile browsers and download the app from there. Once downloaded, it will pop up as an icon on your main screen.
All in all, the DraftKings app is the one worth downloading over FanDuel. The latter has shown time and time again that they can't be trusted on an NFL Sunday, which is always the biggest betting day of the week.
Loyalty Program
DraftKings: DraftKings Rewards gives players "crowns," which they can use for different merchandise or tickets to a special event. These "crowns" are given based on the contests you enter in – the higher the number of dollars spent, the higher amount of crowns – and vice versa.
FanDuel: The FanDuel Players Club (FDP) essentially compiles extra bonus points for its players. Players earn five FanDuel Points for every $1 spent.
Players can use these points as virtual currency (albeit not much) or stack them high for a rainy day and use them for fun rewards like merchandise or tickets to a special event.
How To Win At FanDuel or DraftKings
Having success in DFS is extremely difficult, unless you're going to make a big commitment to Mass Multi-Entry (MME) contests while also establishing a disciplined bankroll. The reality of DFS is that 5% of people win nearly all of the money; these players are able to do that because they have the bankroll to toss in numerous entries (150 max) into a contest like the "Millionaire Maker," which gives $1 million to the winner of a contest that has upwards of 200,000 people duking it out for the same dream.
Single-entry contests are a good way to negate competition against these stacked decks. If you're only playing with a little bit of money, this is certainly the way to go.
FanDuel vs DraftKings Sportsbook
We covered it earlier, but ultimately DraftKings Sportsbook is where bettors should be spending (and hopefully, winning) their money. The technical issues have been exhaustingly laid out in this article, but DraftKings' willingness to be vulnerable to losing some money on random nights works out much better for the player. Especially during the COVID-19 pandemic, DraftKings was doing a great job of drawing players in by giving them literally no-lose chances to earn some money. Most companies only do that for new customers, but DraftKings was even doing this for its own customers. And that's something everyone can certainly relate to in these turbulent times.
FanDuel vs DraftKings FAQs
FanDuel is an American sportsbook where you can play daily fantasy sports contests. They operate in all states, except Arizona, Hawaii, Idaho, Louisiana, Montana, Nevada, and Washington State. They also offer legal online sports betting in Indiana, New Jersey, Pennsylvania, and West Virginia.
DraftKings is a sports betting site where you can play daily fantasy sports. They legally operate in all states, except Arizona, Hawaii, Idaho, Louisiana, Montana, Nevada, and Washington State where DFS is prohibited. In 2018 they launched in New Jersey to offer legal online sports betting. Since then, they offer legal online sports betting in Indiana, New Jersey, Pennsylvania, and West Virginia.
Which came first, DraftKings or FanDuel?
FanDuel, based in Boston, was founded first in 2009, whereas DraftKings, based in New York, was founded in 2012.
Which has bigger prize pools, DraftKings or FanDuel?
DraftKings generally has bigger prize pools, because they have more players enter their contest. Essentially, the more players, the bigger the prize pool.
Does the same company own DraftKings and FanDuel?
No, they are owned by separate companies. DraftKings is owned by DraftKings Inc. after its reverse merger with Diamond Eagle Acquisition Corp and SBTech in April 2020. Whereas, FanDuel is owned by Flutter Entertainment. The group bought FanDuel in 2018 to add to their other well-known sports betting brands Betfair and PaddyPower.
What professional leagues allow/have partnerships with DraftKings and FanDuel?
Currently, both FanDuel and DraftKings have partnerships with various NFL teams. In fact, DraftKings is the official daily fantasy partner of the NFL.
Meanwhile, FanDuel is the exclusive sports betting partner of the National Hockey League. Plus, they are a non-exclusive partnership deal with the National Basketball Association.
Can I win more at DraftKings or at FanDuel?
The amount that you can win varies on the contest you enter and the sport you play, but more often than not, DraftKings offers larger contest prizes.
Will DraftKings and FanDuel merge?
It's unlikely that DraftKings and FanDuel will merge. In 2016, both companies reached an agreement to merge, before the Federal Trade Commission blocked the merger as combined both companies would own 90% of the DFS market.