In this article, we'll provide you with our top betting pick for Thursday's ALCS Game 4 between the Houston Astros at New York Yankees. We study the betting lines, the teams, and the players to give you our recommended baseball betting picks to beat the New Jersey Sportsbooks.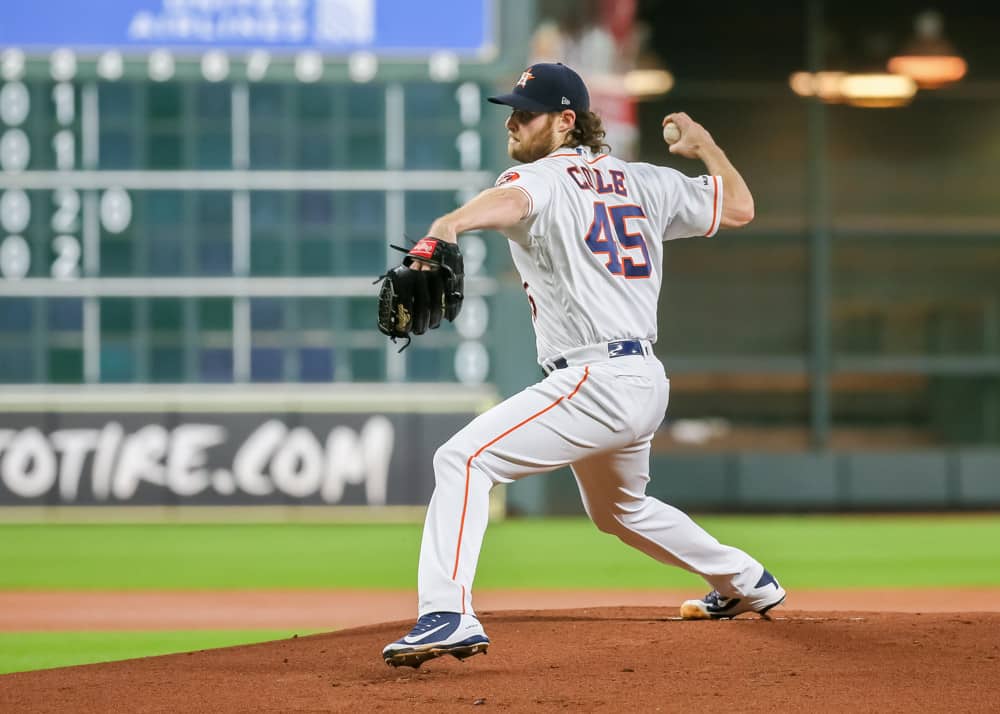 ALCS Game 4: Houston Astros at New York Yankees (ML: -125) – O/U: 8.5
ALCS Game 4 Betting Pick: Yankees (ML: -125)
Thursday, October 17, 2019 – 8:08 p.m. EST

Starting Pitchers
HOU: Zack Greinke – R (0-2, 8.38 ERA/1.34 WHIP)
NYY: Masahiro Tanaka – R (2-0, 0.82 ERA/0.55 WHIP)
After dropping Tuesday's contest, the New York Yankees will look to even up the American League Championship Series in Game 4 against the Houston Astros. We already saw this same matchup of starting pitchers in the series opener, with New York winning that game. With that being said, we're taking the Yankees once again as our top betting pick. Let's look at the facts and figures to see why this series will be all evened up.
ALCS Game 4 Betting Lines Analysis: Astros at Yankees
The Yankees opened as -127 favorites and have stayed right around the same area. It's a big change in the odds from Game 1, considering they were at +124 with the same pitching matchup. Obviously, being at home makes things more favorable for New York, and already seeing the outcome a few days earlier. Because of that, we're seeing about two-thirds of public bets coming in on the Yankees while nearly 90 percent of bets are heading in that direction.
Astros Betting Form
Zack Greinke has continued on with his disastrous postseason by allowing 12 hits and nine runs over 9 2/3 innings in two starts. Not to mention, he has also allowed five homers in that span. It's quite fascinating too, but the Astros have lost each of his two starts this postseason by seven runs.
The Astros have struggled mightily this season against tonight's opposing starter. They did, however, turn in their best offensive performance of the series, and it could've been even better if it weren't for a few balls landing on the warning track. Tonight, you'll have to expect some struggles offensively, especially with the Yankees keeping reliever Adam Ottavino out of the game.
Yankees Betting Form
Masahiro Tanaka has been simply magnificent this postseason by allowing only four hits, two walks, and one run while striking out 11 over 11 innings in his two starts – both Yankees' wins. Tanaka has always been better when pitching at Yankee Stadium, particularly this season with an 8-3 record and 3.10 ERA in 16 starts there. Not to mention, he was great against the Astros during the regular season, allowing a 2.25 ERA in two starts.
For only scoring one run (on a solo-homer by Gleyber Torres), the Yankees' offense actually didn't perform that badly in Game 3. There were quite a few hard-hit balls, including a Didi Gregorius fly-ball that landed about a foot in front of the right-field wall – that would've given them three runs in one swing. In all actuality, they handled Gerrit Cole well and facing Greinke again shouldn't come as much of a challenge.

ALCS Game 4 Betting Pick: Yankees (ML: -125)
Taking the Yankees tonight is all about the matchup of starting pitchers. Tanaka has a nice streak of getting wins at home, and he's made life difficult on the Astros all season. Look for Greinke to struggle once again because whatever the case is, he just can't get it done in the postseason.
| | | | |
| --- | --- | --- | --- |
| Team | Moneyline | Spread | Over/Under |
| Houston Astros | +120 | +1.5 (-160) | Over 8.5 (-105) |
| New York Yankees | -130 | -1.5 (+135) | Under 8.5 (-115) |
Resorts odds at the time of publishing