In this article, we'll provide you with our top betting pick for Thursday's Game 5 of the American League Division Series between the Houston Astros and Tampa Bay Rays. We study the betting lines, the teams and the players to give you our recommended baseball betting picks to beat the New Jersey Sportsbooks.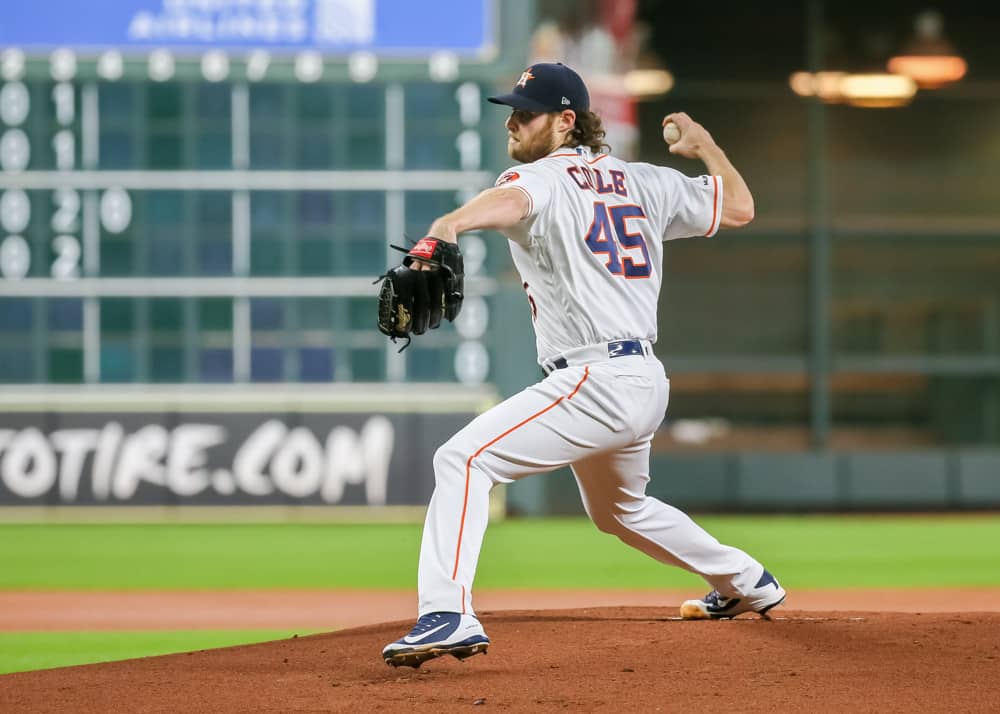 ALDS Game 5: Tampa Bay Rays at Houston Astros (ML: -260) – O/U: 7
Game 5 Betting Pick: Astros (ML: -260)
Thursday, October 10th, 2019 – 7:07 p.m. EST

Starting Pitchers
TB: Tyler Glasnow – R (0-1, 4.15 ERA/1.62 WHIP)
HOU: Gerrit Cole – R (1-0, 0.00 ERA/0.65 WHIP)
It all comes down to this in Game 5 of the American League Division Series between the Tampa Bay Rays and Houston Astros. The home team has won each of the first four games in this series, with the final one looming even larger. Our top betting pick is for the Astros to defeat the Rays and advance to the American League Championship Series and meet the New York Yankees. Let's dive into the facts and figures to see why we're rolling with the Astros.
Game 5 Betting Lines Analysis: Rays at Astros
The Astros' moneyline opened at -290 but has since dropped down to -260. Surprisingly, 56 percent of public bets think the Rays can get it done on the road. We don't subscribe to that line of thinking. The Astros clearly have the upper hand in starting pitching in this matchup. However, some of these public bettors are placing too much faith in the Rays' offense based on what they saw in Games 3 and 4.
It goes without saying that the smart money is on the total going under seven runs, and the public and sharps agree. Both sides will likely unload their best pitching at all expenses in this winner-take-all game.
Rays Betting Form
Tyler Glasnow didn't pitch badly in Game 1, but he is still limited in terms of how deep he can go into games. At most, we should expect him to pitch five innings before giving way to the best bullpen in baseball. Interestingly enough, the Rays do have Charlie Morton and Blake Snell available to pitch in this game. So there's really not a lot that would surprise us in this scenario.
The Rays' pen has been fantastic all season, and that was even more evident over the past two games. As we mentioned, Morton and Snell will be available to pitch, but situations will dictate how that all plays out. In theory, it should be the usual suspects from the Rays' pen that we see enter the game. However, in a winner-take-all situation, you have to throw conventional thinking out the window.
Tampa Bay's offense knows the challenge that lies ahead. Game 2 was a house of horrors and you have to expect we'll see more of the same. With plenty of strikeouts seeming like a reality, look for the Rays to play small-ball and manufacture runs in any possible way. In this matchup, though, it's a lot easier said than done.
Astros Betting Form
Gerrit Cole had one of the best pitching performances in MLB postseason history in Game 2. Only allowing four hits, one walk, and no runs while striking out 15 in 7 2/3 innings. His current streak of 11 consecutive starts (dating back to the regular season) with 10+ strikeouts is nothing short of legendary. Not to mention, the last time Houston lost a game Cole started in was all the way back on July 12. In fact, the last time they lost a home game in one of his starts was May 22.
The Astros' bullpen will have their top arms ready to go in this game. Because of the way Game 4 went, they didn't need to use most of the big guns, knowing that the series could very well be going the distance. While you can't rank Houston's pen over Tampa Bay's, this is still one of the better units in the league.
It wasn't a series of happy events for the Astros' offense on the road. So getting back home to Minute Maid Park should do them some good. In Game 1 against Glasnow, it was Jose Altuve had that had the big bop – a two-run homer in the fifth inning that gave the Astros a 2-0 lead. The rest of the offense came against relievers Brendan McKay and Oliver Drake en route to the win. It's tough to project any offense against the Rays' pen, but the nine runs the Astros scored at home – compared to the four they scored on the road – in this series should bode well for them.

Game 5 Betting Pick: Astros (-260)
I mean, really. Is it necessary to go against Cole in this one? We think not, and it'll basically demoralize a Rays' offense that will be trying to do so all night. Sure, you have to lay big money to get paid in this one, but we love the matchup. Look for the Astros to take the lead early and never look back.