In case you missed it, my last piece explored the best bets for the 2020 NL MVP race. With the same process in hand, we now pivot our way to the American League side of things. Unlike the NL version of the exercise, the numbers now seem to incentivize a 'go big or go home mindset,' with values at the two extremes of the odds spectrum.
With that in mind, here are the best plays for American League MVP.
Mike Trout, OF, Angels +220 (Resort Casino)
For as long as he's healthy and active, any and every discussion for AL MVP starts with Mike Trout, the modern-day god of WAR.
Despite somehow only having three MVP awards to his name. Trout has dominated MLB since his first full year in 2012. In fact, the 25.6 WAR lead he has on second-place Buster Posey is as wide as the gap between Posey and 50th-placed Yoenis Cespedes!
Puzzlingly enough, Trout has also never stopped improving. According to Statcast (the player- and ball-tracking technology), Trout's 2019 expected offensive production was in the 100th percentile–a career-high since Statcast's inception in 2015. He doesn't have an impeccable glove, but his work in center field often ranges adequate to decent. He hasn't played a complete season since 2016, but those previous thumb, wrist, and foot injuries appear to be behind him.
To put it simply, no one can compete with a healthy Trout. In a typical year, he's often favored against the entire field to win the award. Therefore, +220 (31% implied odds) becomes a value, when you consider that a shortened season only increases his chances of avoiding injury.
Carlos Correa, SS, Houston Astros +4500 (BetMGM)
Because the heavy frontrunner (Trout) has such favorable odds, it follows that his immediate competition (such as Aaron Judge, Francisco Lindor, and others) would mathematically be a bad bet to make in tandem. As a result, we now find ourselves well into the 'longshot' range, beginning with another injury-riddled star in Carlos Correa.
Shrouded by Correa's injury history is the fact that the Puerto Rican has been the best-hitting shortstop in baseball since his 2015 debut. His 129 wRC+ (a catch-all offensive statistic that compares him to the league-average hitter) is even more impressive when you consider how often Correa has likely played injured (most notably in 2018).
After being an elite hitter for so long, he now seems to have his defense in order too, recording a commendable +22 Outs Above Average in his last two (partial) seasons.
With 45/1 odds, it seems that bookmakers are focusing too much on Correa's valleys and totally ignoring his peaks. In this abbreviated season, his oft-injured body just needs to make it two months to realize the latter.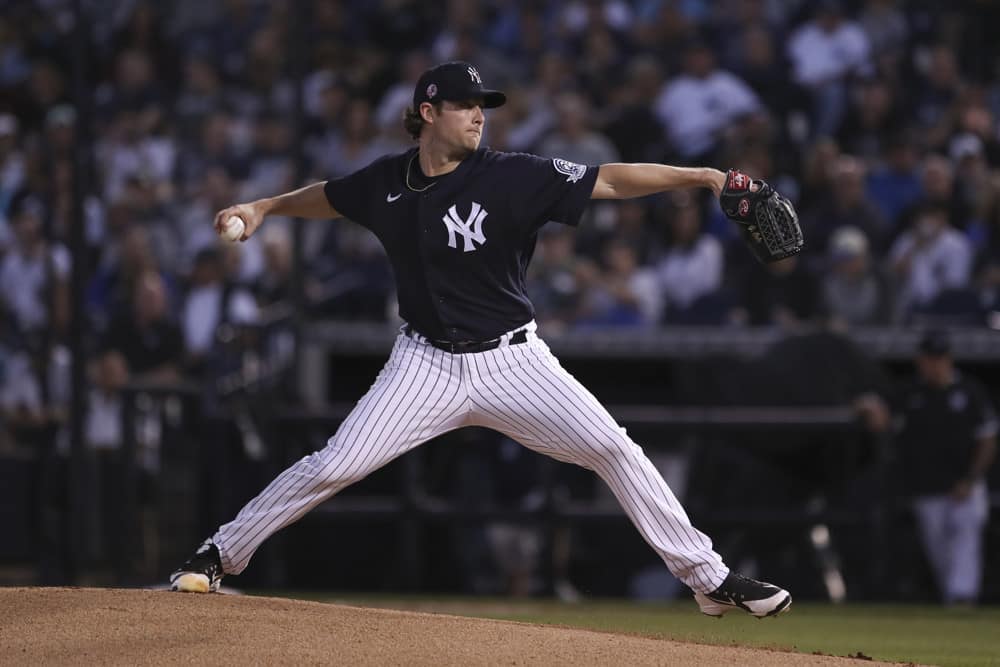 Gerrit Cole, SP, New York Yankees +5000 (BetMGM)
I have to admit, even as a longshot in an unprecedented season, betting on a pitcher to win MVP feels weird and even wrong. After all, only two pitchers have won the award in the past 27 years! (Clayton Kershaw in 2014 and Justin Verlander in 2011).
With a two-month sprint, however, anything can happen–and if a pitcher was to pull it off, it would be Cole. Since his trade to the Astros in 2017, Cole has been the most dominant pitcher in the American League. He is registering a 37.3% strikeout rate and 13.4 WAR, both tops in the AL.
Overall, however, this bet largely rests on the uncertainty around the season. First off, the shorter schedule means the righty won't have to worry about conserving his arm for an entire six-month season. Therefore, it is likely that Cole will accrue more playing time (relative to the top batters).
Secondly, a smaller calendar means a smaller sample size–and a higher chance for ERA variance. As Kershaw's and Verlander's victories suggest, voters often opt for pitchers who are both elite and lucky. While both of their MVP seasons were elite. Their ERAs were in fact lower than their underlying statistics (strikeout rates, walk rates, fly balls rates, etc.) had suggested they should've been. Now with fewer games, it becomes more likely that Cole can receive this sort of luck himself.
Finally, the unorthodox restart of the season could make hitting itself much more difficult. Although the weather is warmer, many players will undoubtedly be rusty after months of quarantining at home. It is entirely plausible that offense is down across the league. This could open the door even further for a pitcher to win MVP.
Fortunately, Cole's +5000 odds mean that only one or two of the above-listed possibilities need to be in play for him to return value.
Joey Gallo, OF, Texas Rangers +6600 (BetMGM)
Continuing the trend of betting on uber-talented longshots brings us to Joey Gallo. Although his archetype isn't the prettiest. It's actually the perfect MVP profile to dream on because Gallo can flat-out crush the ball.
Since his first full season in 2017, Gallo has performed at or above the 99th percentile in both exit velocity (hit speed) and barrel rate (well-hit fly ball rate). When you throw in his high walk rates, strikeout rates, and defensive value (being a passable fielder at LF, CF, RF, 1B, and 3B). Gallo looks a lot like a left-handed discount version of Aaron Judge–who himself has the second-highest odds of winning MVP.
He may not be the most aesthetically-pleasing player to watch (due to low batting averages). Plus, his violent swing may not be suited for a full six-month season, but none of that matters now. Enjoy his 66-to-1 odds, as this may be the lowest they'll ever be in his career.
Gary Sanchez, C, New York Yankees +10000 (BetMGM)
Aside from pitchers, another potential beneficiary of the shortened season is MLB's catcher contingent. In a normal year, the physical rigors of the position make it difficult to play enough to accrue substantial value. However, with only two months to play. The playing time gap may be slimmed just enough for backstops to make some statistical noise.
And as far as AL catchers go, Gary Sanchez represents the best intersection between skill and value. Since his explosion onto the scene in 2016, Gary Sanchez's 123 wRC+ has been the best of any catcher in baseball. However, hitting has never been his issue.
Over the past few years, his biggest enemies have been injury issues and defensive struggles. But both appear much less likely to significantly hinder him in 2020.
The shorter schedule, as covered with Trout, Correa, and Gallo, should help Sanchez make it through the season unscathed. Meanwhile, Sanchez appears to have put considerable effort into revitalizing his defensive game. He's changed the way he crouches to better receive incoming pitches.
He may never be an elite defender, but pairing strong receiving skills with his already-present strong arm and elite hitting production would be plenty to propel him into MVP finalist standing. 100-1 odds only make this bet even more enticing.