The Los Angeles Angels and Oakland Athletics have split the first two games of a four-game series. Now, it's time to do battle on a Sunday, and for someone to grab the upper hand.
Today's pitching matchup is a good one, as Shohei Ohtani of the Angels squares off against Mike Fiers of the A's. All eyes will be on the young Japanese superstar Ohtani, who is one of these once-in-a-generation two-way players that can bat/play the field and pitch. The young righty did suffer a major injury that limited his rookie season, and this is the first time he's been on the mound in a regular season game since Sept. 2, 2018.
The A's have always had this great home-field advantage, but it's apparent that part of the game doesn't really exist in the weird world we now live in. Although there are no fans, Oakland does get last licks – and that could matter in a tight game like this one.
Los Angeles Angels at Oakland Athletics
RingCentral Coliseum – Oakland, CA – 4:00 p.m. EST (Watch: MLB Network)
STARTING PITCHERS
LAA: Shohei Ohtani – R (4-2, 3.31 ERA/1.16 WHIP last season)
OAK: Mike Fiers – R (15-4, 3.90 ERA/1.19 WHIP last season)
Total: 8.5 | Over: -122 | Under: +100
LAA | Moneyline: -118 | Run Line (-1.5): +130
OAK | Moneyline: +104| Run Line (+1.5): -157
Injury List
LAA: Anthony Rendon (O), Luis Rengifo (IL)
OAK: AJ Puk (O)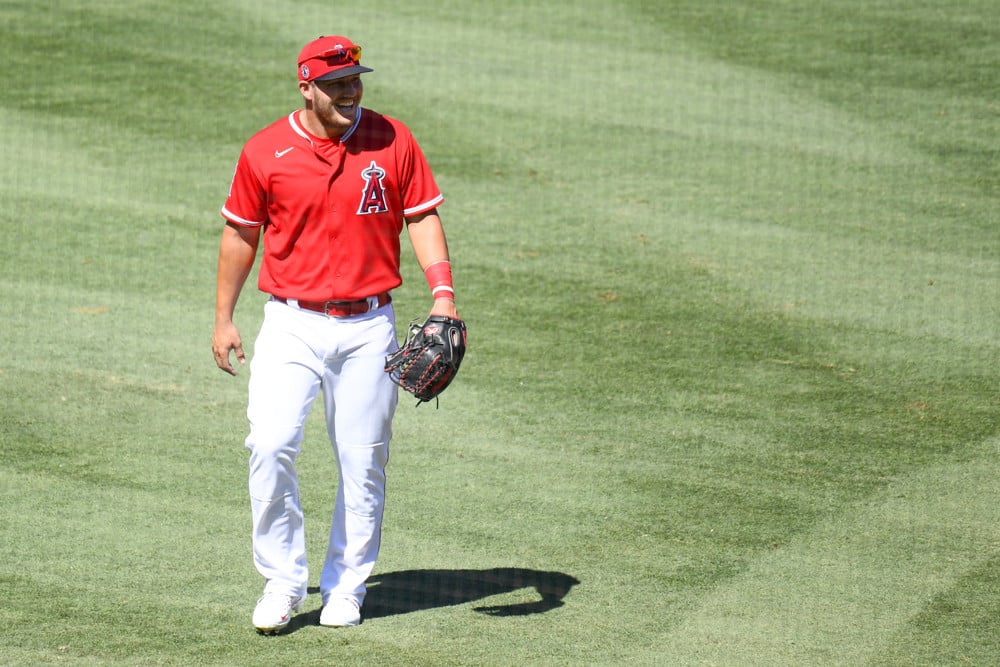 Interesting Stats
Return of Ohtani
Looking back to 2018 – the last time he pitched – Ohtani was pitching a lot more effectively towards the end. After allowing 10 runs over a span of 20 1/3 innings in May 2018, he only allowed nine runs over a span of 31 1/3 innings for the rest of that season. Point is, Ohtani figured something out against MLB hitters.
Fiers Home Cooking
Oakland has been very good to Fiers, probably because of the spacious ballpark. Last season, he went 9-2 with a 2.90 ERA in 17 starts. Fiers was particularly solid against the Angels too, going 3-0 with a 3.04 ERA in four starts.
Hot Start for Laureano
Ramon Laureano, mostly known for his defense, finds himself atop MLB's offensive leaders after two games. Sure, it's early, but let's give the man credit where it's due. Laureano is 4-for-7 with a double, HR, 2 RBI and 3 runs.
Betting Picks
Under 8.5 runs (+100)
Yes, we're going to have to lay some money down, but it's certainly worth it. Ohtani is just one of these freakish athletes that come by our lives every so often and the A's are going to feel his wrath today. Ohtani has two starts against Oakland in his career, compiling a fantastic 2-0 record and 2.08 in 13 innings.
Not to mention, Fiers' great success as a pitcher at home over the years and his domination against the Angels last season.
Mike Fiers – Over 3.5 Strikeouts (-112)
We're getting great value on this line, even in Fiers' first start of the season – where he may not be stretched out much. In all four of his starts last season against the Angels, Fiers had four or more strikeouts. Not to mention, he won't have to face Ohtani in the lineup today.