Tuesday's loaded MLB slate is sure to be another good one. If you're looking to catch some games on TV tonight, FS1 has the Washington Nationals at Tampa Bay Rays (7:10 p.m. EST) while MLB Network and ESPN+ both have the Chicago Cubs at San Diego Padres.
Last night, one of my games was voided because of a starting pitching change – I did lose the other game. My season-long record now stands at 14-21 (-$740), so there's certainly some ground to make up.
---
Table of contents
---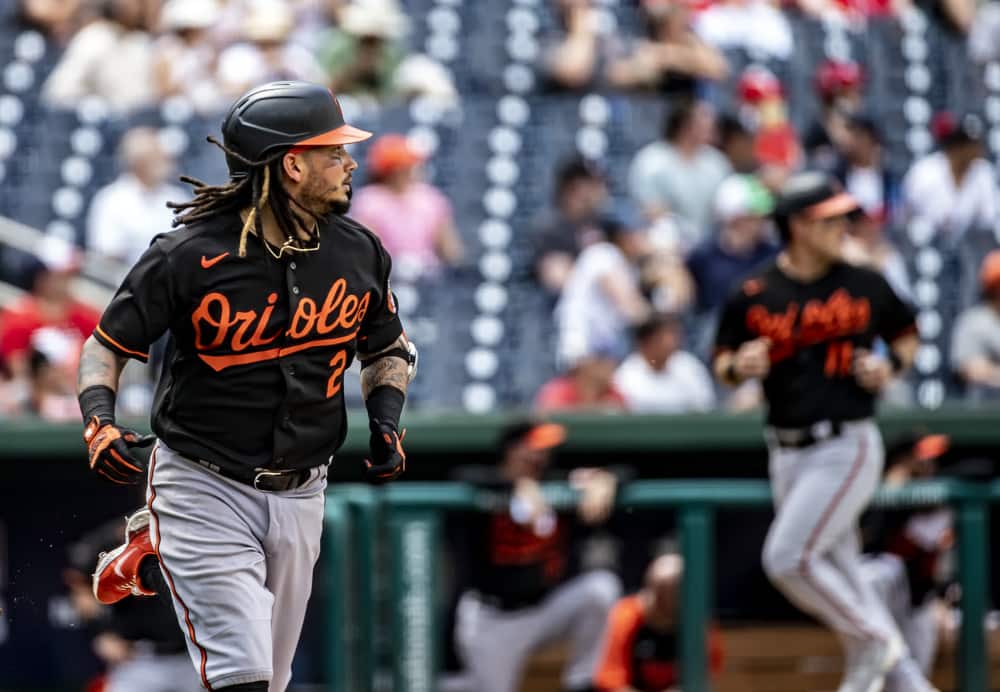 New York Mets (-110) at Baltimore Orioles (+105) – Total: 9.5
NYM: David Peterson – L (1-4, 5.89 ERA/1.40 WHIP | 44.1 IP: 49 Ks, 9 HR)
BAL: Bruce Zimmerman – L (3-3, 4.96 ERA/1.53 WHIP | 49 IP: 43 Ks, 11 HR)
As of 1 p.m. EST, we're seeing a huge difference of bets placed and money wagered. The Mets are getting about 70% of the bets placed while the Orioles are getting 67% of the money wagered. In addition, the Orioles moneyline improved from +120 at the open to +105 while the Mets faltered from -130 at the open to -110 currently.
Clearly, we're being told that Baltimore should have a big night. Peterson gets the ball for the Mets, and he is coming off an outing where he allowed five runs in just 0.1 innings and facing seven batters. This is great news for an Orioles team that ranks second in wOBA (.347) against left-handed pitching. It's interesting to note that each of Peterson's last seven starts have ended with the final score being a one-run deficit.
Zimmerman has been in good form recently, despite facing some of MLB's most potent offenses. In three of his last four starts, Zimmerman has allowed two runs or fewer while also making it at least five innings. Even with a few guys making their way back to the lineup, the Mets are still missing some of their better players.
Betting Pick: Orioles ML (+105)
---
Atlanta Braves (+140) at Philadelphia Phillies (-165) – Total: 9
ATL: Drew Smyly – L (2-3, 5.98 ERA/1.37 WHIP | 46.2 IP: 43 Ks, 14 HR)
PHI: Aaron Nola – R (4-4, 3.84 ERA/1.17 WHIP | 70.1 IP: 78 Ks, 8 HR)
The Phils have a major advantage here with the two starting pitchers, and that's why I'll be taking them on the run-line tonight. After a few rough outings, Nola has rebounded and put together a set of performances to be proud of. Luckily, Nola will be pitching at home, where his ERA is 2.35 compared to 4.99 on the road.
Smyly gets a Philly team that is a little better than league average against southpaws, with a collective .322 wOBA. He is an older pitcher at this point of his career that relies on control rather than power stuff. And now we're starting to see the league catch up to Smyly this season, as he's allowed 18 hits and 13 runs (5 HR) over his last 15.2 innings pitched.
If you want to pony up all that money and take the Phils to win outright, more power to you. However, I think the run-line presents an interesting opportunity to get plus-money odds with a huge mismatch on the mound.
---