In this article, we'll provide you with our top betting pick for Tuesday's Game 4 of the American League Division Series between the Houston Astros and Tampa Bay Rays. We study the odds, betting lines teams and players to give you our recommended baseball betting picks to beat the New Jersey Sportsbooks.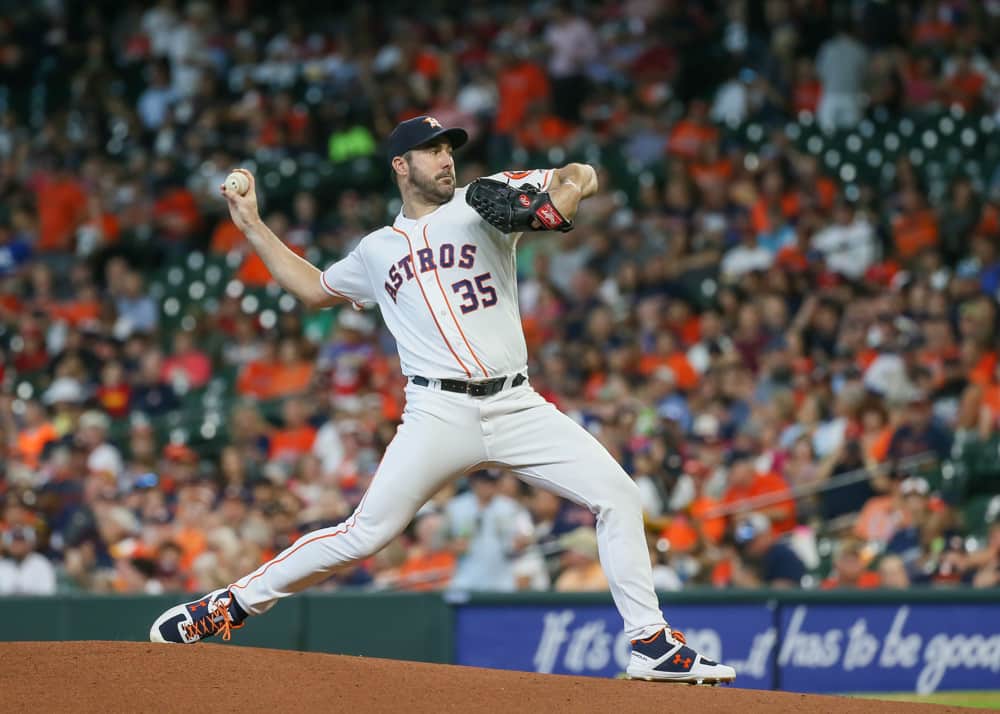 ALDS Game 4: Houston Astros (ML: -240) at Tampa Bay Rays – O/U: 7.5
Game 4 Betting Pick: Under 7.5 (-116)
Tuesday, October 8th, 2019 – 7:00 p.m. EST

Starting Pitchers
HOU: Justin Verlander – R (1-0, 0.00 ERA/0.57 WHIP)
TB: Diego Castillo – R (0-0, 0.00 ERA/1.09 WHIP)
The Astros have a chance to close out the Rays in Game 4 of the American League Division Series. It was the Rays getting the victory in Game 3, by the score of 10-3, but our Game 4 betting pick is for the total to go under 7.5 runs. Let's dive into the facts and figures to see why we're heading in this direction.
Game 4 Betting Lines Analysis: Astros at Rays
Early on, 60 percent of public bets/53 percent of all money wagered is on the Astros. In addition, there's a 50/50 split of public bets on the total while 63 percent of all money wagered is on the total going under.
Astros Betting Form
To say that Justin Verlander has dominated the Rays this season just doesn't do it justice. Between the regular season and playoffs, he has struck out 21 batters and allowed eight hits, four walks and one run over a span of 19 1/3 innings. While Tampa Bay did bust out for 10 runs yesterday in Game 3. This is certainly a much different scenario it'll be walking into.
The Astros' offense hasn't necessarily been at its best during this series, and things won't be easy for them once again. They'll be facing a dominant Rays bullpen in this game, and it'll be tough to nail down a lot of these particular matchups. Now that we're here in the postseason, both teams will certainly keep their info a lot closer to the vest. What we can expect, though, is for Rays' manager Kevin Cash to pull out all the stops with his team one loss away from elimination.
Houston's offense is much better than the opposition, so ultimately, they'll be in a better spot all day. And we can all agree that we'd rather have Verlander on the mound over Tampa Bay's bullpen.
Rays Betting Form
As we mentioned above, the Rays will go with one of their patented bullpen games – something that has been wildly successful for them. Tampa Bay's bullpen ranked first or second in most traditional pitching categories during the regular season and they'll need every bit of that to keep their season alive.
Diego Castillo will be the "opener" for this one, making it his third appearance this postseason. Over 3 2/3 innings, the right-hander has allowed three hits, one walk, and no runs while striking out four batters. Castillo has been one of the best Rays' best arms out of the bullpen of late. Only allowing two runs since the beginning of September – a span of 18 1/3 innings.
After hitting four homers in Game 3, the Rays will need to go back to their small-ball ways against Verlander. We already listed his dominance against Tampa Bay this season, so relying on homers would certainly be a foolish move. Verlander has been one of the most successful pitchers in recent postseasons and we expect him to bring his A-game to the mound.
Game 4 Betting Pick: Under 7.5 (-116)
We didn't have a lot of positives to say about either offense tonight. It should be no surprise that the under is the way to go here. Verlander in the postseason plus a Rays' bullpen that has a boatload of solid arms is the perfect combination to keep runs off the board. Consider yesterday's 10-run output from the Rays a fluke, and expect nothing like that to happen again in this series.
tors can get the best odds on this 7.5 total at BetMGM. First-customers can get up to a $500 sign-up bonus when creating a new account.