Before heading back for two games in Cleveland, the Indians and Reds finish their 2-game set in Cincinnati. For the Indians, electric right-hander Shane Bieber will look to continue his dominant start to 2020. Meanwhile, the Reds will deploy veteran hurler Tyler Mahle in hopes of completing the mini-sweep.
Cleveland Indians @ Cincinnati Reds
Great American Ball Park, Cincinnati, OH – 6:10 PM EST
Game Info/Starting Pitchers:
CLE: Shane Bieber – R (Last Season: 3.28 ERA, 3.32 FIP, 5.6 WAR, 214.1 IP)
CIN: Tyler Mahle – R (Last Season: 5.14 ERA, 4.66 FIP, 1.4 WAR, 129.2 IP)
Odds & Betting lines (DraftKings)
Total: 8 | Over: -105 | Under: -114
CLE | Moneyline: -186 | Run Line (-1.5): -105
CIN | Moneyline: +160 | Run Line +-1.5): -114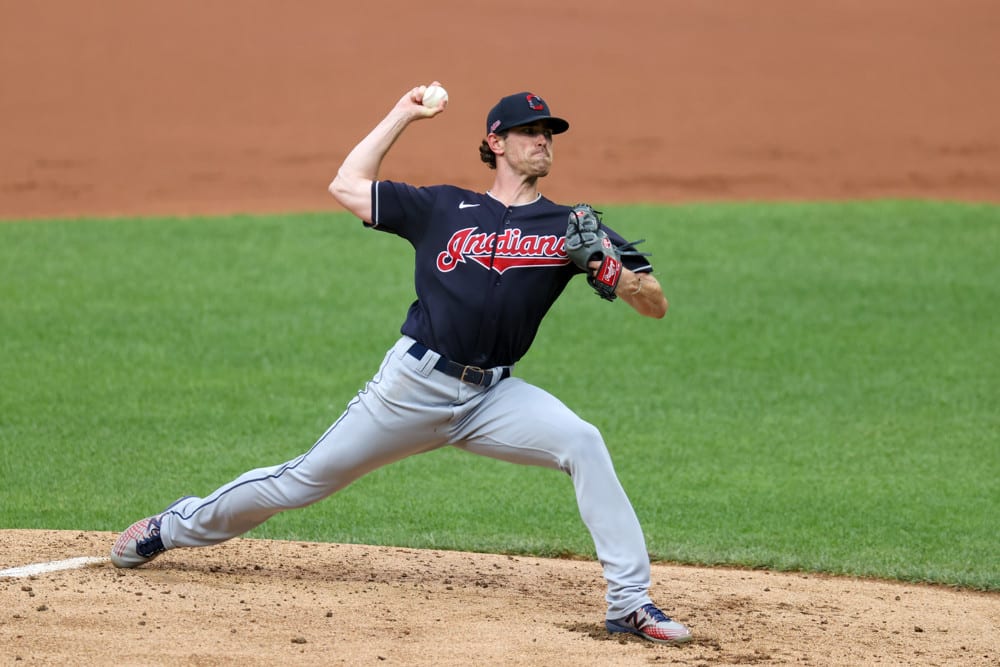 Injury List
CLE: C Roberto Perez, OF Delino DeShields, OF Tyler Naquin
CIN: SP Wade Miley, SP Matt Bowman, SP Robert Stephenson
Interesting Stats
Better Than Justin
Although he'll never reach the fame of musical heartthrob Justin Bieber, Shane is making some pretty rad music of his own in 2020. Here are his stats from his first two starts: 14 IP, 0.00 ERA, -0.39 FIP, 54% strikeouts, 2% walks. I'd call it ridiculous, but that's an understatement.
Going forward, Bieber won't maintain the 0 ERA. Regardless, he looks like an improved version of his 2019 self. With his velocity up 1 mph and his swinging strike rate up 4 percentage points, Bieber has cemented himself as a bonafide ace.
Solid Spot Starter
Tyler Mahle may not have been guaranteed to start to begin the season, but he shouldn't be taken lightly. Last season, both Mahle's SIERA (Skill-Interactive ERA) and xFIP were above average at 4.16 and 3.99. This suggests that he deserved better than his 5.14 ERA. Long known to be a control artist, it's also encouraging that Mahle velocity was up 0.5 mph in his first start.
Betting Picks
CIN ML (+160) and/or CIN +1.5 (-114)
While Bieber has been spectacular, this line is assuming too much, even for him. His first two 2020 starts are spectacular, but 14 innings of a 0.00 ERA aren't the baseline. Rather, the baseline is his last 330 innings of 3.30-3.50 ERA talent. Virtually every pitcher in the league would take that level of production, and it's too optimistic to expect significantly more–at least for now. Mahle is a respectable arm, and the Reds bullpen was above-average in 2019. Plus, Cincinnati is at home and possesses a stronger lineup.
Pegging the Indians as away favorites is understandable, but giving them a 62% edge is too much.
CIN Over 3 Runs (-128)
Heading into this preview, the last thing I wanted to do was bet against Shane Bieber. In sports betting, however, the odds dictate everything, and it's important to keep an open, flexible mind. I love these kinds of bets because the 'push' at 3 gives us extra leeway.
To lose this bet, the Reds would have to score 2 or less. Even if you assume that, as a good offense in good weather and a homer-happy ballpark, the Reds will score fewer runs than average, the line remains favorable. In that case, they would score 3 runs about 12% of the time, and more than 3 57% of the time. When you throw out 'push' scenarios, the Reds go over at a 65% clip and under at 35%. With -128 (56%), a significant value cushion remains.
In my White Sox preview, I highlight a similar strategy against Brandon Woodruff, albeit with the line at 3.5.