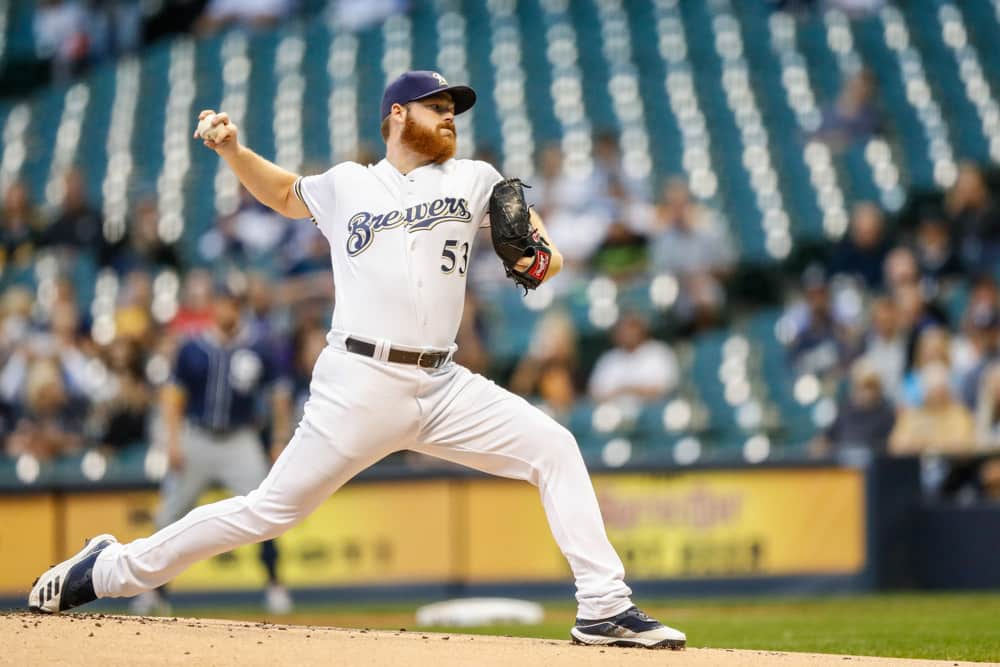 In this article, we'll provide you with our top picks and advice for the NL Wild Card Game, with the Brewers at the Nationals. We study the odds, betting lines, teams, and players to give you our recommended betting picks to beat the New Jersey bookies!
Milwaukee Brewers at Washington Nationals (ML: -165) – O/U: 8
Tuesday, October 1st, 2019 – 8:00 p.m. EST
Betting Pick: Over 7.5

Starting Pitchers
MIL: Brandon Woodruff – R (11-3, 3.62 ERA/1.14 WHIP)
WSH: Max Scherzer – R (11-7, 2.92 ERA/1.03 WHIP)
The NL Wild Card Game is an interesting matchup, considering the Milwaukee Brewers won four of the six meetings this season against the Washington Nationals. Our top pick is for the total to go over 7.5 runs. Let's dive into the facts and figures below to learn why this is our top betting pick.
Betting Lines Analysis: Brewers at Nationals
Early on, the Nationals have received 73 percent of public bets/84 percent of money wagered on the moneyline. In addition, the total opened at 8 but has since dropped to 7.5 – this comes despite 54 percent of public bets/81 percent of money wagered sits on the over.
Brewers Betting Form
The Brewers will start the game with Brandon Woodruff, who has been magnificent during the regular season. He did have an outstanding start against the Nationals earlier this season, allowing four hits, no walks, and one run in six innings while striking out nine. Woodruff will likely have a short leash, though, considering he only went two innings in each of his last two outings before the playoffs. A lot of that has to do with Woodruff returning only recently after suffering an oblique injury in mid-July.
Luckily, the Brewers have a talented bullpen, but don't let their 4.40 ERA throughout the season fool you. Milwaukee will undoubtedly use the best bullpen-arm in baseball, Josh Hader, for two innings at some point in this game and that'll set up a dubious spot for the opposition.
The Brewers' lineup took a seemingly-huge hit when they lost OF Christian Yelich for the season. Milwaukee rebounded nicely and finished the final 23 games with an 18-5 record, despite losing the final three games in Colorado over the weekend.
Yelich was one of the only players to have long-term success against the Nationals' starter. Even with his numbers, the Brewers' current roster has a combined .182 batting average and 31.6 percent K-rate in 152 plate appearances against him.
Nationals Betting Form
Nationals' starter Max Scherzer had a very tough end to 2019, allowing 12 hits, one walk and nine runs over 12 2/3 innings – though, he did strike out 21 batters in that span. Like Woodruff, Scherzer pitched well against the opposition earlier this season, allowing six hits, one walk and two runs (one earned) in six innings while striking out 10.
One interesting number to look at the impact of Scherzer's team in this scenario. Over the last two seasons, the Nationals are 1-7 when he's favored at home in the moneyline range of -125 to -175.
It goes without saying that if Scherzer can't come up with a big outing, Washington is in trouble. In fact, its bullpen ERA of 5.68 ranked second-worst in MLB this season. Since this is a do-or-die situation, you have to wonder if the Nationals would bring starters Stephen Strasburg or Patrick Corbin into the game through the bullpen.
The Nationals do have a potent offense that can make up for the possible shortcomings from their arms. After all, Washington did win eight straight games and 10 of 11 heading into the playoffs. Guys like Anthony Rendon, Juan Soto and Trea Turner can certainly get the Nationals off to a great start, possibly making the night a little easier for Scherzer.
Betting Pick: Over 7.5
As mentioned earlier, Scherzer is not in the best form coming into the postseason. With him on the mound, it seems like his name alone brought the total down a half-run. In our opinion, that's a big mistake and bettors should be piling on the over – which they have. Look for him to falter a bit, but also the Nationals' offense to pick up some of the slack behind him.
Bettors can get this 7.5 total at William Hill Sportsbook. By signing up for a new account, first-time customers can get a free $50 bet when making their initial bet up to $50.