The Washington Nationals will look to pick up on where they left off last night against the New York Mets. In last night's series opener, the Nats got out to a double-digit lead en route to a 16-4 victory. Asdrubal Cabrera hit two of the team's four homers while Juan Soto and Trea Turner.
Tonight's pitching matchup is a pretty big mismatch, as Max Scherzer toes the rubber for Washington while Rick Porcello does the same for New York. Scherzer is coming off a sore hamstring injury while Porcello surprisingly pitched very well last time out. These two teams are actually at the bottom of the NL East standings but only sit 3.5 and 4 games out of first, respectively.
Even though Scherzer is on the mound for the Nats, we should expect to see some offense tonight. After all, the juice is heavier on the 8.5-total going over, and other trends will point in that direction as well.
Washington Nationals at New York Mets
Citi Field – Flushing Queens, NY
7:10 p.m. EST (Watch: MLB Extra Innings)
Starting Pitchers
WSH: Max Scherzer – R (0-1, 3.29 ERA/1.32 WHIP this season)
NYM: Rick Porcello – R (1-1, 6.92 ERA/1.77 WHIP this season)
Odds & Betting lines (bet365)
Total: 8.5 runs | Over: -115 | Under: -105
WSH | Moneyline: -145 | Run Line (-1.5): +110
NYM | Moneyline: +125 | Run Line (+1.5): -130
Injury List
WSH: Will Harris -RP (IL)
NYM: Robinson Cano -IF (IL), Jake Marisnick -IF (IL)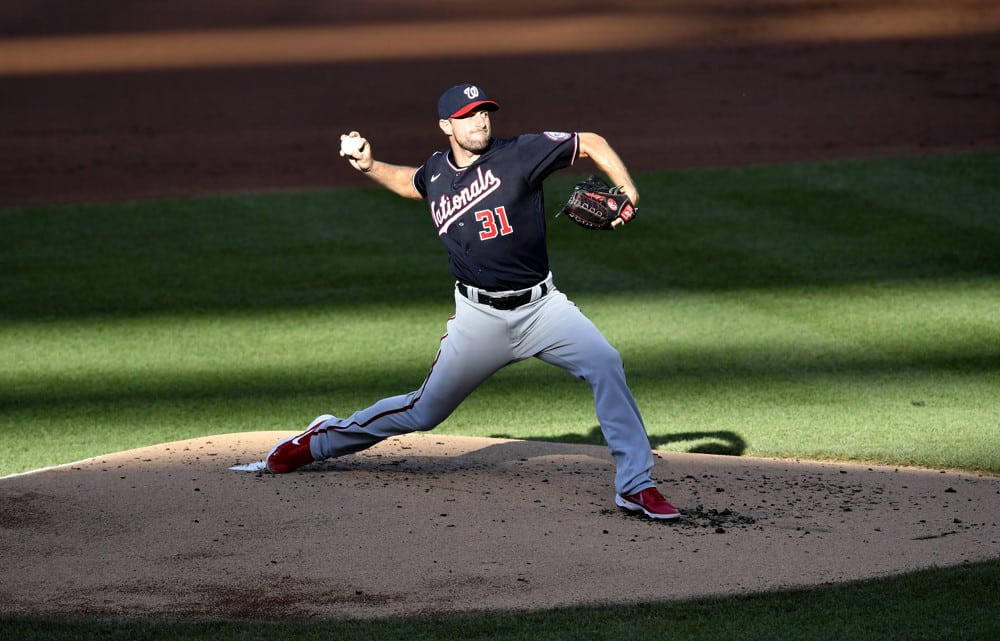 Game Notes
Where's the Money Going?
As of 9:45 p.m. EST today, the betting percentages are:
– Moneyline: WSH, 69% of bets made | NYM, 69% of all money wagered
– Run Line: WSH, 81% of bets made | WSH, 98% of all money wagered
– Total: Over, 58% of bets made | N/A on all money wagered
Second Time a Charm for Scherzer?
Scherzer's last start, which was against Porcello and the Mets, was cut short to only one inning because of a hamstring injury. This season, the veteran right-hander had a mixed bag of starts in his first two outings, giving us reason to believe he's not fully on top of his game just yet. Last season, Scherzer was 1-1 with a 3.46 ERA and 35 strikeouts in four starts (26 innings) against the Mets. The matchup to watch out for is Scherzer against Mets outfielder Michael Conforto, who is 11-for-32 with a double and four homers against him.
Porcello vs. Nats
This kind of goes against my thoughts for this game, but I figured we can play some type of devil's advocate. Porcello owns a 3-0 lifetime record and 2.57 ERA in three starts against the Nationals. However, it should be noted that two of those outings came as a member of the Red Sox – and he also allowed two homers in each of those two.
Betting Picks
It would be easy to just take the Nationals over the Mets, based on the starting pitching matchup on paper. However, we don't know exactly how healthy Scherzer is just yet; and let's not forget that the Mets actually have decent numbers against him. On the other hand, this will be the Nats second time seeing Porcello in the span of six days.
Shortly after the line opened, the 7.5 total jumped a whole run up to 8.5, with both teams (WSH: +0.6, NYM: +0.4) getting significant team-total increases. In addition, it's supposed to be a very humid night in Flushing Queens with the winds blowing out 10-12 mph to left-center field.
I have personally laid a significant amount of money down on this game so, hopefully, you all do the same as well.