All 15 MLB teams are on Wednesday's schedule, with two games being played during the day. It's a tough day for nationally televised games, as we'll only see the Chicago White Sox at Minnesota Twins during the day at 1:10 p.m. EST.
I can't shake these 1-2 nights, making it my fourth in a row, which now brings my season-long record to 4-8 (-$400). Here are three more free MLB betting picks to get things rolling in the right direction.
---
Table of contents
Looking for a winner tonight? Get exclusive betting offers from the best MLB betting sites and get that winning feeling!
---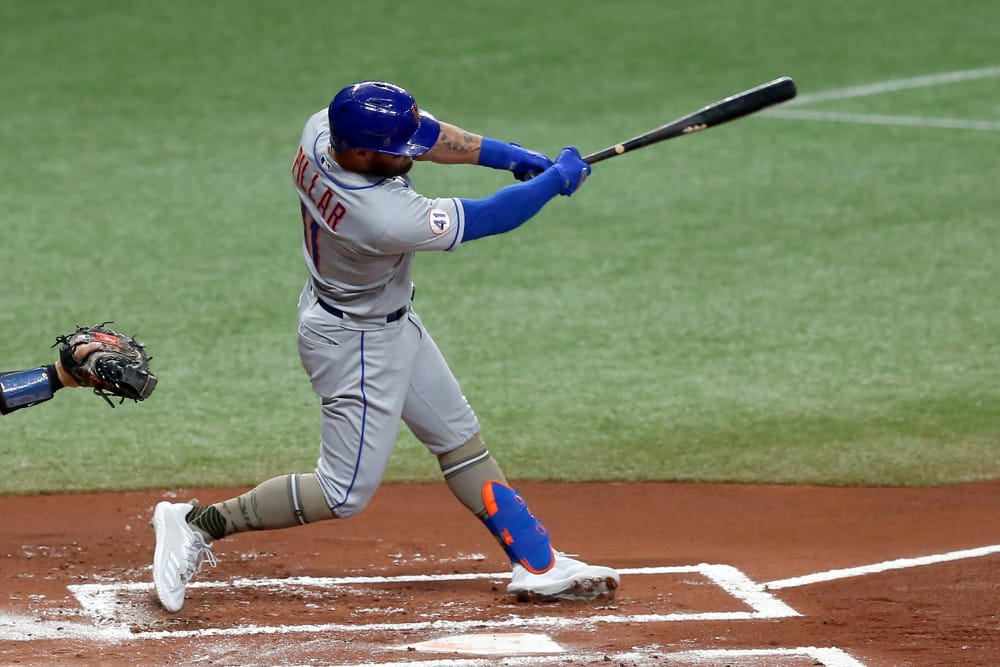 New York Mets (+130) at Atlanta Braves (-180) – Total: 8.5
NYM: David Peterson – L (1-3, 4.86 ERA/1.26 WHIP)
ATL: Charlie Morton – R (2-2, 5.08 ERA/1.44 WHIP)
Taking a look at the chart of implied run totals (IRT), we can see the Mets with a glaring -0.5 decrease (tied for worst on the slate). And it's certainly not Morton, who will be taking the mound for the Braves, because he's been terrible. But it looks as if the Mets are mailing this one in tonight, as their lineup is missing key components.
I don't have a lot of in-depth analysis for this game. More or less, this is a gut feeling that I have with the Braves. The Mets won the first two games of the series, and I can't see them taking all three here in Atlanta.
Betting Pick: Braves -1.5 (+120)
---
Pittsburgh Pirates (+185) at St. Louis Cardinals (-210) – Total: 7
PIT: Trevor Cahill – R (1-4, 5.97 ERA/1.41 WHIP)
STL: Jack Flaherty – R (7-0, 2.47 ERA/0.95 WHIP)
The proof is in the pudding, as the Pirates are tied for the worst IRT on the slate at 2.8. I think that's quite generous, considering Flaherty is absolutely locked in at the current moment. When he's at home, things have gone especially smooth. Flaherty is 3-0 with a 0.95 ERA/0.53 WHIP, the latter of those numbers being something Steve Nebraska would do on the silver screen.
If the Pirates could figure out John Gant last night, I'm not sure what their plan is for tonight. Against current members of Pittsburgh's roster, Flaherty has held them to a collective .154 batting average with no HRs in 85 plate appearances. This should be a nice and easy win for St. Louis tonight. If it's not, I will weep in the corner.
Betting Pick: Cardinals -1.5 (-105)
---
Detroit Tigers (+125) at Seattle Mariners (-140) – Total: 8
DET: Tarik Skubal – L (0-6, 5.73 ERA/1.58 WHIP)
SEA: Logan Gilbert – R (0-1, 9.00 ERA/1.25 WHIP)
Whenever a team has a pitcher throw a no-hitter, I immediately love going against them the next day. For one, it's a highly emotional situation and tough to ratchet that up for two straight nights. The other reason is just straight-up human emotion; after getting no-hit, that team wants to come back out and prove themselves.
This scenario works out perfectly, considering the Tigers have taken the first two games of this series. The Mariners were rocking and rolling prior to this series, so this downturn is certainly disappointing. Teams like Detroit don't sweep a series too often, and that means Seattle should have a huge response tonight.
Skubal takes the mound for the Tigers, and that's not a good thing. In 33 innings this season, the lefty has been rocked for 35 hits (11 HR) and 22 runs (21 earned). While the Mariners haven't been great overall against lefties, they do have above-average power numbers (.166 ISO) as a team in that split.
The Tigers got a -0.5 decrease to their IRT, tying them with three other teams for the biggest decrease on tonight's slate.
Betting Pick: Mariners -1.5 (+143)
---