Monday's eight-game MLB slate kicks off another great week of baseball action. If you're looking to catch any games on national coverage, you can find the Philadelphia Phillies at Miami Marlins (6:40 p.m. EST) on ESPN+ and the St. Louis Cardinals at Chicago White Sox (8 p.m. EST) on ESPN.
It has been a truly rough start to my MLB season, going 6-13 (-$695) to start the season. I did take the Phillies yesterday on my own, but not here in the article. Hopefully, that win will get a much-needed winning streak going. Here are three more free MLB betting picks to get
---
Table of contents
---
Philadelphia Phillies (+110) at Miami Marlins (-120) – Total: 7
PHI: Zach Eflin – R (2-3, 3.77 ERA/1.15 WHIP | 57.1 IP: 57 Ks, 7 HR)
MIA: Trevor Rogers – L (6-2, 1.74 ERA/1.05 WHIP | 51.2 IP: 65 Ks, 3 HR)
This is a big series in terms of how the NL East will look going forward. Both teams are a half-game apart in the standings, so it's only right that we get a solid pitching matchup to kick it off.
Rogers is the guy everyone will turn to first here, with his 1.74 EERA/1.05 WHIP in 51.2 innings pitched. His last start, which was against these same Phils, was an absolute gem. The lefty spun 7.2 innings of five-hit, one-run ball while striking out eight in a 3-1 victory.
Eflin has been a pleasant surprise for a Philly squad always looking for pitching. One of his bugaboos has been performing well away from home, where he's got a 5.68 ERA in four starts. Things are looking up, though, as the Marlins strikeout at the third-highest rate (26.8%) in all of baseball. Eflin does have at least six strikeouts in seven of his last nine starts, so the hope is that we get more of the swing-and-miss stuff.
I'll be taking the under on seven runs here. Both pitchers are ready for this spot and understand the situation. Not to mention, the Phils have the second-lowest IRT (3.4) on the entire slate while the Marlins aren't far behind at 3.7.
Betting Pick: Under 7 runs
---
Cleveland Indians (+115) at Detroit Tigers (-125) – Total: 9
CLE: Sam Hentges – L (1-1, 6.46 ERA/2.09 WHIP | 15.1 IP: 15 Ks, 5 HR)
DET: Spencer Turnbull – R (3-2, 2.88 ERA/0.96 WHIP | 34.1 IP: 31 Ks, 1 HR)
The Tigers find themselves as one of their biggest favored numbers of the season, and that's after this game initially opened as a toss-up. One of the big reasons for the upturn is the pitching matchup, which is clearly in favor of Detroit. Turnbull is coming off that miraculous no-hitter up in Seattle, which I usually shy away from. He did throw a season-high 117 pitches in that last start, but the sharp money has spoken. It's also worth noting the Indians IRT dropped by -0.4, which is the second-biggest downward movement on the slate.
Hentges has been an absolute disaster in limited work this season. Perhaps, he can get on track against a Tigers that has struggled against left-handed pitching. However, I just don't see that happening. Hentges got beat over the head for five hits/three walks and six runs in last start; based on the sharp financial backing of the Tigers, we could very well see that happen again.
Betting Pick: Tigers -1.5 (+155)
---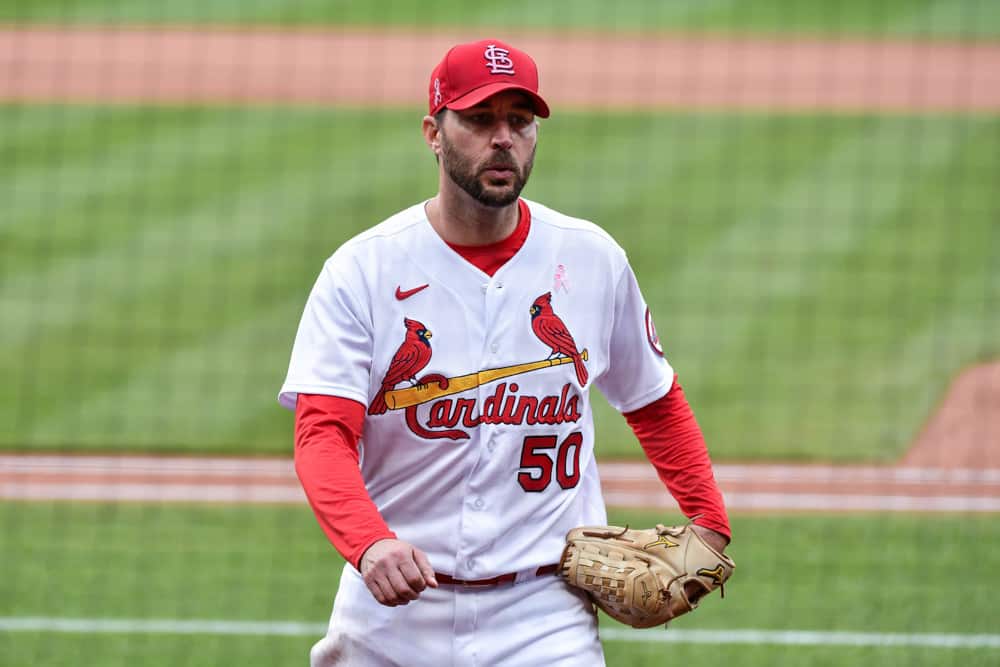 St. Louis Cardinals (+155) at Chicago White Sox (-170) – Total: 8.5
STL: Kwang Hyun Kim – L (1-1, 2.73 ERA/1.29 WHIP | 26.1 IP: 27 Ks, 1 HR)
CHW: Lance Lynn – R (4-1, 1.55 ERA/0.98 WHIP | 40.2 IP: 46 Ks, 4 HR)
I'll keep this last one short, but it's worth noting the upward movement on the White Sox IRT (+0.6) and their moneyline (-145 at open to -170 currently). I actually really like Kim a lot, as the Cardinals have won all but one of his six starts. However, it does look like Chicago will figure him out tonight since it is the No. 1 team in wOBA (weighted on-base average) vs left-handed pitching by a wide margin. The White Sox are at .363 in that regard when the next closest team (Cardinals) is at .344. Too bad that doesn't matter for St. Louis tonight.
Lynn has been fantastic this season, allowing three runs or fewer in all seven of his starts. In fact, he only allowed three runs once, two runs twice and no runs four times! If he has another big shutdown performance, that'll allow the White Sox bats to take their time and settle in on Kim.
Betting Pick: White Sox -1.5 (+115)
---