Wednesday's eight-game MLB evening slate caps off an exciting day of baseball. If you're looking to catch any of the action on TV tonight, you find the Tampa Bay Rays at New York Yankees on ESPN+ (7:05 p.m. EST) and the Boston Red Sox at Houston Astros on ESPN.
Last night, I split the pair of games to keep my season-long record at a similar 12-18 (-$630). Here are a couple of free MLB picks to try and get a winning night.
---
Table of contents
---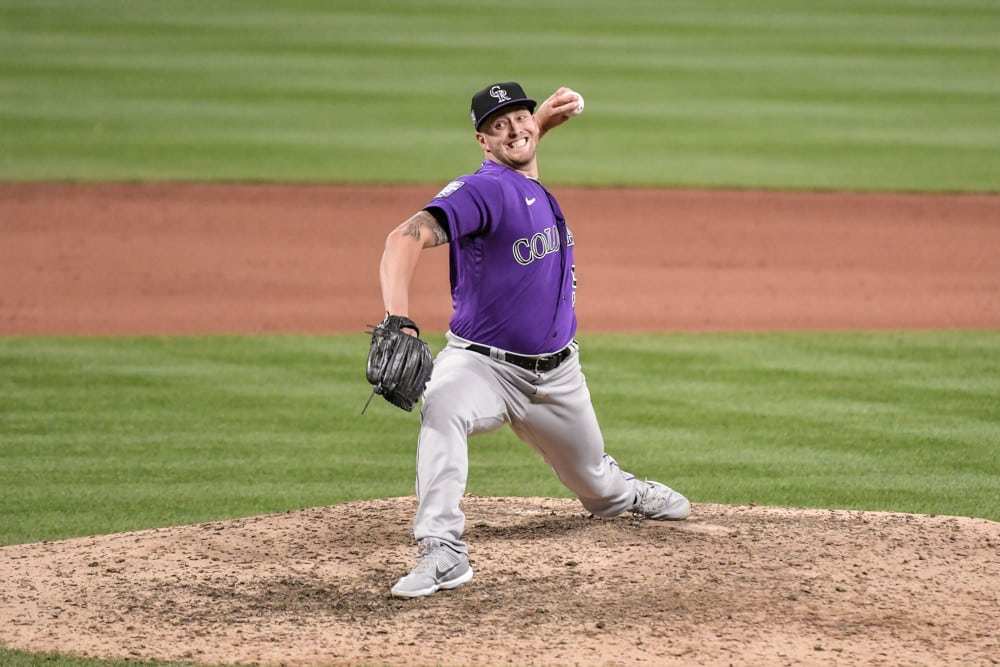 Texas Rangers (+105) at Colorado Rockies (-105) – Total: 11
TEX: Jordan Lyles – R (2-4, 5.79 ERA/1.50 WHIP | 56 IP: 52 Ks, 11 HR)
COL: Antonio Senzatela – R (1-5, 4.97 ERA/1.46 WHIP | 50.2 IP: 31 Ks, 6 HR)
We should see quite a bit of runs tonight, especially after we saw a pitching duel last night. These are two teams that were expected to light up the scoreboard, but German Marquez was the catalyst in keep the electric bill low. Not to mention, last night's game went into the 11th inning, and that means each team's bullpen put in at least four innings of work. Look for the offenses to take advantage of that later in the game.
Not only should we get runs later in the game, but probably even a few early on. Both pitchers have higher-than-average WHIPs, meaning there should be plenty of baserunners.
Lyles has been rocked in four career appearances (two starts) in Colorado, allowing 16 hits, seven walks, 13 earned runs and three homers over 12 innings. Granted, this is a much less talented Rockies team than in recent years. However, Lyles hasn't been showing much this season to believe he'll do well tonight.
Senzatela has been much better recently, but I'm not getting that good feeling in this matchup. He is allowing a .308 batting average to left-handed batters, and the Rangers have some deadly boppers from that side of the plate. Texas' IRT did increase +0.5, and that's the biggest positive movement on tonight's slate.
Betting Pick: Over 11 runs
---
Oakland Athletics (-155) at Seattle Mariners (+140) – Total: 8
OAK: Sean Manaea – L (3-2, 3.86 ERA/1.32 WHIP | 60.2 IP: 62 Ks, 7 HR)
SEA: Chris Flexen – R (5-2, 4.34 ERA/1.43 WHIP | 47.2 IP: 30 Ks, 5 HR)
After a couple of tough outings against quality opponents (@BOS, vs HOU), Manaea settled down in a pair of strong outings against the Angels. Whenever the lefty takes the mound against the Mariners, it's usually in Seattle. In fact, seven of Manaea's last eight starts have been there. There is a level of comfortability there, considering he's got a career 1.08 WHIP in Seattle over eight starts.
It still surprises me that Flexen has successful outings at the MLB level. I saw him quite a bit early on in his Mets days and never thought he'd hang around long. However, I was wrong – some of the time. Flexen truly is a mixed bag, in the sense that we never know what we're going to get.
I'm taking the A's on the run-line tonight, in hopes that this is another one of Flexen's blowup outings. After all, Oakland's run-line number (+105) tells a story of Oakland success.
Betting Pick: A's -1.5 (+105)
---