One of the most popular sayings in baseball is that the season is a marathon, not a sprint. While 60 games are still significant, this substantially-abbreviated 2020 MLB schedule could yield the most unpredictable season of all time. Despite–or perhaps even because of–this variance, however, the prop betting market could yield as much value as ever.
For those looking for a simple way into the MLB prop betting market this year, the 2020 Strikeout Leader is a great place to start. To put it simply, total strikeouts are the product of efficiency and volume–that is, strikeout rate (K%) multiplied by total batters faced. If we can identify who can strike out a high percentage of players, while also doing so in a large sample of innings. Our hunches will be correct more often than not.
With that being said, here are the best values currently available in the prop bet market: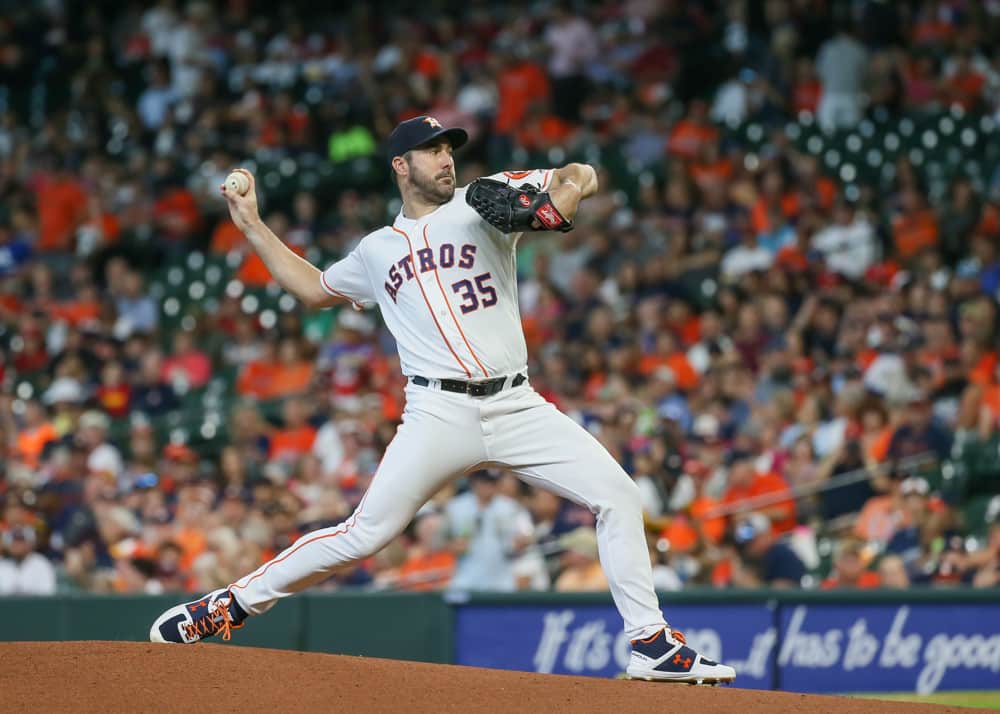 Justin Verlander, RHP, Astros +900 (DraftKings)
While Gerrit Cole stole the show in 2019 with a staggering 326 strikeouts–the most since Randy Johnson's 334 in 2002. It's former teammate Justin Verlander who serves as the better value for the 2020 strikeout crown. Over the past two seasons, Cole leads MLB in K% at 37.3%, but right behind him is Verlander at 35.1%. And, yes, the more favorable Verlander odds of +900 (compared to Cole's +225) do come with some caveats. For example, a significant gap in age (the 37-year-old Verlander out-ages Cole by nearly 8 years) and a hint of possible decline (Verlander's fastball lost about 0.4 mph over the past year).
Overall, however, the gap from +225 (implied odds of 31%) to +900 (10%) is simply too wide for a pitcher who's placed second in total strikeouts for two years in a row. Plus, the shortened season will make Verlander's age much less of an issue, as he only needs to prepare for less than half of his normal workload.
Mike Clevinger, RHP, Indians +3300 (DraftKings)
In a typical year, I would be much more focused on the favorites for strikeout leader. However, in this two-month sprint, one missed start could send a front-runner to the middle of the pack. Thus, it makes more sense to chase the long shot this season.
After returning from an early-season back injury, de-facto Indians ace Mike Clevinger punched out 169 batters in just 126 innings–a 33.9% rate which would've been good enough for 4th in MLB behind Cole, Verlander, and Max Scherzer. Equipped with a 95 mph fastball, an elite slider (boasting nearly 17 inches of horizontal break), and an above-average curveball, it wasn't a fluke. Now said to be fully healthy following a February 14 meniscus surgery, Clevinger has much more than just a 33-1 (3%) chance of leading the league in what should be an 80-inning sample.
Blake Snell, LHP, Rays +5000 (BetMGM)
Snell is another great longshot play for the same reasons as Clevinger. Thanks to a mid-season elbow injury, Snell was limited to only 107 innings in 2019. Like Clevinger, Snell dominated hitters during his time on the field, notching an impressive 33.3% strikeout rate. Although his injury–he just began facing live hitters in July–bakes a bit more uncertainty into the situation, he does have a longer track record of strikeout success than Clevinger, given his 31.6% mark 2018. If you still have some doubts, his cheaper price tag at +5000 represents a 33% odds discount. You may want to keep an eye on the headlines to ensure that Snell is heading into the 2020 season with no limitations, but a healthy Snell is a slam dunk to crush his current 50-1 odds.