In this article, we'll provide you with our top MLB betting pick for Game 1 of the World Series between the Washington Nationals and Houston Astros. We study the betting lines, the teams, and the players to give you our recommended baseball betting picks to beat the New Jersey Sportsbooks.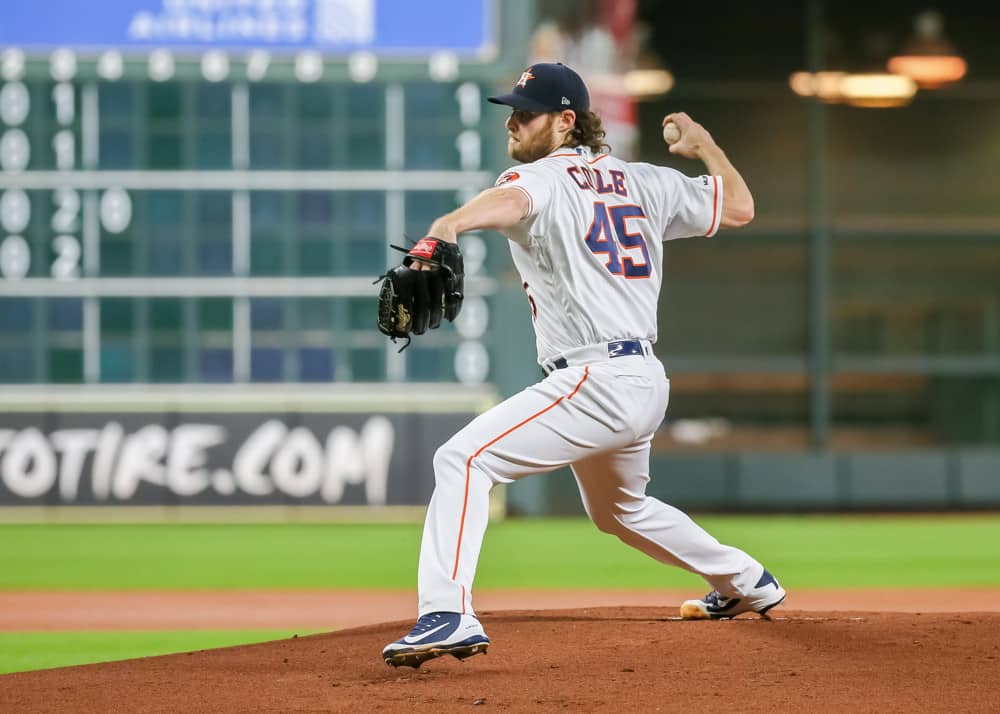 World Series Game 1: Washington Nationals at Houston Astros (ML: -200) – O/U: 7
Tuesday, October 22, 2019 – 8:08 p.m. EST

Betting Pick: Astros +1.5 (+112)
Starting Pitchers
WSH: Max Scherzer – R (2-0, 1.80 ERA/0.85 WHIP)
HOU: Gerrit Cole – R (3-0, 0.40 ERA/0.79 WHIP)
After a few days of no baseball, Game 1 of the World Series between the Washington Nationals and Houston Astros is set to kick off. These two teams took two very different routes to advance to The Fall Classic, with the Nationals sweeping the NLCS and the Astros winning the ALCS on a walk-off homer. Our top betting pick in Game 1 is for the Astros to win this game and cover the 1.5-run line. Let's take a look at the numbers and see how we landed on this decision.
Game 1 Betting Lines Analysis: Nationals at Astros
Given the marquee matchup of starting pitchers, it looks like the public will take some chances on the road-underdog here on the moneyline. It's right around 50/50 in terms of public bets, but 64 percent of all money wagered is coming in on the Astros. Things get a bit more interesting, though, with 87 percent of all money wagered is coming in on Houston covering the 1.5-run line – agreeing with us in the process. In terms of "smart" plays, taking the Astros in a plus-money scenario seems too good to pass up.
Nationals Betting Form
Max Scherzer had a tough finish to the regular season and got roughed up a little in the NL Wild Card Game. However, the veteran right-hander has been magnificent in each of his last two starts, allowing only five hits, five walks and one run over a span of 14 innings while striking out 18 batters. There isn't much of a history with Scherzer against the Astros, considering the last time he faced them was back in 2014 as a member of the Tigers.
During the regular season, the Nationals' bullpen had the second-worst ERA in baseball. Well, things have certainly changed and this is now a unit that the team can have plenty of confidence in. Washington's bullpen is well-rested, and that will certainly come in handy late in this game. If the two starting pitchers do what they're capable of, we could be looking a low-scoring tied contest heading into the late innings.
The Nationals' offense will certainly have their hands full against a pitcher who is on one of the best streaks in MLB history. This is not lazy analysis, rather bowing down to the greatness, in saying that Washington won't have a good night offensively. However, the best shot for these guys is work counts deep and make sure he's throwing plenty of pitches. Hopefully, for the Nationals' sake, it's enough to get him out of the game by the sixth inning. Cole has faced a few of these Nationals' hitters from his days in Pittsburgh, but Anthony Rendon has done the best, going 5-for-13 against him.
Astros Betting Form
There really aren't enough words to describe this run of outings that Gerrit Cole has been on. Let's take it back to July 12, which is the last time the Astros lost a game that he started. After that game (including postseason contests), the Astros have won 16 straight times when Cole started and in 15 of those, he allowed two runs or fewer. One last number – which plays a big part tonight – is that the Astros haven't lost a home game that Cole started since May 22. Folks, the trends are certainly in his favor tonight.
Houston's bullpen could actually be their biggest weakness right now. We saw them make things a bit interesting in the ALCS-clincher and there have been some moments of weakness at other times against the Rays and Yankees this postseason.
As we mentioned earlier, there's not a ton of Astros that have gotten looks against Scherzer. However, Michael Brantley (15-for-44, 10 extra-base hits, 3 walks, 1 strikeout) and Josh Reddick (5-for-11,1 triple, 0 walks, 3 strikeouts) have some level of success in that matchup. In comparing the two offenses, the Astros clearly have the advantage in this regard. This team has deadly hitters up and down the lineup, and Scherzer has been prone to give up the long-ball at times.

World Series Game 1 Betting Pick: Astros +1.5 (+112)
When dissecting the starting-pitching matchup a bit further, maybe it's not a close as most of us think. After all, Cole is on one of these Hall-of-Fame type streaks right now and the only thing that can seemingly stop him is the end of the season. With the Astros' power-hitting capabilities, they can afford to not hit for great average while still putting runs on the board. Look for the Astros to score most or all their runs via the long-ball.
| | | | |
| --- | --- | --- | --- |
| Team | Moneyline | Spread | Over/Under |
| Washington Nationals | +165 | +1.5 (-135) | Over 6.5 (-120) |
| Houston Astros | -190 | -1.5 (+115) | Under 6.5 (100) |
Resorts odds at the time of publishing