In this article, we'll provide you with our top MLB betting pick for Game 2 of the World Series between the Washington Nationals and Houston Astros. We study the betting lines, the teams, and the players to give you our recommended baseball betting picks to beat the New Jersey Sportsbooks.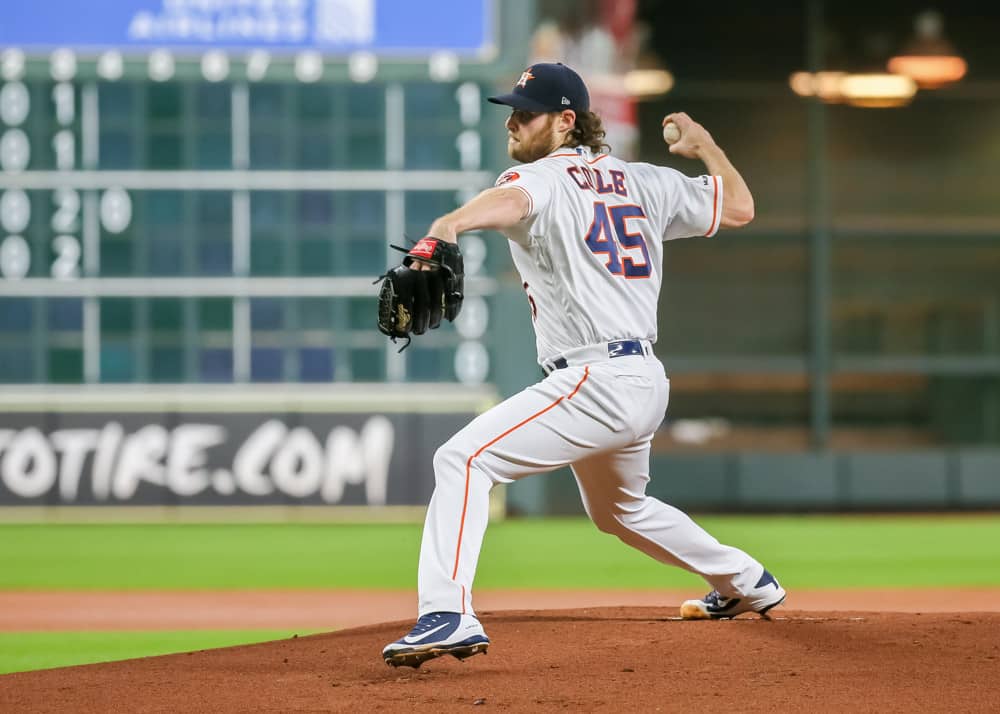 World Series Game 2: Washington Nationals at Houston Astros (ML: -185) – O/U: 7.5
Wednesday, October 23, 2019 – 8:07 p.m. EST

Betting Pick: Under 7.5
Starting Pitchers
WSH: Stephen Strasburg – R (3-0, 1.64 ERA/0.86 WHIP)
HOU: Justin Verlander – R (1-2, 3.70 ERA/1.07 WHIP)
The Washington Nationals took Game 1 of the World Series over the Houston Astros by the score of 5-4. It truly was a shocker, considering the Astros had the best pitcher in the game on the mound. With that being said, our top betting pick is for the total to go under. Let's take a look at the numbers and see why we're going down that road.
Game 2 Betting Lines Analysis: Nationals at Astros
Early on, we're seeing a near-even mix of public bets on the total. A lot of heavy money was placed on the under and that makes us feel quite confident. In fact, 96 percent of all money wagered early last night was on the total going under, so bettors should feel good about that.
Nationals Betting Form
Stephen Strasburg has been outstanding in the postseason with three quality starts and a three-inning shutdown relief-performance in the NL Wild Card Game against the Brewers. Not to mention, he has fanned 33 batters in 22 innings of work. We can't take much from Strasburg's history against the Astros. He has faced them three times (with two of those coming in 2011 and 2012) with the last in 2017.
The Nationals' bullpen bent in Game 1 but they didn't break in the end. After using most of their best arms last night, they can definitely struggle a bit tonight. Strasburg should give his team about six to seven innings and not let the bullpen be a factor.
Juan Soto has been unbelievable since coming to the Majors, but he's really showing his true talents during this postseason. In his first World Series game, Soto went 3-for-4 with a double, a home run, three RBI and a stolen base.
Quite a few Nationals have faced tonight's starter for the Astros, but it hasn't come with a ton of success. Only Gerardo Parra and Kurt Suzuki have a .300 batting average or better against him. Asdrubal Cabrera does have three-lifetime homers in this individual matchup, but he does have 30 strikeouts in 84 plate appearances.
Astros Betting Form
Justin Verlander has done his best work at home this postseason. In that time, he has allowed only two runs in 13 2/3 innings –compared to eight runs in 10 2/3 innings on the road. While the Nationals did get to Gerrit Cole last night, Verlander might just be the guy to shut them down finally. We all know how great he's been over the course of his career, and this is the time when he usually shines the brightest. For this game, you can't look at Verlander's recent numbers – you just have to know the type of competitor he is. He'll do everything he can to not let his team go down 0-2 heading to the nation's capital.
The Astros' bullpen was only needed for two innings last night and did a fine job. If we're right in our thinking, Verlander could set Houston up nicely for the rest of the series. After all, they didn't get as much rest as Washington heading in.
There were a lot of missed opportunities for the Astros' offense in Game 1. Alex Bregman had his first game with three strikeouts since May 2018 and we're not expecting that to happen again. But on a positive note, last night was the fifth straight World Series game (and sixth in seven of them) that George Springer homered in. At the end of the day, it'll be tough to get to Strasburg in his current state. We see this one being settled late, and probably going in the Astros' favor.

World Series Game 2 Betting Pick: Under 7.5
Every game that Verlander started this postseason had a game-total of eight runs or fewer. We're not looking to test that eight-run total again, let's just keep it one below. Both of these starting pitchers have a lot working in their favor. After last night's slugfest, we expect to see this one playing out in the exact opposite way.
| | | | |
| --- | --- | --- | --- |
| Team | Moneyline | Run Line | Over/Under |
| Washington Nationals | +160 | +1 (+108) | Over 7.5 (+100) |
| Houston Astros | -185 | +1 (-127) | Under 7.5 (-117) |
SugarHouse at the time of publishing