In this article, we'll provide you with our top MLB betting pick for Game 3 of the World Series between the Houston Astros and Washington Nationals. We study the betting lines, the teams, and the players to give you our recommended baseball betting picks to beat the New Jersey Sportsbooks.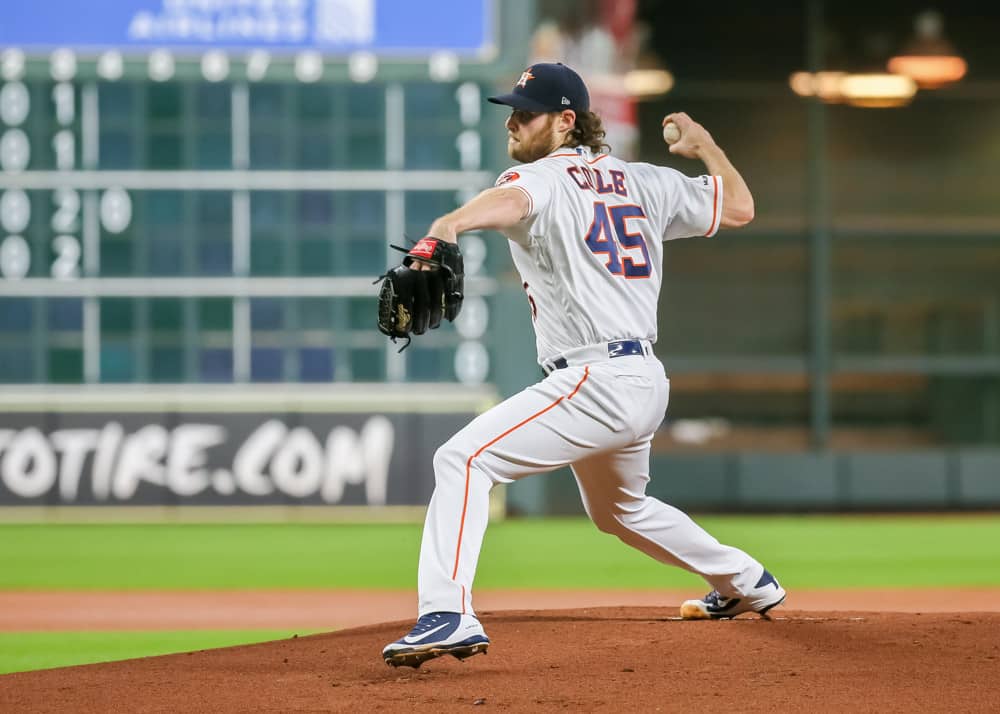 World Series Game 3: Houston Astros (ML: -150) at Washington Nationals – O/U: 8
Friday, October 25, 2019 – 8:07 p.m. EST

Betting Pick: Astros (ML: -150)
Starting Pitchers
HOU: Zack Greinke – R (0-2, 6.43 ERA/1.43 WHIP)
WSH: Anibal Sanchez – R (1-0, 0.71 ERA/0.63 WHIP)
No one saw this coming. The Washington Nationals defeating the Houston Astros twice on the road? C'mon man! While the Nationals' run is great for the game of baseball, we've got other ideas on what will happen tonight. Our top betting pick is for the Astros to win Game 3. Let's dive into the numbers to see why we're heading in that direction.
Game 3 Betting Lines Analysis: Astros at Nationals
The public bets are split right down the middle on each team winning. However, we're seeing a huge difference with the Astros getting three-fourths all of money wagered. Obviously, we're in agreement on that end. It'll be very tough to beat this Houston team in three straight games.
Astros Betting Form
Yikes. This was certainly not the start Houston was looking for start out the World Series. While Game 1 was a tight battle, Game 2 was anything but. Because of that whooping in Game 2, we think that will finally motivate the Astros to get themselves in gear.
Zack Greinke has not performed well in his postseason career. However, he's back in his natural habitat of the National League, where he'll also to get to hit. Prior to getting traded to the Astros, Greinke had a ridiculous .883 OPS with three homers in 48 plate appearances.
Now, is that enough to bet the Astros solely on that? No, but it certainly helps. Greinke did have his best outing of the postseason last time out against the Yankees, allowing one run over 4 1/3 innings before getting pulled after 83 pitches. In his only start against the Nationals this season, Greinke pitched 7 1/3 innings of scoreless ball, allowing two hits and no walks.
The Astros would love Greinke to give them some innings and save the bullpen for later in the series. A total of six relievers have been used by Houston so far in the World Series.
As for the bats, they'll need to be in peak form if they don't want the Nationals to have the champagne on ice Saturday night. Luckily, a handful of these Astros' bats have solid career numbers against the opposing starting pitcher. Despite going 0-for-5 in Game 2, George Springer has a .351 batting average, 1.400 OPS, six homers and nine RBI in nine career World Series games.
Nationals Betting Form
While it'll be tough to make a case against the Nationals, here we go. It seems like a cop-out to do in baseball, but this game is a law of averages. We just saw it the other night where Gerrit Cole finally lost a game after being so dominant. With the Nationals winning eight straight games, and Astros losing two straight, the trend has to get bucked. We rarely see all-time great teams like this go out quietly.
When Anibal Sanchez takes the mound, it'll be the first time he's done so in 14 days. Hey, we're all for pitchers on extended rest, but that stroke of postseason magic could have worn off during the layoff. Sanchez hasn't seen the Astros lineup in a while, but his last two performances (2015 and 2016) didn't go well, allowing 11 runs over a span of 10 2/3 – please take that with a grain of salt.
The Nationals' bullpen has been outstanding since late in that NLDS series against the Dodgers. It's truly a remarkable turnaround, considering that unit had the second-worst ERA in all of baseball this season. You do have to wonder if regression will rear its ugly head with this group, but so far, so good.
Juan Soto didn't make his usual impact in Game 2 but this is a certainly a name that Greinke should pitch carefully to. Asdrubal Cabrera will have to get a start in tonight's game, considering he's 16-for-37 lifetime against Greinke with three doubles, a triples and two walks. As for the rest of the offense, it could be any player at any moment during the postseason. And that's what has made them so dangerous.

World Series Game 3 Betting Pick: Astros (ML: -150)
While the Nationals have the momentum right now it's about time that the Astros gets things moving in a positive direction. We could argue (according to the stats) this is a mismatch of starting pitchers, and it speaks volumes that Houston favored by so much in an 0-2 hole. Nonetheless, we feel like the Astros get back on the good foot tonight, even when we have to fork over more money than we'd like.
| | | | |
| --- | --- | --- | --- |
| Team | Moneyline | Run Line | Over/Under |
| Astros | -150 | -1.5 (+120) | Over 8 (-108) |
| Nationals | +130 | +1.5 (-141) | Under 8 (-108) |
SugarHouse at the time of publishing