In this article, we'll provide you with our top MLB betting pick for Game 5 of the World Series between the Houston Astros and Washington Nationals. We study the betting lines, the teams, and the players to give you our recommended baseball betting picks to beat the New Jersey Sportsbooks.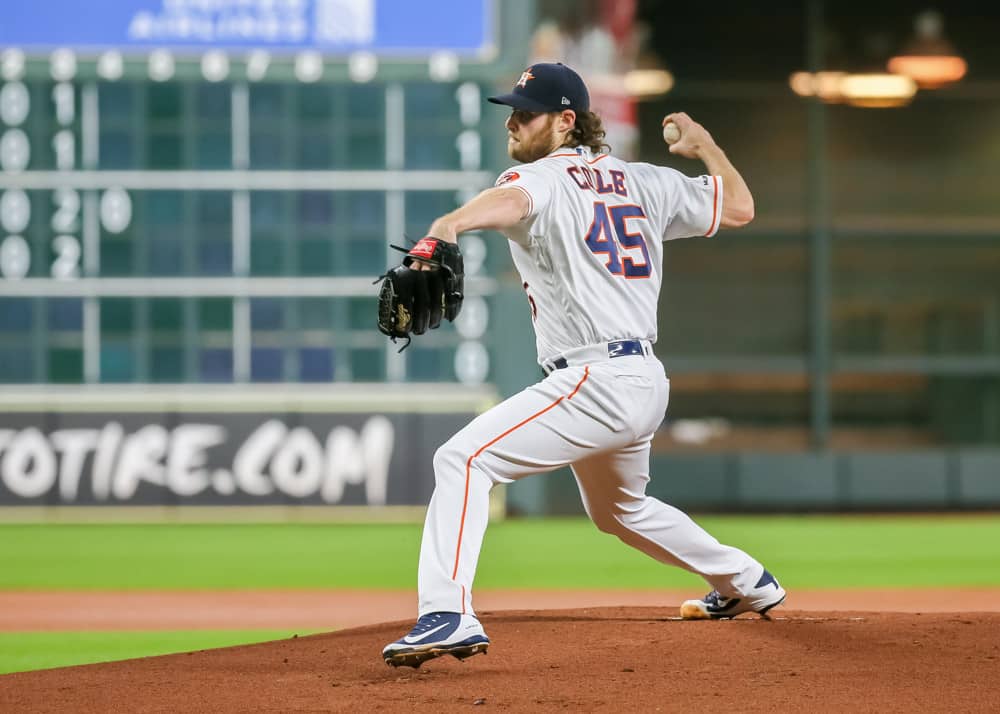 World Series Game 5: Houston Astros (ML: -146) at Washington Nationals – O/U: 7
Sunday, October 27, 2019 – 8:07 p.m.
Betting Pick: Astros (ML: -146)
Starting Pitchers
HOU: Gerrit Cole – R (3-1, 1.82 ERA/0.91 WHIP)
WSH: Max Scherzer – R (3-0, 2.16 ERA/1.00 WHIP)
After winning the first two games of the World Series, the Washington Nationals find themselves evened up with the Houston Astros. Game 5 will be a matchup of premier aces, and this one is sure to be an absolute thriller. Our top betting pick is for the Astros to win this game and head back to Houston up 3-2 in the series. Let's dive into the numbers to see why we're heading in this direction.
Game 5 Betting Lines Analysis: Astros at Nationals
Bettors agree with us, as 63 percent of all money wagered is in favor of the Nationals. When looking at Game 1, the Astros were massive -200 favorites at the close. It appears like Vegas is still in love with Houston's starting pitcher in this one and we are too. This is one of the best in the game, with the weight of the season standing on his shoulders.
Astros Betting Form
Gerrit Cole got absolutely ripped in Game 1 and we should not expect to see that again. Prior to that outing, the Astros hadn't lost a game that he started since July 12. When marquee players like this have a bad performance, they usually strike back with a good one. We've seen this Nationals' offense get neutralized over the last two games against much worse pitchers, scoring only one run in each of those.
The Astros' offense is back in order, and Robinson Chirinos is certainly loving the D.C. air with homers in each of his last two games. Alex Bregman had been struggling quite a bit since the ALCS against the Yankees, but he got back in the mix with a game-defining grand slam last night. Also, look out for World Series lifer George Springer to make a difference in this game.
Nationals Betting Form
Max Scherzer gets the ball for the Nationals in their most important game of the season. After having a rough regular season at times and even in the NL Wild Card Game, the veteran right-hander has settled down and allowed a total of three runs in 19 innings. Against the Astros in Game 1 of the World Series, Scherzer allowed five hits, three walks and two runs over five innings before the bullpen closed it out narrowly.
The Nationals' offense has missed some key opportunities in Game 3 and a huge one in Game 4 to tie the game. It's quite the change of outcomes, considering they've been coming up with timely hits all throughout the postseason. After a string of great performances, Juan Soto has gone hitless in each of the last two games with four strikeouts. In Game 1 of the World Series, he was the one with the biggest hits against Cole. If the Nationals win this game, he'll probably be the reason why.
The Nationals' offense actually wasn't that bad last night; they just couldn't capitalize with runners in scoring position. Look for this offense to get back on track in that regard, knocking a few runs in at crucial moments. Perhaps, creating some of their own on the basepaths. Juan Soto struck out three times in four at-bats to celebrate his 21st birthday. Needless to say, he'll be looking to make amends.
World Series Game 5 Betting Pick: Over 8.5
We've got one starting pitcher going against a team that crushed left-handed pitching. And the other? Well, we're not too sure what we're going to get. Nonetheless, Urquidy won't have a long leash and the Astros' bullpen is tired. That's not a great recipe for success either. Lots of cleats will touch home plate in Game 4.