After a rain-shortened game 1 of the season, the Yankees and Nationals look for a full 9 innings in game 2. Fortunately, Saturday's pitching matchup is nearly as exciting as Thursday's. Hard-throwing lefty James Paxton will take the mound for New York. Washington will counter with the electric Stephen Strasburg.
New York Yankees at Washington Nationals
Nationals Park, Washington, D.C. – 7:15 P.M. EST
STARTING PITCHERS
NYY: James Paxton (Last Season: 15-6, 3.82 ERA, 3.86 FIP)
WAS: Stephen Strasburg (Last Season: 3.32 ERA, 3.25 FIP, 5.7 WAR, 209 IP)
Odds & Betting Lines (PointsBet)
Total: 8.5 | Over: -105 | Under: -115
NYY | Moneyline: -121 | Run Line: (-1.5) +135
WAS | Moneyline: +100 | Run Line: (+1.5): -160
Injury List
NYY: SP Luis Severino; SP Masahiro Tanaka; RP Luis Cessa
WAS: RP Wander Suero; RP Roenis Elias; C Wellington Castillo; 1B Ryan Zimmerman; SP Joe Ross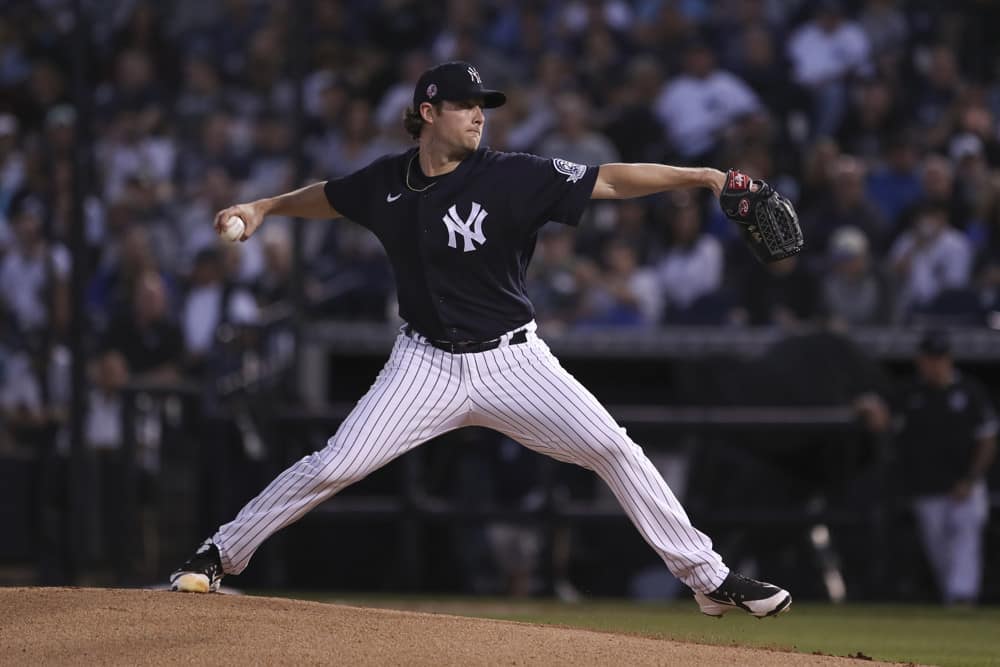 Interesting Stats
No Heat, No Problem
It's not a secret that pitchers tend to lose some velocity as they age. Now 32, Strasburg is firmly in the 'post-peak' phase of his career. Despite his drop in fastball velocity to 94.3 mph–down from a career mark of 96 mph–the righty did some of his best work in 2019. His 5.7 WAR is the second-highest of his career, and his 51.7% ground ball rate is his best ever. All the while, his 23.3% K-BB% was within MLB's top ten.
Velocity Tells All
In James Paxton's case, however, velocity could not be more important. In 2019, Paxton's average fastball was 95.5 mph. Here are his splits when above or below that number in a game.
Above 95.5 mph: 79.2 IP, 2.50 ERA, 6.09 IP/Start, 100 K, 21 BB
Below 95.5 mph: 71 IP, 5.33 ERA, 4.44 IP/Start, 86 K, 34 BB
Clearly, Paxton seems to live and die on his velocity more than other pitchers. A lack of velocity could even indicate an injury for the southpaw. Accordingly, his early-game velocity on Saturday could be a betting angle worth exploiting.
Betting Picks
NYY ML -121, NYY Over 4 Runs (-125)
Although Strasburg is quite a formidable pitcher, that may not be enough for the Nats. Without Anthony Rendon (free agent), Ryan Zimmerman (opt-out), and Juan Soto to (COVID-19), the lineup has lost a lot of juice.
Starter James Paxton is an ace when healthy, and the elite Yankees bullpen is well-rested Plus, as we saw on opening night, the Yankees' offense is not to be taken lightly. With DJ Lemahieu back in the fold, the Bronx Bombers look good bets to start 2-0.