Parlay bets are a great
way to switch up your sports betting and combine a few betting picks together
to bump up your payout. In this article, we'll provide you with our top NBA
parlay bets for Wednesday, January 22, 2020. We study the odds, the betting lines,
and the teams, and to give you our recommended parlay bets.
The following three NBA parlay picks offer a low, medium, or
high payout – In addition, we'll offer a bonus option for the early-afternoon
games! Our low payout parlays try to minimize risk and odds start near +200 or
higher in an effort to double our stake. Likewise, our medium and high payout
parlays offer higher payouts with higher odds, but higher odds mean a smaller
chance of winning.
In other words, are you after the big payout or more consistent wins?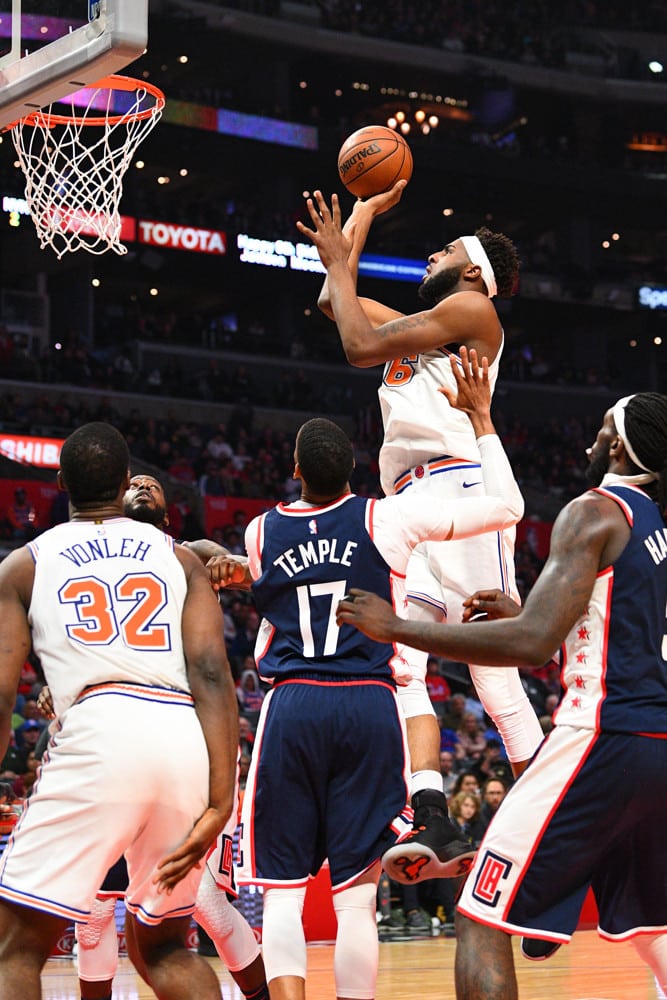 Low-Risk Top NBA Parlay Bet
Parlay Odds: +210
$20 risk: $62.06 payout
This
NBA parlay bet focuses on winning your stake back and then some. This parlay is
for the bettor who prefers low risk/low yield parlay bets. Remember the saying
"slow and steady wins the race?" Well, this parlay bet won't set the world
alight, but it's your best chance of beating the NJ
sportsbooks.
7:00 p.m. EST – Philadelphia 76ers at Toronto Raptors ML (-250)

The 6.5-point spread is the largest the 76ers have faced all season, and that's not a good thing. The reason being, they're already 1-9 SU/3-6-1 ATS as a road underdog this season. It's crazy to think the Raptors would be favored by this much, especially when the 76ers are on a four-game winning streak.
However, Toronto is 13-0 SU/8-5 ATS when favored by -6 or more this season. In fact, the Raptors are firing on all cylinders at the moment with four straight games scoring at least 122 points.
7:30 p.m. EST – Los Angeles Lakers ML (-670) at New York
Knicks
After getting their clocks cleaned in Boston on Monday, the Lakers will look to get back on the good foot. As a double-digit favorite this season, the Lakers are 13-2 SU/6-8-1 ATS. Only one of those games were on the road, and they didn't cover that one against the Hawks. However, these are the Knicks they'll be facing tonight.
These two teams matched up two weeks ago and it was the Lakers winning by 30. This is a terrible matchup for the Knicks, who really have a tough time dealing with these versatile beasts like LeBron James and Giannis Antetokounmpo – there's just no one on New York that can possibly stay in front of guys like that. Now, you add Anthony Davis into the mix, and things could get a lot worse.
7:30 p.m. EST – Washington Wizards at Miami Heat ML (-500)
The Heat have been a strong favorite this season, going 23-5 SU/17-10-1 ATS. They're even better when favored by -8 or more, going 9-1 SU/8-2 ATS in that situation – the only loss came on the road against the Wizards team they'll face tonight.
This is a great chance for retribution, and Miami will get Jimmy Butler back in the lineup. Washington has been playing better of late, even winning two straight games, but this matchup is a step-up in class.
8:00 p.m. EST – Denver Nuggets at Houston Rockets ML
(-360)
We tried to give the Rockets a chance on Monday, but they broke our hearts in a revenge game against OKC. According to the eight-point spread, it seems like they can at least get the win. The Nuggets will be without Jamal Murray, Gary Harris, Paul Millsap and now Mason Plumlee has been added to the list of the walking dead.
Houston is a dreadful 2-5 SU/1-6 ATS over the last seven games, but we're confident that James Harden and Russell Westbrook can get this team back on track. The Rockets are 12-3 SU when favored by -8 or more, but only 5-10 ATS.
10:00 p.m. EST – Utah Jazz ML (-455) at Golden State
Warriors
The Warriors have actually been playing some competitive ball of late, going 5-2 ATS over the last seven games. However, tonight's matchup might be too much for them to overcome. The Jazz are 17-2 SU/14-4-1 ATS over the last 19 games, marking themselves as one of the best teams in basketball. Donovan Mitchell and Rudy Gobert are turning into one of the most formidable duos in the NBA, complemented by Joe Ingles and Bojan Bogdanovic.

Medium-Risk Top NBA Parlay Bet
Parlay Odds: +593 odds
$20 risk: $138.62 payout
This parlay bet focuses on
winning your stake back and then some. This NBA parlay bet is for the bettor
who prefers an evenly balanced payout/risk ratio. The bettor who wants a decent
payout, but is not reckless with their parlay picks.
7:00 p.m. EST – Oklahoma City Thunder at Orlando Magic –
Under 209 (-110)
There's a solid trend of unders between these two teams in tonight's current situation. Magic games have gone under the total 14 times in 21 home games (with one push) while OKC games have done the same 13 times in 21 road games.
In fact, each of the last seven Orlando home games has gone under the total. It's no secret that the Magic step up the defensive intensity at home, but the offense could certainly take a hit after being on a long six-game road trip – typically, teams are a bit sluggish in that first game back home after a long trip. Look for this to be a real grind of a game that both sides struggle in.
7:30 p.m. EST – Memphis Grizzlies at Boston Celtics – Over
233 (-110)
The 233-total is the highest for a Celtics game this season, so we should probably expect to see a big offensive performance tonight. When Boston games have totals between 226.5 and 230 this season, the over has hit three times and the team has scored at least 123 points three times; in two of those, the Celtics went for 139 and 140 – the 139 was just last game against the Lakers. Additionally, Celtics' games have gone over the total in four straight games and five of the last six.
These high-scoring games are nothing new for the Grizzlies,
with eight games having a total of 230.5 or higher. What's interesting is that Memphis
is 7-1 SU/ATS in those games. The line might look a bit inflated because of how
badly the Celtics crushed the Lakers on Monday. It may be nothing, but Boston is
1-4-2 ATS when favored by -6 or -7 this season.
9:30 p.m. EST – San Antonio Spurs at New Orleans Pelicans
– Over 236 (-110)
Two of the top four total-shattering teams (SA: 62% | T-1st
in NBA, NO: 56.8% | T-4th in NBA) take the court on Wednesday and we'll stay
true to form. Spurs' games have gone over the total in eight of the last 12
tries while Pelicans' games have done the same in 15 of the last 22. There will
be plenty of excitement in the building tonight, as Zion Williamson will be making
his NBA debut. With the entire world tuning in, everyone will want to be on top
of their game offensively.
Big-Payout Top NBA Parlay Bet
Parlay Odds: +1224
$20 risk: $264.76 payout
This recommended NBA parlay bet focuses on maximizing your winnings. This NBA parlay bet is for the bettor who is looking for the big payout from the NJ sportsbooks. The higher odds mean beats but we're shooting for the stars here! No one ever bragged they won $10 and as such, so this is for the bettor looking for the big parlay win.
7:00 p.m. EST – Sacramento Kings at Detroit Pistons – Over
220 (-110)
Kings' games have gone over the total in five straight, and in
nine of last 12. That could be a good sign tonight, considering 11 of the last
15 Pistons' games have done the same. In fact, Detroit has the second-best
percentage (59.1%) of totals gone over this season.
Richaun Holmes of the Kings will miss his seventh straight contest,
and that has certainly hurt a team that is 0-4-1 ATS over the last five games –
Sacramento has allowed 121.8 PPG over that span. Andre Drummond (lip
laceration) of the Pistons is listed as questionable. We'll assume Drummond is
playing, and that would certainly be better news for the total going over if he
is.
7:30 p.m. EST – Los Angeles Clippers at Atlanta Hawks
(+6.5/ML: +210)
It's doubtful that the Clippers will play Kawhi Leonard on
the back-end of a B2B. They still don't have Paul George back, and Patrick
Beverley couldn't play in the second half of last night's game. LA is 3-3 SU/1-5
ATS in the last six games on the back-end of B2Bs, so this could certainly be a
trouble spot. Not to mention, the Hawks have been playing competitive ball over
the four games going 3-1 ATS. We wouldn't be surprised at all if Atlanta keeps
this game close.
8:00 p.m. EST – Minnesota Timberwolves at Chicago Bulls ML
(-110)
The spread says this game could go either way, but we like
the Bulls to win. While the T-Wolves got Karl-Anthony Towns back, they've lost
all three of those games an additional three before he got there – we're no mathematicians
but that's a six-game losing streak. This should be a fun game to watch Zach
LaVine go at it against his old team; he's dropped at least 28 points on Minnesota
in three of the four meetings. This one will come down to defense, and that's
where Chicago is better.
9:00 p.m. EST – Indiana Pacers at Phoenix Suns ML (-113)
Prior to getting smoked the other night, the Pacers were on a nice five-game winning streak. They did, however, run into the toughest B2B road trip in basketball – Denver and Utah. Indy still isn't out of the weeds just yet; the trip to Phoenix is surprisingly a tough one and the Pacers are playing their fourth game in six nights.
We like the Suns to get the win against a tired team and keep things moving in a positive direction. Phoenix has won four of its last six games.
Get a Sign-Up Bonus up to $1,000* for this NBA Pick
Make the most of our NBA Computer Picks with this January offer from DraftKings Sportsbook. New customers can get a sign-up bonus up to $1000 when they create a new account and deposit. Offer ends 2/2/20