Tuesday's six-game NBA slate is another dandy lined up for us. TNT will be handling the national-TV doubleheader, featuring the Los Angeles Lakers at New Orleans Pelicans & Philadelphia 76ers at Golden State Warriors. There will be some superstar talent missing from those games, as the Lakers will be missing LeBron James and Anthony Davis (for an extended period of time) while the 76ers will be missing Joel Embiid and Stephen Curry is out for the Warriors.
Last night, I went 2-2 to keep the season-long record in a similar 61-34-2 ATS position. Here are four more free NBA picks for tonight that should help increase the bankroll.
---
Table of contents
---
Denver Nuggets (-7.5) at Orlando Magic – Total: 217
DEN: normal rest, front-end b2b (@TOR tomorrow)
ORL: 4 games in 6 days, front-end b2b (vs PHX tomorrow)
When you have a notable trend looking you right in the face, you have to roll with. The Nuggets have won each of their last eight meetings against the Magic, with a 6-0-2 ATS record in that span. Denver has also played well as a road favorite, going 9-6 ATS this season.
In addition to all of those struggles in previous matchups, the Magic will be dealing with even more hurt. Tonight, they'll be missing Cole Anthony while Terrence Ross and Chasson Randle are both listed questionable. Orlando has had plenty of struggles against some of these Western Conference teams which have more talent, going 5-10-1 ATS against the opposite side this season.
Betting Pick: Nuggets (-7.5)
---
Washington Wizards at New York Knicks (-3) – Total: 224
WSH: normal rest (2nd game in 5 days)
NYK: normal rest (2nd game in 5 days)
I'm going with the underdog Wizards in this matchup, considering Russell Westbrook and Bradley Beal finally got this team going in the right direction. In fact, I might even be tempted to take the moneyline on Washington in this matchup. All season long, I feel like the oddsmakers have been dangling this low-hanging fruit of the Knicks in front of us with point spreads of 1-3 as a favorite. It's worth noting that they currently have better odds to not make the playoffs than actually making it.
With all of that being said, it's time that this team starts sliding. Look for the Wizards to roll into Gotham tonight and get the W. For purposes of this article, I'll play it safe on the +3 but will probably wind up going moneyline. It depends how much risk you're willing to take.
Betting Pick: Wizards (+3)
---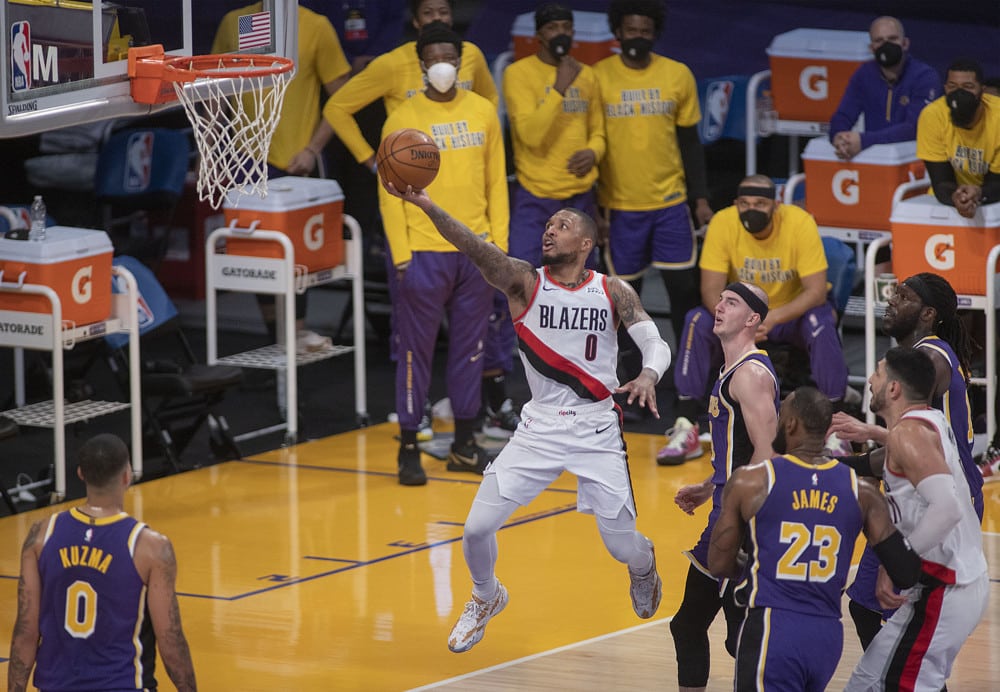 Brooklyn Nets at Portland Trail Blazers (-3.5) – Total: 232.5
BKN: normal rest, front-end b2b (@UTA tomorrow)
POR: 4 games in 6 days
Look, I'm a Nets fan and still can't get behind them in this spot. Kyrie Irving has already been ruled out and James Harden is a "very questionable" for tonight. Without Harden, the Nets offense really takes on a questionable outlook as to what will happen. Joe Harris will become the main threat, but who is the primary ball handler – that you have full confidence in?
After a rough start to the season, the Trail Blazers are 7-3 over the last 10 games. It's no coincidence that as CJ McCollum was getting ready to come back, the team started taking off. Now that Damian Lillard has his running mate back, the sky is the limit for Portland. I'm assuming Harden is out tonight. Even if he isn't, that neck injury shouldn't be too comfortable to play with.
Betting Pick: Trail Blazers (-3.5)
---
Philadelphia 76ers (-4) at Golden State Warriors – Total: 217
PHI: 3 games in 4 days
GS: 2 days rest
Joel Embiid is still out for the 76ers, but they've got a more-than-capable backup. Dwight Howard certainly doesn't have the type of perimeter game that Embiid does, but he can still be effective down low. After all, the Warriors are one of the worst teams defending opposing centers.
The Warriors suffer a huge hit in this matchup without Stephen Curry. I understand that Embiid is out, but the 76ers should still be bigger favorites when they opposition is missing their best player. I think Philly is the significantly better team here and get it done easily.
Betting Pick: 76ers (-4)
---
Looking for free bets? Check out the latest offers from the best NBA betting sites and double your bankroll for tonight.