Wednesday's massive 12-game slate will be a fantastic night of NBA action. ESPN will carry tonight's national-TV doubleheader, featuring the Brooklyn Nets at Philadelphia 76ers & Dallas Mavericks at Memphis Grizzlies- both games will be covered in today's article.
Last night, I went 2-1 to bring my season-long record to 92-56-2 ATS (62.2%). Here are four more free NBA picks to keep things rolling in the right direction.
---
Table of contents
---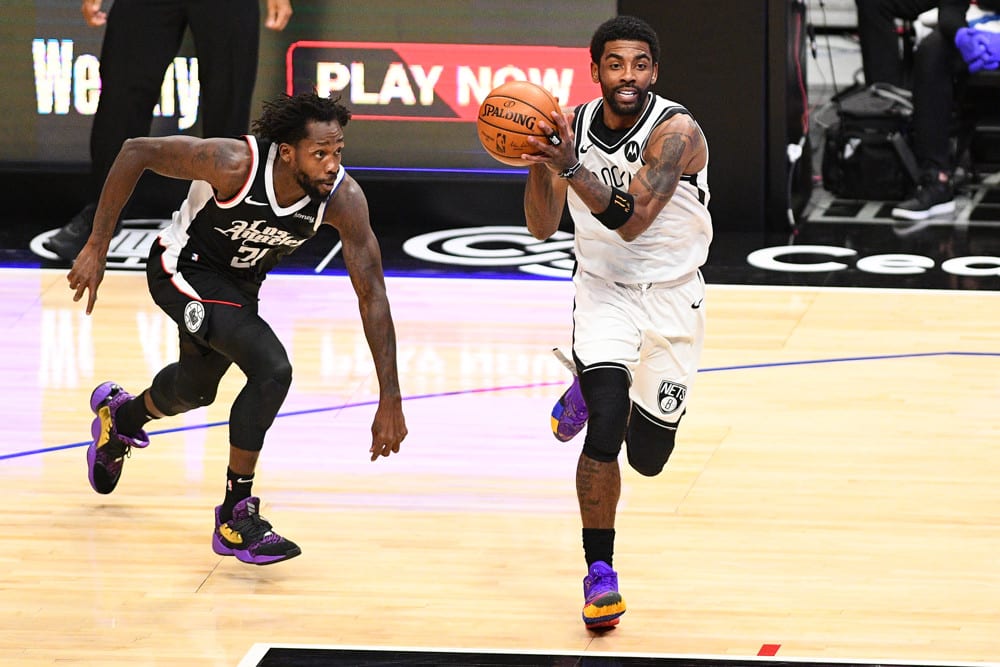 Brooklyn Nets at Philadelphia 76ers (-7) – Total: 226.5
BKN: back-end b2b (@MIN yesterday)
PHI: normal rest
As a lifelong Nets fan, I have nothing but hatred for the 76ers. However, I just don't think Brooklyn will have enough guys to make it work tonight. After Monday's game in Minnesota was postponed, the Nets had to play yesterday at 4 pm EST and then fly back to the East coast for this game with the two-hour loss in time difference added as well.
The Nets and 76ers will likely face each other in the Eastern Conference Finals this season. Earlier today, 76ers guard Danny Green mentioned that when he was with the San Antonio Spurs, they would rest players against teams expected to be playoff matchups at some point. It appears like that's what the Nets are doing tonight.
Betting Pick: 76ers (-7)
---
San Antonio Spurs (-4.5) at Toronto Raptors – Total: 221.5
SA: 3 games in 4 days, 4 in 6 (all on the road)
TOR: back-end b2b (vs ATL yesterday), 3 games in 4 days, 4 in 5, 5 in 7
This will be a tough game for both sides, but I believe the Spurs will have more in the tank. The Raptors are playing their second game in as many nights, and they are also on a string of five games in seven days. The Spurs too are on a tough stretch, with four road games in six days.
Nevertheless, San Antonio is more prepared for this matchup, going 16-7 ATS on the road and 6-3 ATS as a road favorite. In addition, the Spurs are 13-6 ATS against Eastern Conference teams. Toronto has really struggled with the quick turnarounds, going 3-9 ATS on the back-end of back-to-back sets. Not to mention, the Raptors are also 10-16 ATS at home.
Betting Pick: Spurs (-4.5)
---
New York Knicks at New Orleans Pelicans (-2.5) – Total: 219
NYK: 3 games in 4 days, 4 in 6
NOR: 3 games in 4 days, 4 in 6
I'm not a big fan of the Pelicans as the favorite, with dreadful marks of 10-16 ATS in that regard and 6-11 ATS as a home favorite. Tonight's matchup against the Knicks will certainly be a tougher one if Lonzo Ball doesn't suit up. Steven Adams is still one tough SOB down low, but New York has some muscle to counter.
The Knicks have been strong on the road this season, going 17-11 ATS in that regard and 12-7 ATS as a road underdog.
Betting Pick: Knicks (+2.5)
---
Dallas Mavericks (-2) at Memphis Grizzlies – Total: 225.5
DAL: 3 games in 4 days
MEM: 3 games in 4 days (all at home), 4 in 6
This has been a matchup dominated by the Mavericks in recent memory, winning (and covering) four of the last five meetings. Dallas is finding a nice groove on the road too, going 16-12 ATS there and 10-5 ATS as a road favorite.
I have been tracking the Grizzlies quite a bit lately, and something happened to this team in the second half of Friday's loss at New York. Since that moment, they lost that game, an easy layup game at home against the Pacers and barely beat a downright tired Bulls team. I am not impressed at all with the way Memphis is playing and believe Luka Doncic and Dallas will steamroll them tonight.
Betting Pick: Mavericks (-2)
---
Supercharge your bets tonight! View the best NBA betting sites in our expert guide with some offering up to $1000 in free bets.
---