Thursday's three-game slate of NBA Playoffs contests is sure to be an exciting one. All three games have some sort of dramatic storyline attached to them.
If you're looking to catch the action on TV, it all starts at 7:30 p.m. EST on TNT with the Milwaukee Bucks at Miami Heat. TNT caps off its doubleheader with the Phoenix Suns at Los Angeles Lakers at 10 p.m. EST while NBA TV gets the final matchup of the night, the Denver Nuggets at Portland Trail Blazers.
Last night, I had a perfect 3-0 night (6-6 in the playoffs) – on the same day I shot a career-best 88 on the golf course. What a day! Here are three more free NBA betting picks to keep things going in the right direction.
---
Table of contents
---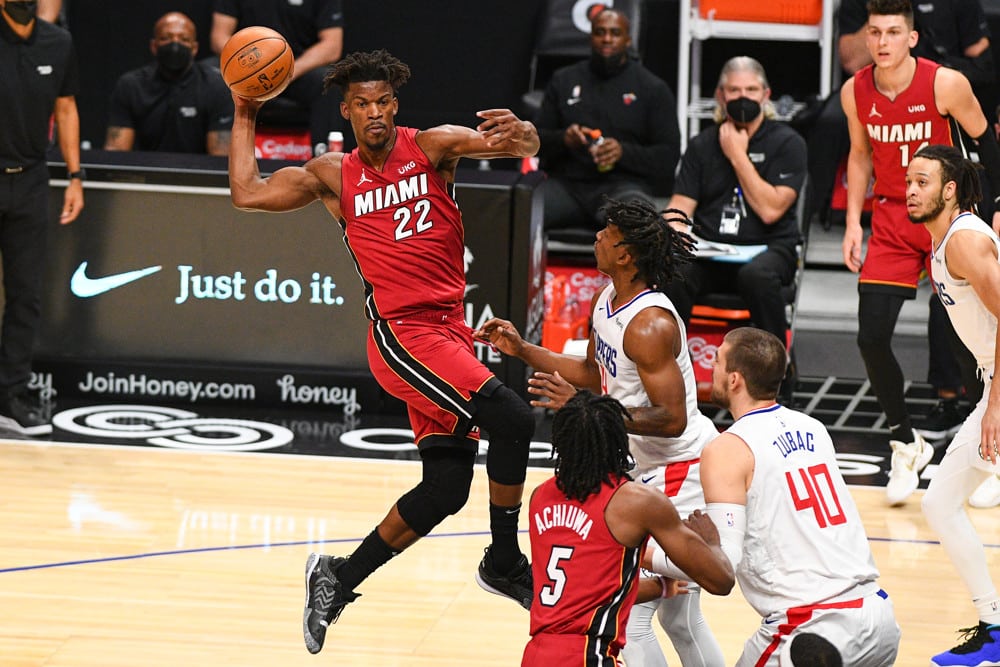 Milwaukee Bucks (-2) at Miami Heat – Total: 226
While the Heat were absolutely destroyed in Game 2, it does present them with a great amount of desire tonight. After all, a loss would drop them to an insurmountable 0-3 hole in this series. It's also good news for Miami that about 80% of all public bets are with Milwaukee. All of that money coming in, along with the Bucks' spread improving by a half-point, is usually a good sign for going in the opposite direction.
Miami was right there in the heat of the battle in the series opener. I expect them to come back with something strong tonight. Milwaukee has won each of the last three meetings, but all of those were at home.
Betting Pick: Heat (+2)
---
Phoenix Suns at Los Angeles Lakers (-7) – Total: 210.5
I'll be taking another underdog tonight, as the second-best team in basketball should never be a +7 underdog… I don't care where, or who, they're playing. I'm well aware that Chris Paul is hurt to the point where it is actually affecting him. However, this is a massive overreaction to the number here.
If this blows up in my face, I'll accept it. But I just feel like this is way too many points to be giving a very good team. There is a lot more to the Suns than just CP3, and the Lakers aren't the gods everyone thinks they are.
Betting Pick: Suns (+7)
---
Denver Nuggets at Portland Trail Blazers (-3.5) – Total: 227.5
Now that we're going back to Portland, this series will REALLY get interesting. The Trail Blazers weren't a great home team during the regular season (15-21 ATS, compared to 24-14 ATS on the road). However, this is the playoffs, and things will be a little different at this time of the year.
Since I highlighted the stat in Game 2, of course it didn't come through. But it's worth noting that Portland is 5-1 ATS against Denver in the last six meetings. Damian Lillard got off to a record-setting start in the first half of the last game, so it's important for that to happen once again.
There were stretches in Game 2 where you could tell the Trail Blazers were content just winning the series opener. I kind of saw the same thing from Atlanta at MSG last night, but these guys already did their overall task on the road – to win one of the two road games.
Betting Pick: Trail Blazers (-3.5)
---