When you think of March Madness, the first few things that pop into your head are likely college basketball, buzzer beaters, and obviously the Backstreet Boys.
Apparently, when Kevin, AJ, Howie, Nick, and Brian aren't busting a move they're making March Madness Final Four picks for Caesars Sportsbook. In this promo dubbed Back Backstreet, the Boys each pick the teams that they think will make the Final Four, and it was turned into a four-team parlay.
With odds ranging from +2500 to +45000, the picks from the world-famous boyband members include a wide range of options. Kevin's parlay has the shortest odds (+2500) as he has two one seeds in Gonzaga and Kansas, along with second-seeded Villanova and fourth-seeded UCLA.
On the other end of the spectrum is Kevin's cousin, Brian, who has a parlay with +45000 odds. He went with three longshots, including the longest of longshots — the 15-seed Saint Peter's Peacocks. By combining them with Duke, Michigan, and Miami, you can get 450-to-1 odds and hope the Cinderella story continues into the Final Four.
Backstreet Boys March Madness Final Four Picks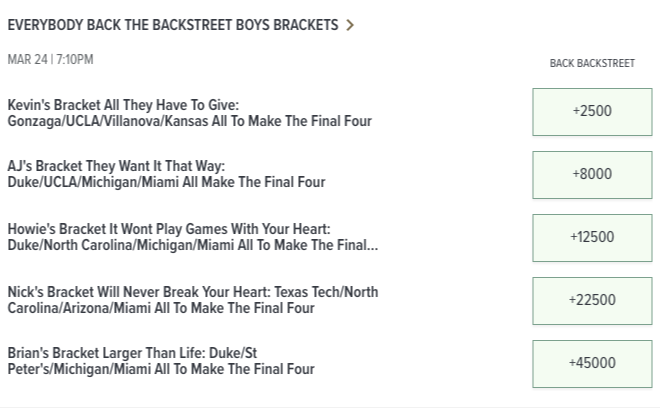 In between the best and worst odds are AJ (+8000), Howie (+12500), and Nick (+22500) who all like Miami to come out of the Midwest Region. Both Howie and Nick picked North Carolina to win the East, and AJ and Howie are keen on Duke to take the West Region.
The Boys "want it that way" and you have the chance to tail them while potentially making some money in the process. If their Final Four picks are anything like their greatest hits, then "Everybody" should come out a winner.
Get Risk-Free Bets on The Final Four Tonight
Sign up for Caesars Sportsbook with promo code USODDSCZR. Place a first-time wager of up to $1,100, get it back in the form of a Free Bet, if you lose.