It's hard to believe that we've already seen two weeks of NFL football, but time flies when you're having fun. As we move into Week 3, we'll start to separate some of the contenders from the pretenders.
Week 2 was a much better result, at 2-1, than I had in the winless Week 1. That brings the record in this article to 2-4 on the season, much worse than what I've had in the Thursday and Monday night games.
In this article, we'll take a look at the best value NFL picks for Week 3. All of the lines mentioned in this article come to you via DraftKings Sportsbook.
Also, make sure to check out my latest episode of "Taking Sides" with Pauly Parlays as we cover more picks across the NFL, NBA, and other major sporting events.
Claim $1000 Bonus From DraftKings
---
Las Vegas Raiders at New England Patriots
Sunday, 1:00 p.m. EST | Watch: CBS
Gillette Stadium – Foxborough, MA
Total: 48 points
| | | |
| --- | --- | --- |
| LV | Spread: +5.5 | Moneyline: +250 |
| NE | Spread: -5.5 | Moneyline: -295 |
Betting Percentages
| | | |
| --- | --- | --- |
| Total | Over, 68% of bets | Under, 99% of money |
| Spread | NE, 53% of bets | NE, 74% of money |
| Moneyline | LV, 59% of bets | NE, 68% of money |
Sure, the Raiders are off to a 2-0 start. However, we need to cognizant of who they played and the positions they were in. Wins against the Panthers and Saints could be construed as positive, but we all know about the latter team on the road – they're just not as good, especially without their All-World WR in Michael Thomas.
Las Vegas could be in a world of hurt here, considering the travel schedule it has endured early on. First, the Raiders traveled to Carolina for Week 1 and then came all the way back West to face New Orleans on Monday night. Now, they'll be traveling across the country once again, but this time it'll be with a day less of preparation. Not to mention, there is a bad stigma of winning teams on Monday Night Football not bringing the same intensity for the following game – especially on the road.
Let's not forget about the Patriots in this matchup, though. After all, this is a team that is showing no effects of losing the great Tom Brady. Cam Newton has these guys playing at a fantastic level, and they themselves could even be 2-0 if not for a great last-second stand by the Seahawks defense last week.
Betting Pick: Patriots –5.5
---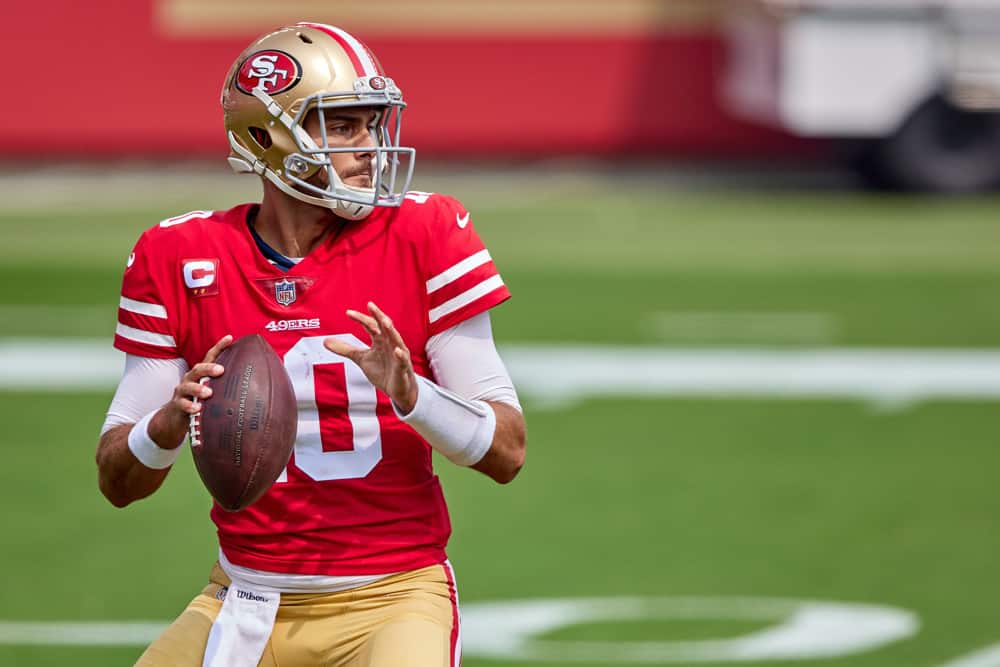 San Francisco 49ers at New York Giants
Sunday, 1:00 p.m. EST | Watch: FOX
MetLife Stadium – East Rutherford, NJ
Total: 41.5 points
| | | |
| --- | --- | --- |
| SF | Spread: -4 | Moneyline: -195 |
| NYG | Spread: +4 | Moneyline: +165 |
Betting Percentages
| | | |
| --- | --- | --- |
| Total | 50/50 % of bets | Over, 99% of money |
| Spread | SF, 60% of bets | Under, 91% of money |
| Moneyline | SF, 61% of bets | N/A % of money |
That's right, folks. It's about time that the Giants get their first win of the season – as much as some of you don't want to believe that it's ever going to happen. I mentioned it on this week's "Taking Sides" podcast, and even drew plenty of criticism for it, but I just don't believe that New York is THAT much worse off without RB Saquon Barkley. As you can see in the tweet below, QB Daniel Jones is more than capable of handling things on his own.
Of course, part of the reason we're even entertaining the idea of the Giants covering (possibly even winning outright) is how injury-ravaged the 49ers team is at the moment. I could list all of the injured players in a list right now, but this article wouldn't see the light of day until Sunday night. Quite simply, San Francisco just doesn't have the bodies to get it done this week.
It's important to note how most people still believe the 49ers can get it done. But, it's even more important to note that nearly all of the money wagered so far is on the Giants to cover the spread. That's good news for New York.
Betting Pick: Giants +4
---
Dallas Cowboys at Seattle Seahawks
Sunday, 4:25 p.m. EST | Watch: FOX
CenturyLink Field – Seattle, WA
Total: 56 points
| | | |
| --- | --- | --- |
| DAL | Spread: +5 | Moneyline: +190 |
| SEA | Spread: -5 | Moneyline: -220 |
Betting Percentages
| | | |
| --- | --- | --- |
| Total | Over, 72% of bets | Over, 95% of money |
| Spread | SEA, 71% of bets | DAL, 90% of money |
| Moneyline | DAL, 65% of bets | N/A % of money |
This is another example of the public heading in one direction and the sharps going in another. After two weeks of exceptional play, the whole world is love with Seahawks QB Russell Wilson – as they should be. The man is doing extraordinary things, including an unbelievable performance against Bill Belichick and the usually-stout Patriots defense.
The Cowboys haven't played their best ball of the season just yet, but they did overcome a 29-10 deficit at halftime last week to eventually beat the Falcons on a last-second field goal. Nevertheless, there's still a reason why so much money is flooding in on the Cowboys – believe it or not, this is still a very good football team.
Sunday's matchup has the highest total of any game on the Week 3 slate, even more than the Chiefs-Ravens game on Monday Night Football. Dallas is more than capable of sticking around offensively with Seattle in this one. In my opinion, five points is too much in either direction for these teams.
Betting Pick: Cowboys +5