When the Week 4 NFL schedule kicks off, we'll finally have some October football in our lives. There are a number of teams establishing themselves as contenders while others are still trying to figure it out.
Last week was a tough 1-2 output, with the New England Patriots easily beating the Las Vegas Raiders coming as the only win; the New York Giants loss to the San Francisco 49ers and the Dallas Cowboys loss to the Seattle Seahawks being the two blemishes. My season record now sits at 3-6, so I've got some catching up to do this week.
As per usual, the odds in this article are from PointsBet Sportsbook. You can use the promo code USODDS at PointsBet.com for four risk-free bets with a value of $1,000!
---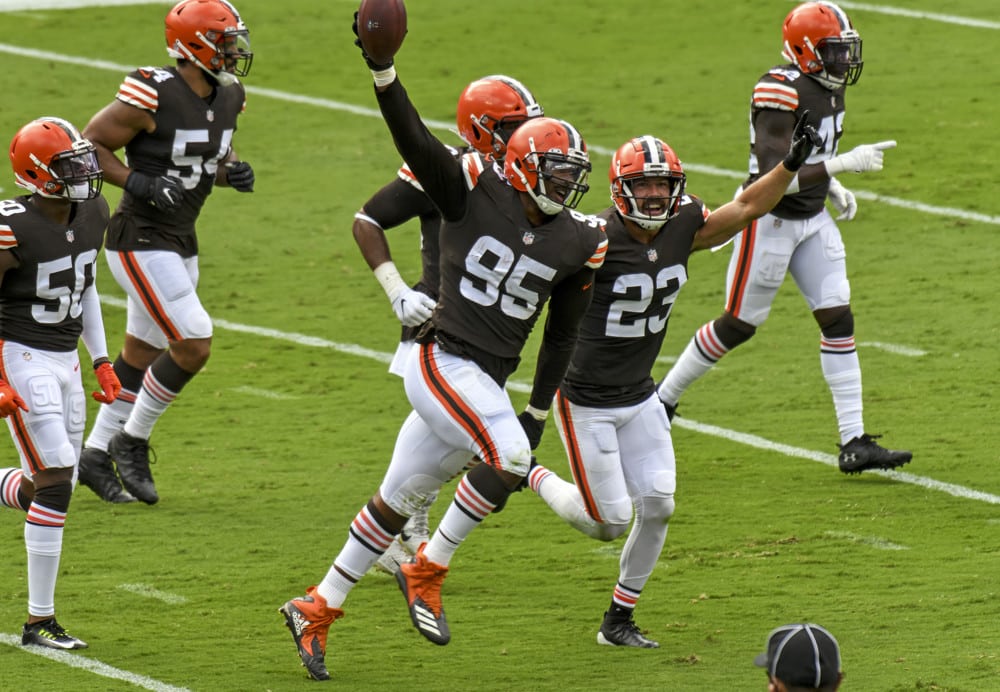 Cleveland Browns at Dallas Cowboys
Sunday, October 4, 2020 | 1:00 p.m. EST | Watch: CBS
AT&T Stadium – Arlington, TX
Total: 56 points
| | | |
| --- | --- | --- |
| CLE | Spread: +4.5 | Moneyline: +180 |
| DAL | Spread: -4.5 | Moneyline: -226 |
Betting Percentages
| | | |
| --- | --- | --- |
| Spread | DAL, 70% of bets | DAL, 89% of money |
| Moneyline | DAL, 74% of bets | – |
| Total | Over, 53% of bets | Under, 80% of money |
I really can't believe that we're seeing such an astronomical total in this game, considering we have two of the best teams at running the football. A lot has been made of the Cowboys' offense over the last two weeks, but let's keep in mind their opponents – the Atlanta Falcons and Seattle Seahawks, not exactly two of the best defenses in the league. Not only that, but those are two QBs (Matt Ryan and Russell Wilson) that are going to thrive on moving the ball all over the field this season.
In this Week 4 matchup against the Browns, we should not expect the same. Sure, Cleveland has scored 30+ points in each of its last two games, but those came against two of the worst defenses in the Cincinnati Bengals and Washington Redskins; the Browns also capitalized on numerous great field-position situations in those games. While the Cowboys aren't an elite defensive unit just yet, they are certainly capable of holding Baker Mayfield & Co. under 30 points.
At the end of the day, Ezekiel Elliott and the Nick Chubb/Kareem Hunt combo will pick up plenty of first downs on the ground, moving the chains and running the clock. I do not expect this to be a high-flying shootout, rather a game that is filled with seven- to eight-minute drives.
Betting Pick: Under 56 points
---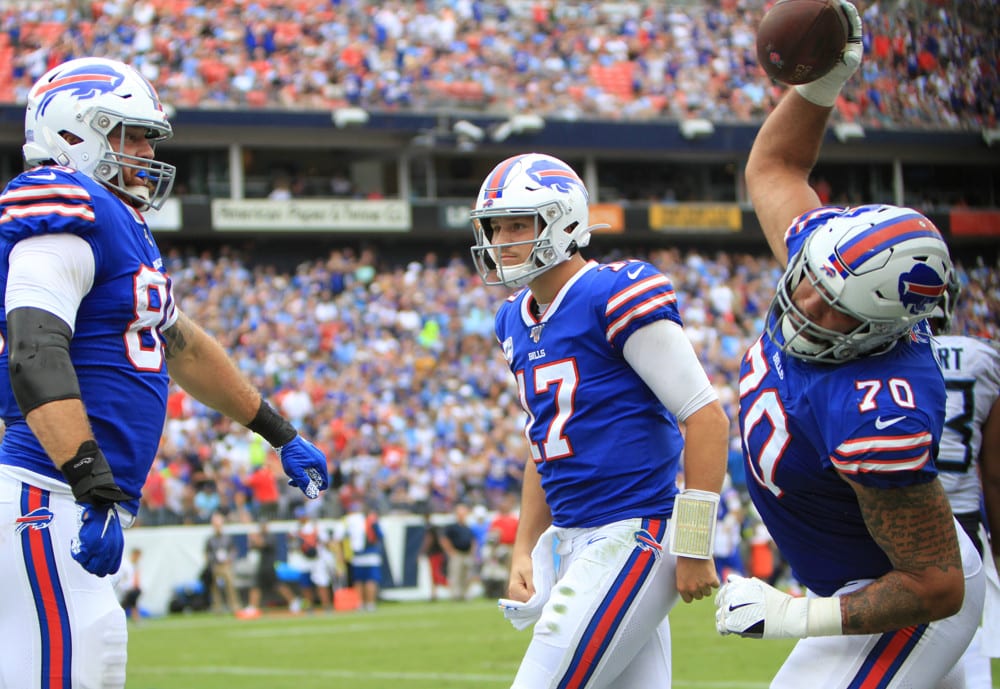 Buffalo Bills at Las Vegas Raiders
Sunday, October 4, 2020 | 4:25 p.m. EST | Watch: CBS
Allegiant Stadium – Las Vegas, NV
Total: 53 points
| | | |
| --- | --- | --- |
| BUF | Spread: -3 | Moneyline: -165 |
| LV | Spread: +3 | Moneyline: +140 |
Betting Percentages
| | | |
| --- | --- | --- |
| Spread | BUF, 61% of bets | BUF, 80% of money |
| Moneyline | LV, 63% of bets | N/A % of money |
| Total | Over, 61% of bets | N/A % of money |
The Raiders are on the move once again – starting the season in Carolina, coming home, going back out on the road in New England and now heading back home. That is a ton of miles logged by the Las Vegas traveling party already this season, and I don't believe they'll be ready to deal with a formidable opponent like Buffalo.
The Bills moved to 3-0 last week, thanks to a late drive by early MVP candidate Josh Allen. Because the LA Rams almost came back and won that game, I'd expect Allen & Co. to be a lot more focused in this matchup.
When looking at the two teams, it's important to note that the Raiders are allowing 6.4 yards per play (tied for third worst in NFL) while the Bills are gaining 6.6 yards per play (tied for second most in NFL). Allen and the Bills will be in fantastic positions to score all day long.
Betting Pick: Bills (-3)
---
Latest NFL Props
[articles ids="10267, 10271″]
---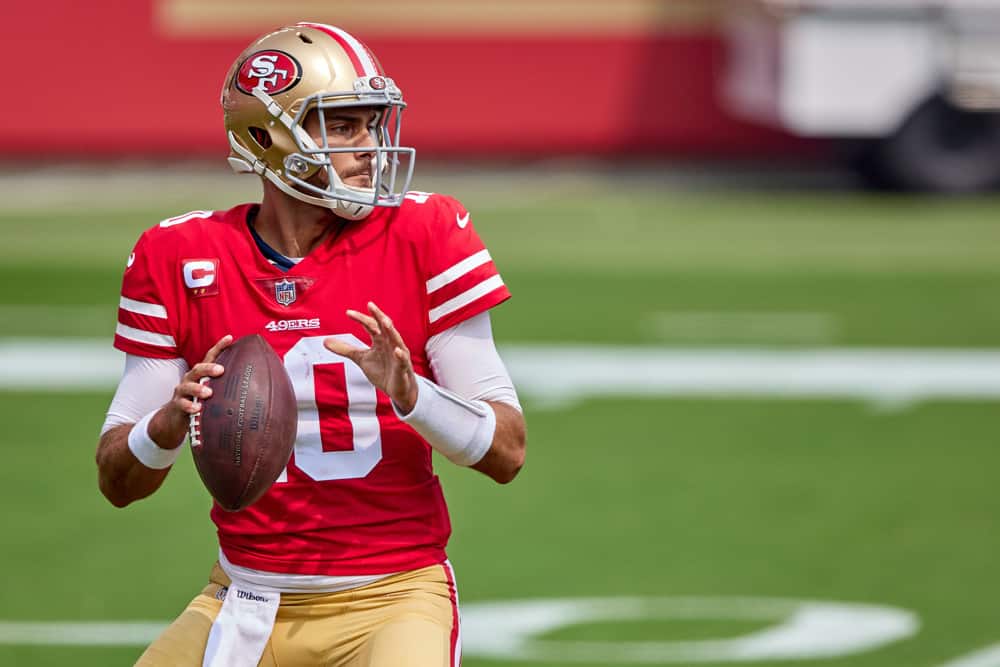 Philadelphia Eagles at San Francisco 49ers
Sunday, October 4, 2020 | 8:20 p.m. EST | Watch: NBC
Levi's Stadium – Santa Clara, CA
Total: 46 points
| | | |
| --- | --- | --- |
| PHI | Spread: +7 | Moneyline: +250 |
| SF | Spread: -7 | Moneyline: -320 |
Betting Percentages
| | | |
| --- | --- | --- |
| Spread | SF, 68% of bets | SF, 97% of money |
| Moneyline | 50/50 % of bets | N/A % of money |
| Total | Over, 69% of bets | Over, 91% of money |
This is going to be one of those games where we ask ourselves what the hell we're doing with our lives by watching this unfold. Because of the general nature of these two teams, there shouldn't be too many points scored.
The Eagles have always had one of the best run defenses of the last few years, and that has still held true this season, allowing 3.4 yards per carry (tied for fourth fewest in the NFL). Typically, the 49ers have one of the best running games in football, but they're currently a little better than league average at 4.5 yards per carry because of numerous injuries. With that inability to run the ball, that'll force San Fran to throw the ball more – where Philly will be ready for them.
The 49ers' QB situation is starting to take a little more shape, with Jimmy Garoppolo probably sitting out. On the other side, the Eagles are all banged up with injuries on the offensive side of the ball, including OL Jason Peters not practicing on Wednesday and RB Miles Sanders only getting in a limited session.
Betting Pick: Under 46 points