The NFL offseason was crazy in its own right, dealing with the COVID-19 pandemic and social injustice issues that dominated the news cycle. However, there were plenty of offseason wheelings and dealings that will have most teams looking drastically different.
Tom Brady left the New England Patriots and signed a two-year, $30 million deal to play for the Tampa Bay Buccaneers; he'll also have former teammate, tight end Rob Gronkowski, joining him down there. Meanwhile, Teddy Bridgewater stayed in the NFC South, leaving the New Orleans Saints to sign a three-year, $63 million contract.
However, Cam Newton had to wait a while to find a new home but eventually landed with the Patriots on a one-year, $7 million deal after his release from the Carolina Panthers.
The complexity of the offseason will have these signal-callers scrambling to get acquainted with their new teammates. Nevertheless, DraftKings has no time for these types of details; it's a business they're trying to run over there!
Let's take a look at their Off-Season Specials involving the three QBs that have new homes.
---
DraftKings Free Bet Offer
---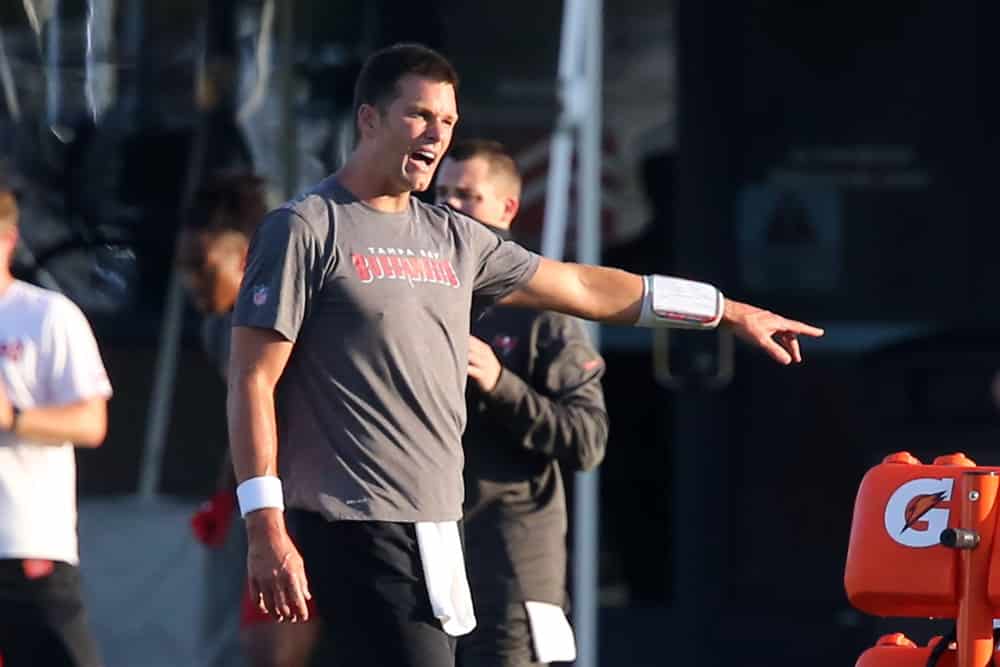 Player to have the most Passing Touchdowns – Regular Season
Tom Brady (TB): -670
Cam Newton (NE): +470
DraftKings is basically telling you everything you need to know with the odds here. And it makes plenty of sense, considering Brady will have one of the NFL's best-receiving corps at his disposal with Mike Evans, Chris Godwin, OJ Howard, Cameron Brate and Gronk – good luck opposing defenses. That alone will help Brady move the ball up and down the field. Newton, on the other hand, will essentially have Julian Edelman, N'Keal Harry and pass-catching extraordinaire running back James White.
---
Player to have the most Passing Touchdowns – Regular Season
Teddy Bridgewater (CAR): -134
Cam Newton (NE): +110
Ah yes, a bet we can actually sink our teeth into. Bridgewater gained a ton of experience playing behind Saints QB Drew Brees the last couple of seasons, and he's now ready to put those teachings to good use. Carolina will be working under first-year head coach Matt Rhule, so there could very well be a slow start coming from the Panthers' offense. Luckily, a talent core which includes RB Christian McCaffrey and WRs DJ Moore, Curtis Samuel and Robbie Anderson. Of course, there a history of injuries with Bridgewater, and that's something we'll have to be aware.
---
Player to have the most Passing Yards – Regular Season
Tom Brady (TB): -560
Cam Newton (NE): +400
Bucs' fans can't wait to get Brady on the field, considering the last QB here in Tampa Bay (Jameis Winston) helped them lead the league in passing yards. One thing that we haven't necessarily discussed yet with Newton is that he may not even play the entire season. Let's say the Patriots don't start the season off on a good note; there's no reason to keep Newton under center. The team will eventually want to take a look at Jarrett Stidham, and that would all but end Newton's chances of winning this prop bet.
---
Player to have the most Passing Yards – Regular Season
Teddy Bridgewater (CAR): -167
Cam Newton (NE): +137
Here we are again with another prop between the two guys that will have played in Carolina by the time their respective careers are done. There's really not much else to say in this battle, considering the Patriots already have so many players opting out of the 2020 NFL season. I discussed the possibility of New England just tanking at the midway point if there are only one or two wins on the ledger.
---
Verdict
You can probably make a lot of money this season betting against Cam Newton. I'm well aware that of his social media crusade about being given up on by the Panthers, but we just have to look at the facts here. Newton may not play all 16 games while Brady and Bridgewater will at least have the opportunity to do so, barring injury.
Best Sportsbook Offers