The NFC Championship Game will be a "Battle of the Bays," as the Tampa Bay Buccaneers look to continue their tremendous roadshow against the Green Bay Packers. This could get very interesting, considering a win for the Bucs would put them in the Super Bowl – which will be played in Tampa at Raymond James Stadium.
In the Week 6 matchup between these teams, it was Tampa Bay coming away with the convincing 38-10 victory.
This will also be the first (and maybe only) time Tom Brady and Aaron Rodgers have ever met in a playoff game. These two could arguably go down as the best quarterbacks in NFL history when it's all said and done.
---
Tampa Bay Buccaneers at Green Bay Packers
Sunday, January 24, 2021
3:05 p.m. EST | Watch: FOX
Lambeau Field – Green Bay, WI
Weather: mid-20s, 50% chance of snow
| Teams | Spread | Moneyline |
| --- | --- | --- |
| TB | +3 (+105) | +155 |
| GB | -3 (-125) | -175 |
| Total | 51 points (-115) | |
The Packers have been installed as three-point favorites with -175 moneyline odds to win the game outright while the Bucs have +155 odds to win outright. In addition, the total currently sits at 51 points.
The odds in this article are from William Hill Sports – Use our exclusive promo code TS500 to get $500 in free bets.
---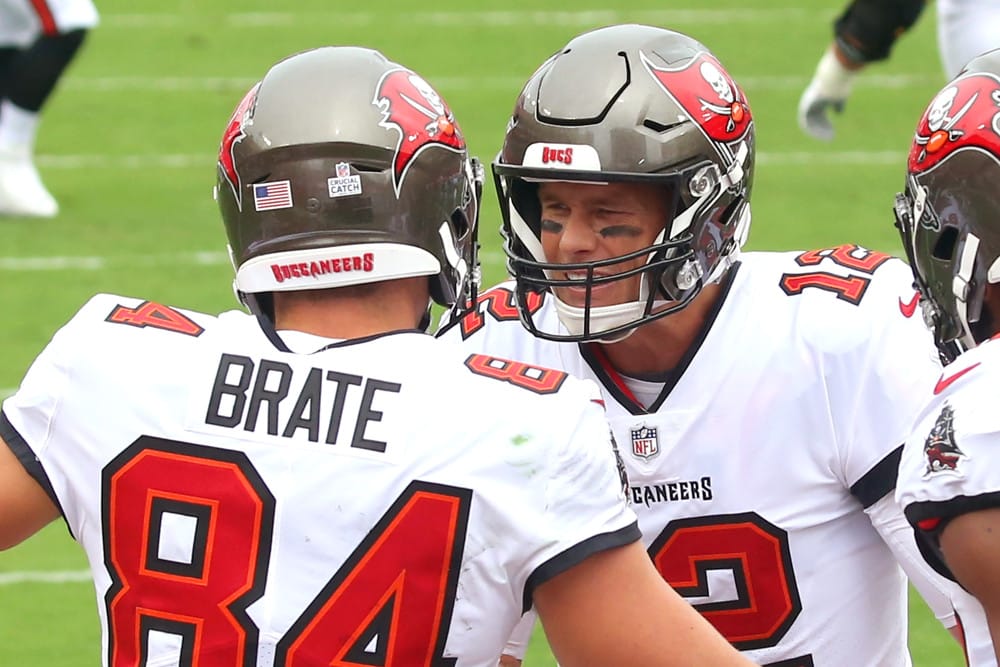 Betting Pick: Buccaneers ML (+155)
I was on the Bucs last week and will be doing so once again. One very large chess piece, DT Vita Vae, could return for the first time since Week 5, and that would be a huge addition to a defense that is fully focused. Vae missed the Week 6 win against the Packers, but his teammates certainly picked up the slack.
In that game, fellow Bucs DT Ndamukong Suh put a ton of pressure on Aaron Rodgers and made life difficult. Through the game, you see Rodgers looking over his shoulder making sure he knew where Suh was at all times. It'll be interesting to finally see Suh and Vae work in tandem getting to Rodgers.
There is supposed to be a 50% chance of snow in the forecast Sunday afternoon in Green Bay. We all know Tom Brady has a lineage of winning these January games at Foxborough on a regular basis; but can he do it now with a bunch of Floridians? I believe he can, considering the great wealth of weapons at his disposal.
WR Antonio Brown (knee) is the only one dinged up and will be a true game-time decision. If he can't go, guys like WRs Tyler Johnson and Scotty Miller could get more opportunities. WRs Mike Evans and Chris Godwin have general aches and pains while RB Ronald Jones does too.
As for the total, 51 points means that we essentially need to get to a 27-24 game. And that is certainly doable, with two of the game's greats going back and forth. Of course, the weather in Green Bay is always cold and windy at this time of the year; both QBs have strong-enough arms to move the ball down the field.