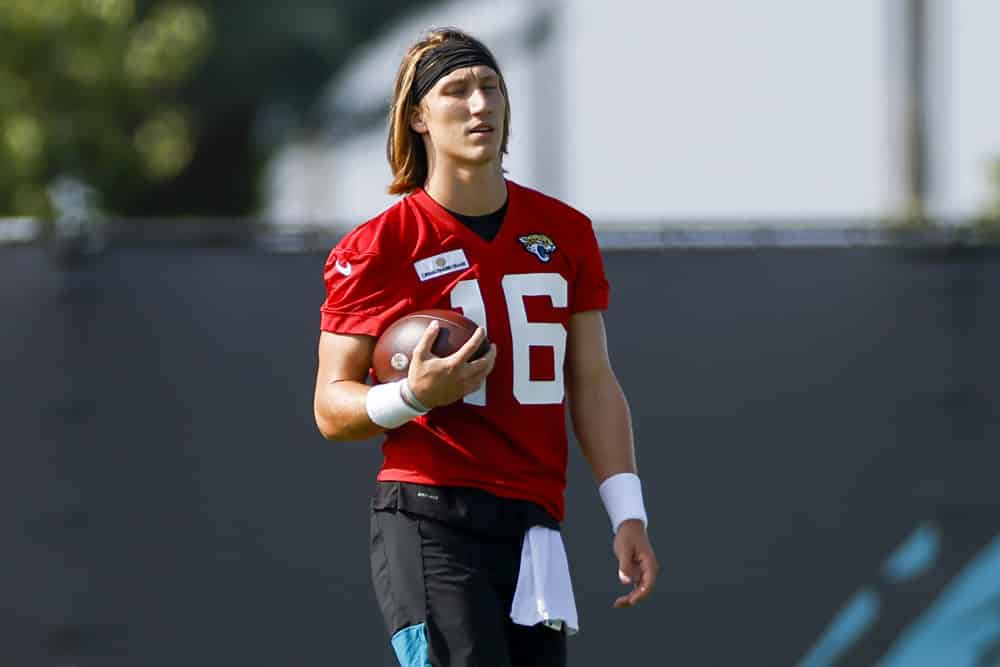 For many of us sports enthusiasts, back to football also means back to DFS! With NFL-wide vaccinations at healthy levels, we should be treated to a wonderful 17-game regular-season slate this year. With that being said, let's get the ball rolling with a strong Week 1 showing. Without further ado, here are some of my favorite DFS NFL Week 1 Picks. The player salaries I'll be showing will be from FanDuel, but many players are likely to be similar values across the various fantasy football betting sites of your liking.
Here is a lineup that I think works well in both cash games and tournaments. I'll list out the full players that FanDuel generally requires, with a small blurb about why I think each player deserves consideration to crack your lineups.

NFL Week 1 DFS Lineup
---
QB: Trevor Lawrence, $6800: It may be his first career start, but the universally-praised rookie has only the 22nd-highest salary, looked as advertised in the preseason, is playing the league-worst Houston Texans, and averaged over 30 rushing yards per game with 17 rushing touchdowns from 2019-2020.
RB: James Robinson, $5900: Like Lawrence, Robinson gets the benefit of facing the terrible Texans defense. With the injury to first-round rookie Travis Etienne, he's also back in the starting lineup for the Jaguars after posting the 4th-highest points per game last year. At the 27th-highest salary, Robinson is essentially a "free square" RB.
RB: Nick Chubb, $7700: I'm usually somewhat queasy when paying up for a game-script-dependent, time-share RB—especially against a juggernaut offensive team like the Chiefs—but Chubb qualifies as an exception this week. Given Chubb's pure talent, the Browns' strong offensive line and overall roster improvements, and the Chiefs' weakness against the run, the Georgia alumnus should have a strong game even in a losing effort.
WR: Davante Adams: $8600: Not much to see here. Adams remains the best fantasy WR in the league and faces the Saints as part of the 3.5-point favorite Packers. We have the salary to afford him
WR: Brandon Aiyuk, $6500: Aiyuk may be on his way to reaching fantasy stardom in 2021, and gets a great matchup to start his campaign. In a dome against the leaky Lions' defense, Sunday could be a fun day to roster Aiyuk.
WR: Marvin Jones Jr., $5800: Because we're playing Lawrence, it makes sense to double down with one of his receivers. Since we don't know which of the Jaguars' receivers will become Lawrence's favorite, I'm leaning with the 2nd-cheapest and most proven of the Chark-Jones Jr.-Shenault trio.
TE: Travis Kelce, $8500: Just as we did with Adams, we can splurge on Kelce at TE thanks to our surplus of cash. The Browns haven't proven to have the defensive firepower to stop him or Patrick Mahomes just yet.
FLEX: Najee Harris, $6500
Like we did with Lawrence, we're once again taking advantage of a rookie discount. Harris, the Steelers' first-round pick, barely left the field in the preseason; better yet, he now faces a Buffalo team that seems disinterested in prioritizing their run defense.
DEF: New York Giants, $3700: The Bills were my initial play here, but it wouldn't make sense to have both Harris (a Pittsburgh player) and his opponent's defense in the same lineup. Meanwhile, the Giants may be 3 point underdogs, but they're at home with a revamped defense. Teddy Bridgewater, the opposing QB, was just dumped for a 6th-round pick just one year after signing with the Panthers. There are certainly worse options this low in the bargain bin.
Make Your Week 1 Picks And Win Prizes!
---
Put your knowledge to the test with our free-to-play pick 6 contest. Make 6 correct NFL picks to win exclusive prizes!
(function () {
const clientConfig = {
server: 'https://games.us-odds.com/',
target: 'chalkline_iframe_container',
token: null,
configuration: {
isHeaderEnabled: false,
}
};
var script = document.createElement('script');
script.src = `https://games.us-odds.com/integration/embed.js?ts=${Date.now()}`;
script.type = 'text/javascript';
script.onload = () => {
window.ChalklineGames.bootstrap(clientConfig);
};
document.body.appendChild(script);
})();