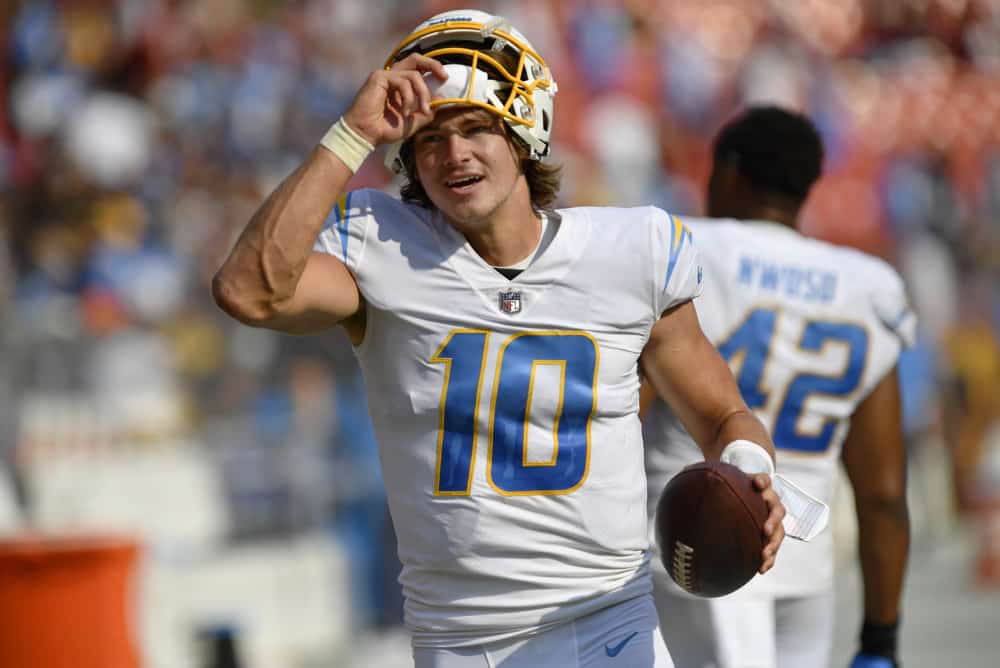 Just as we hoped, the return of a (mostly) COVID-free NFL was as dramatic and action-packed as possible. As we get into the heart of the season, it's time for us here at US Odds to help you get into a rhythm. In order to help you start your lineup-setting on the right foot, here are some of my favorite DFS NFL Week 2 Picks.
Below is a lineup that I think works well in both cash games and tournaments. I'll list out the best DFS lineup to choose at your DFS sites, with a small blurb about why I think each player deserves consideration to crack your lineups.

NFL Week 2 DFS Picks
---
QB: Justin Herbert, $7600
There are actually a handful of underpriced QB options this week, including Lamar Jackson, Matthew Stafford, and Ryan Tannehill. However, it's Herbert who seems the best bet to return value.
First off, he's playing the Dallas Cowboys, who have both a weak defense and an explosive offense that encourage shootouts.
Secondly, both Herbert and his supporting cast looked great on the road against a tough opponent in Washington.
Now back at home, Herbert has a great opportunity to build on his 347 yards from Week 1.
RB: Alvin Kamara, $8800
As compared to the QB position, the RB position seems to offer relatively few no-doubter discount options this week.
Fortunately, the Week 2 slate offers plenty of fairly-priced workhorses, starting with Alvin Kamara. With a juicy matchup against Carolina – a team that loves to allow RB receptions – Kamara could waltz his way toward another trademark elite fantasy performance. He did only have 3 catches for 8 receiving yards last week.
However, it's not like Sean Payton had any reason to overuse him in a blowout win against the Packers.
RB: Joe Mixon, $7800
I initially went with Dalvin Cook here but realized that Mixon is essentially the same player – a talented workhorse with a shaky matchup. The big difference is he's $1400 cheaper.
Despite a tough matchup against the Bears, Mixon's strong all-around workload should suffice for a strong fantasy showing. Especially, if Burrow and Co. help him keep the game close.
WR: Ja'Marr Chase, $5500
Included in the above "Co." is Ja'Marr Chase, who is inexplicably priced at $5500. As a receiver who a) was drafted as the first receiver in the class, b) to a team with Joe Burrow, and c) just posted 101 yards and a score in his debut, this is far too soft a price point.
He may not produce like the Davante Adamses and Tyreek Hills of the world just yet, but he's not too far off.
The matchup may not be ideal, but Chase essentially needs about 70 scoreless yards to make you a profit here.
WR: Allen Robinson II, $7200
On the other end of the Bengals-Bears tilt, we have Robinson, another underpriced target hog. Even though the troublesome Andy Dalton remains behind center, the Bears now face a Bengals defense that allowed Kirk Cousins to throw for 351 turnover-free yards.
WR: Cooper Kupp, $6200
Here we have yet another value second-tier receiver in Kupp. He may not profile as a true Alpha WR1, but he and Stafford clearly have already worked up a rapport.
In fact, Kupp garnered nearly 40% of the team's targets in Week 1. Now, the slippery receiver faces a Colts defense that was absolutely toasted by Russell Wilson in Indianapolis. In Week 2, Stafford gets another great opportunity to build his dark horse MVP case, and Kupp may remain the biggest beneficiary of it.
TE: Darren Waller, $7000
At this point, I've used so many variations of the word "underpriced" that you may not believe me at this point. If there's one player's price to believe me on, however, it's Waller's. You see, FanDuel doesn't take Monday Night Football into account when pricing for the next week's slate.
I think it's safe to say that Waller's would have increased after he recorded 10 catches, 105 yards, and a touchdown on a whopping 19 targets. He will be a popular play in all formats, and rightfully so. He's essentially a WR1 at a WR2/3 price tag.
FLEX: Najee Harris, $6100
This pick may already be less of a sexy one after the rookie's underwhelming debut. In fact, however, I actually came away from that performance more confident in Harris' outlook going forward.
During Pittsburgh's gritty, come-from-behind win against the Bills, Harris played every single offensive snap, something only a handful of running backs ever do. In a much softer matchup against the Raiders, Harris should have plenty of chances to light up the box score.
DEF: Buffalo Bills, $3700
As mentioned, the Bills were the team that (mostly) held Harris and the Steelers' offense in check; now, they check in as one of the better bargain-bin defenses for Week 2. It's not the best matchup as away 3.5-point favorites, especially now that Will Fuller is returning from suspension for Miami.
At this price point, however, it definitely could be worse. 2nd-year QB Tua Tagovailoa has struggled with turnovers thus far; it wouldn't be surprising for that to continue for another week.
Make Your Week 2 Picks And Win Prizes!
---
Put your knowledge to the test with our free-to-play pick 6 contest. Make 6 correct NFL picks to win exclusive prizes!