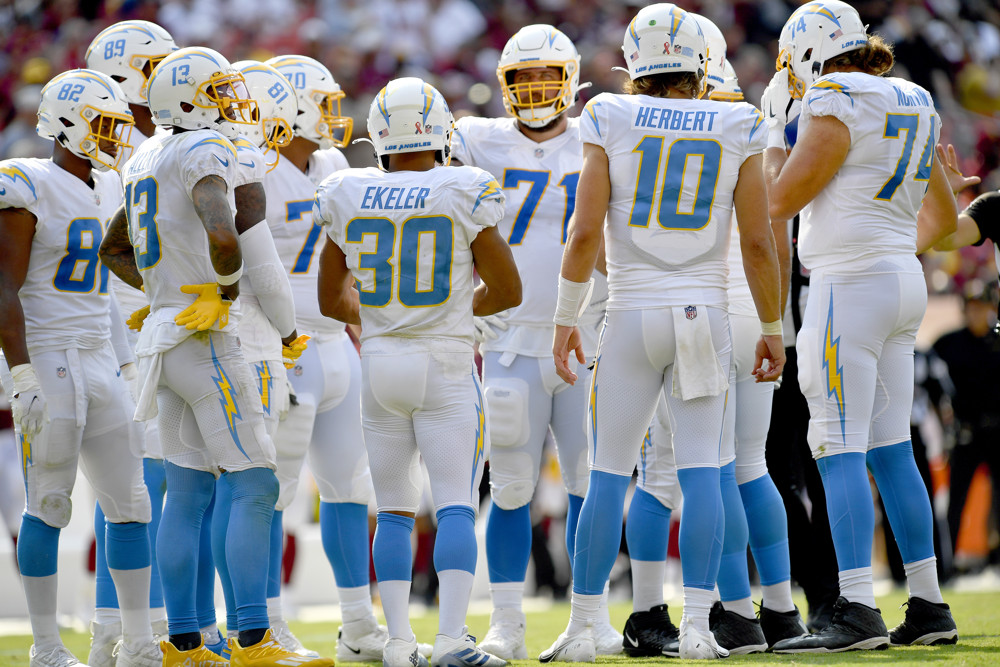 We're back for Week 3. Through two weeks, we've seen some studs and a few duds emerge from our weekly lineups. Fortunately, things are looking more and more up as new information continues to pour in. With no further ado, let's get back into it with our DFS NFL Week 3 Picks.
Below is a lineup that I think works well in both cash games and tournaments. I'll list out the best DFS lineup to choose at your DFS sites, with a small blurb about why I think each player deserves consideration to crack your lineups.

NFL Week 3 DFS Picks
---
QB: Justin Fields, $6500
Has Justin Fields looked good in his limited NFL action thus far? No, not really. Do we know for sure that he's a good NFL QB? Not at all. However, Justin Fields is still an electric first-round pick that is a good bet to use his legs early and often, which we love for a fantasy QB. Better yet, Cleveland has already allowed big games to both Patrick Mahomes and Tyrod Taylor (before his injury). At a measly $6500, that's all we can ask for from a value QB.
RB: Saquon Barkley, $6000
Are you kidding me? $6000? The 24th-highest RB price on the slate for a 24-year-old freak of nature? Now with two games of action under his belt? Playing on 10 days rest against a hapless Falcons team? DFS isn't always this easy, but sometimes you just get layups. The important thing is you notice them and take them. There are no sure things in football, but a $6000 Saquon is as close to free money as you'll get.
RB: Austin Ekeler, $7000
After not catching a single pass in Week 1, Ekeler bounced back in Week 2 with a 9-reception game, which is much more like him. In a likely shootout against the Chiefs, Ekeler should be utilized early and often by QB Justin Herbert and OC Joe Lombardi. At the 11-highest salary among RB, Ekeler is a great return-on-investment play.
WR: Keenan Allen, $6900
Should that Chargers-Chiefs shootout come to fruition, Allen would be another beneficiary of the clash. With an average of 10.5 targets and 104 yards through two games, Allen should be able to keep it rolling.
After all, the Chargers likely need him if they're going to keep it close with the budding dynasty. At a nice $6900 price tag, Allen has plenty of margin for error to deliver value to fantasy managers.
WR: D.K. Metcalf, $7200
In my opinion, this pick is less obvious than the above ones, yet may have as good or better of a payout than all of them. With the Seahawks, volume is always a question. We know Pete Carroll loves his smashmouth football, and he may get his way against a porous Vikings defense.
Fortunately for us, Seattle's defense hasn't been great either, and this could result in yet another shootout that involves the Seahawks and the Vikings. All Metcalf needs is one or two big plays to break the slate, so let's swing for the fences while we can at a reasonable (WR13) price.
WR: Davante Adams, $8200
The WR27 through two weeks, Adams may not have gotten off to the blazing hot start we expected him to. Fortunately, every indication—and specifically his 30% target rate suggests that he'll resume his dominance in short order. With the extra money we saved from the Justin Fields discount, we can upgrade this spot from a WR2/3 with upside to the WR1 from 2018 and 2020.
TE: TJ Hockenson, $6300
Tight ends are always a tricky position to navigate, but we can be relatively confident in Hockenson at $6300. Through two games Hockenson has recorded a sparkling line of 16 catches on 20 targets for 163 yards and 2 touchdowns. And while it is true that the Lions' offensive players have benefitted from some stat inflation due to their big in-game deficits, they should remain in a similar position against Baltimore.
FLEX: Aaron Jones, $6900
Another week, another MNF misprice advantage. If FanDuel knew that Aaron Jones would put together a line of 115 total yards and four touchdowns, his price tag would likely start with an "8" at minimum. However, because they don't, we get to take advantage of an RB1 at a nice RB2 price. Most encouragingly, Jones played on 69% of snaps and handled 74% of the Packers' RB touches.
DEF: DEF: Denver Broncos, $5000
I don't often pay all the way up for defense, but the Broncos have the matchup of the season in Week 3. On the road against a tough defense, it could be a long day for Jets rookie QB Zach Wilson.
Better yet for us, the Broncos have historically been nearly impossible to defeat when at home in September (likely due to the advantage they have from constantly playing in the thin mile-high Colorado air), making the $5000 price tag even more enticing.
Make Your Week 3 Picks And Win Prizes!
---
Put your knowledge to the test with our free-to-play pick 6 contest. Make 6 correct NFL Week 3 picks to win exclusive prizes!
(function () {
const clientConfig = {
server: 'https://games.us-odds.com/games/nfl-2021',
target: 'chalkline_iframe_container',
token: null,
configuration: {
isHeaderEnabled: true,
}
};
var script = document.createElement('script');
script.src = `https://games.us-odds.com/integration/embed.js?ts=${Date.now()}`;
script.type = 'text/javascript';
script.onload = () => {
window.ChalklineGames.bootstrap(clientConfig);
};
document.body.appendChild(script);
})();