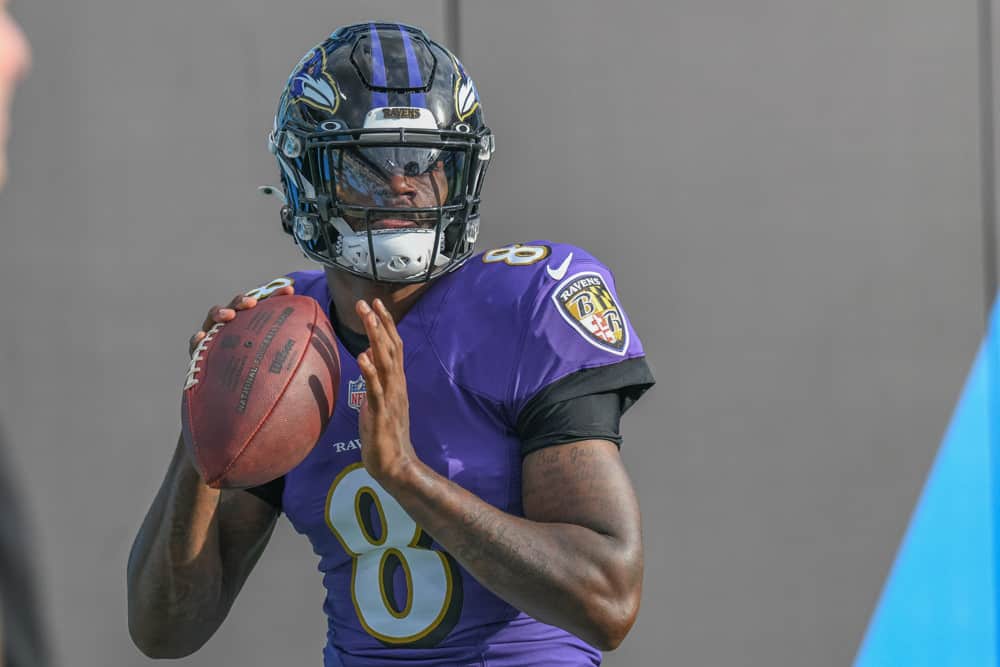 After an exciting start to the NFL season, we're ready to put a bow on Week 1 with a Monday Night Football matchup between the Baltimore Ravens at Las Vegas Raiders. Things are already off to a rocky start for the Raiders, as starting RB Josh Jacobs has come down with an illness and is now listed as questionable for tonight's game. This is certainly an unusual situation, considering it's the last game of the week and now some fantasy owners may be feeling some type of certain way.
Not to worry, though. I'll have three different prop bets that can net you a strong profit in tonight's Ravens-Raiders game. Let's take a look below at the MNF Prop Bets for Week 1 from NFL betting sites around the sportsbook landscape.

Top Prop Bets For Monday Night Football Week 1
Lamar Jackson: Anytime TD + Ravens Win (+140)
The Ravens should be able to control this Monday Night Football game. Despite having a rough offseason with all the injuries to different RBs. However, that should also mean that Jackson must do a little more on the offensive side.
Of course, he added another complementary target in WR Sammy Watkins which will help in the passing game. When it's all said and done, Jackson is much more deadly with his legs, and that's what I'll be banking on tonight.
Ty'Son Williams: Anytime TD (+150)
There is more than enough offense to go around for Baltimore tonight, especially in the running game. Las Vegas allowed the eighth-most rushing yards per game last season (125.8) and everyone's preseason fantasy darling is ready to make a huge impact now that he's been thrust into the starting role.
RBs JK Dobbins and Gus Edwards are both out for the season, so there's plenty of vacant carries for him to scoop up. Given how bad the Raiders have been against the run in previous seasons, it's wise to believe that Williams will find the end zone.
Darren Waller: Over 67.5 Receiving Yards
I would have much rather had the receptions prop, but that number (6.5) seems a bit inflated tonight The Ravens' defense will probably have a stout game plan ready for Waller, as one of the best defenses in football.
However, Waller is an elite athlete, and one of the few TEs in the league that can get loose for a big gain. With the Raiders expected to be in heavy-throw mode, I like Waller's chances to get over 67.5 receiving yards.
---