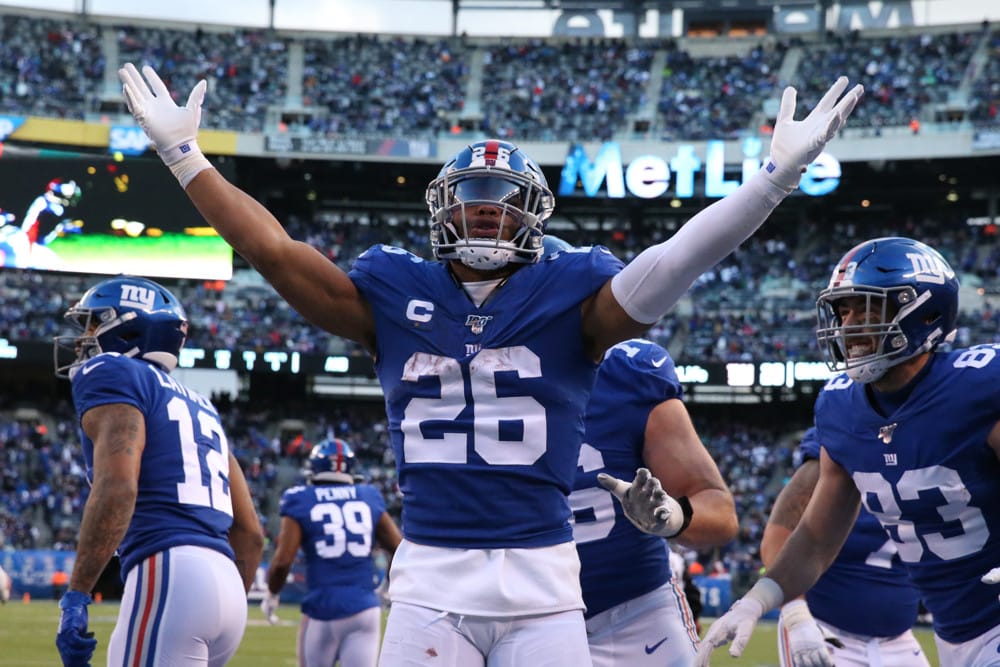 The 2021 NFL season has as much anticipation as ever, so it's time to start breaking down these teams division by division. Of course, we have to start it out in the NFC East, where some of those notable NFL franchises are, and where a good portion of the national television games are. This year, though, the 2021 NFC East Odds and predictions are going to be as tough as ever. Let's take a look at the NFC East and see if we can make some noise with one of the teams that aren't the favorite.
Odds To Win NFC East
---
| NFC East Teams | Odds by Caesars Sportsbook |
| --- | --- |
| Dallas Cowboys | +115 |
| Washington Football Team | +260 |
| New York Giants | +425 |
| Philadelphia Eagles | +500 |
2021 NFC East Odds Analysis
---
Dallas Cowboys Odds (+115)
The Cowboys come in as the favorite to win the NFC East in 2021- big shocker there. Dallas has one of, if not, the most popular fanbases in all football, so there's rarely going to be any value when betting on this team. In a way, sure, they are worthy favorites. However, as we've seen in previous seasons, the Cowboys have a tendency to be somewhere around 8-8 or 9-7, mainly due to injuries and poor defense. To be honest, that latter part about the defense makes them a risky pick to win the NFC East.

Of course, the Cowboys' season hinges on the arm of Dak Prescott and the legs of Ezekiel Elliott. Prescott had a season-ending injury early on that derailed Dallas' season. Because of that injury to Prescott, Elliott had a rough year with the offense struggling to move the ball. Elliott did play in 15 games and still finished 21 yards away from the 1,000-yard mark.

Washington Football Team Odds (+260)
Most people might be sleeping on Washington, and that could be a big mistake. This team made it to the playoffs in their first year as the "Football Team" and will now look to take that momentum to turn into an even better season. Head coach Ron Rivera did a decent job in his first season in Washington, going 7-9, but it was good enough to lead them to home-field advantage in the Divisional Round matchup against the eventual Super Bowl winners, the Tampa Bay Buccaneers.
QB Ryan Fitzpatrick will certainly add some pop to this offense. The aging veteran should have probably retired by now, but he's still living his best NFL life. Not to mention, he does add a wealth of knowledge into the psyche of younger NFL QBs. The two-headed duo of Antonio Gibson and J.D. McKissic in Washington's backfield will certainly be a big part of how the offense goes. In addition, WR Terry McLaurin has become one of the best in the NFL at his position. WFT's defense was a big part of their success last season too, so that will be vital in these potentially low-scoring NFC East matchups.
New York Giants Odds (+425)
The 2021 season is a very important one for Joe Judge and the rest of the Giants. QB Daniel Jones could theoretically find himself in a make-or-break season, in terms of what New York wants to do moving forward under center. It's also worth noting that RB Saquon Barkley will make his return at some point this season, although it's not exactly assured just when he'll return. The Giants' WR group is an interesting one, with Kenny Golladay coming over from the Detroit Lions via free agency. There is a ton of talent within this group, but it'll be all about consistency and health.
When Big Blue put on their pads for the first time in early August, they had an all-out brawl at practice that led to Coach Judge making the team run wind sprints. Hopefully, the Giants' defense will be able to save the rest of their hits for the opposition this season. If New York's defense can be anything like it was in the past during those Super Bowl runs, I really believe this could the NFC East winner this season.
Philadelphia Eagles Odds (+500)
The Philadelphia Eagles have a new head coach in Nick Sirianni and this new era of Brotherly Love football will begin. We all know the Philly faithful are some of the toughest in football, but this could be one of their bigger challenges in recent years.
Of course, everyone is super excited about the combo of QB Jalen Hurts and rookie WR Devonta Smith making plays this season. It's going to take a lot for Philly to make some noise this season, considering they don't have a valuable running game and solid defense to keep them in it. We may very well see some high-scoring games from the Eagles this season, but it probably won't add up to more wins either.
---
2021 NFC East Expert Predictions
---
Just like last season, I'm taking the Giants (+425) to win the NFC East. There is plenty of talent here, and the hope is that Jones-Barkley-Golladay becomes a well-known trio around the league. As I mentioned in the blurb, New York's defense is what could really separate this team over the rest of the division. That, coupled with an exciting offense, is always something I'm willing to put my money on.
---