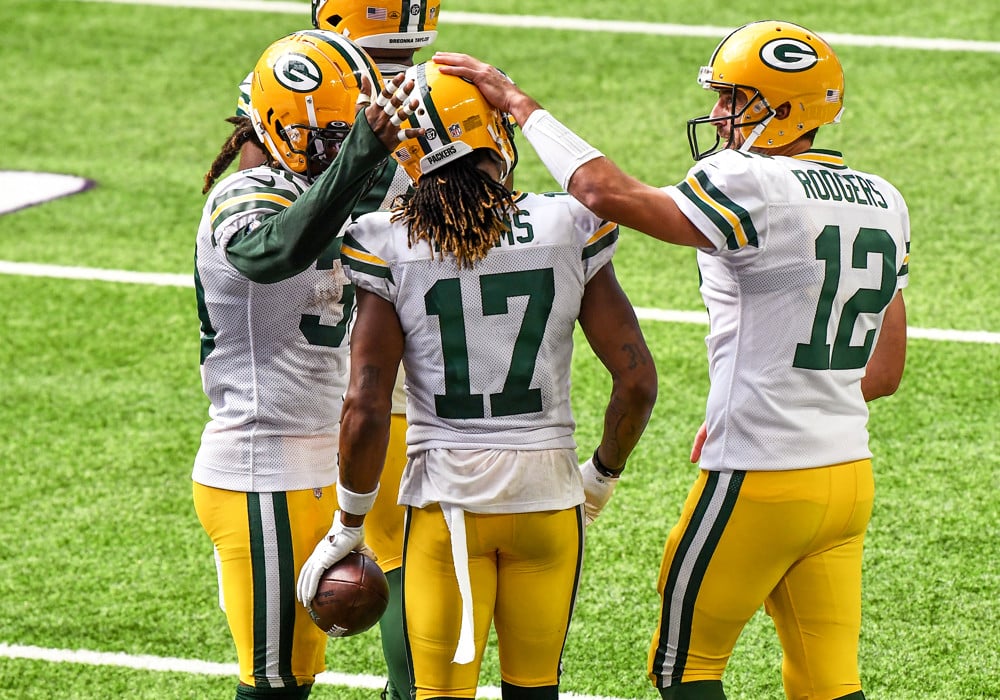 Now that we know the fate of one particular quarterback in the division, we can finally break down the 2021 NFC North Odds.
With that being said, it'll be incredibly difficult to unseat the Green Bay Packers at the top as division winners. They play the games for a reason, and that sentiment will certainly be echoed quite a few times throughout the year.
After all, this is historically known as one of the "black and blue" divisions in football because of the cold fall weather and tough hitting.
Odds To Win NFC North 2021
| NFC North Teams | Odds By Caesars Sportsbook |
| --- | --- |
| Green Bay Packers | -150 |
| Minnesota Vikings | +250 |
| Chicago Bears | +475 |
| Detroit Lions | +2500 |
NFC North Odds Analysis
---
Packers Odds to win NFC North (-150)
As mentioned at the top, the Packers will certainly be the ones that everyone is chasing in the NFC North. That is especially true now that QB Aaron Rodgers is back under center, and he'll certainly look to get that chemistry going early once again with WR Davante Adams. The drama with Rodgers, and whether he'd be coming back to Green Bay, was clearly a distraction. But, now they can all move forward, at least for this season.
The running back situation gets a little mixed up with Jamaal Williams moving onto Detroit. RB Aaron Jones is being projected as a first-round pick in fantasy football formats, but I'm not so sure that it's a great thing. After all, there are large stretches of time when he doesn't play.
Luckily, Green Bay does have backup RB AJ Dillon to take on that RB2 role and gives Jones stretches of rest when he needs it. The running game has been increasingly more important to the Packers' success over the last few seasons.
This team was one win away from going to the Super Bowl, so there aren't any wholesale changes that are needed. If anything, I feel like the Packers are underpriced to win the division. Perhaps, there are one or two teams that can make some noise, but it'll take a serious injury to Rodgers or Adams for this season to completely go off the rails.

Vikings Odds to win NFC North (+250)
The Vikings were once a threat to the Packers atop the NFC North. But inconsistent QB play and a worsening defense have neutralized that pipe dream. RB Dalvin Cook is becoming one of the best in the NFL at his position, keeping this team at a respectable level.
QB Kirk Cousins will forever be under fire, and this could very well be his last season in a Vikings' uniform. Minnesota can cut him before March 20, 2022 and save its self a huge payday to a QB that has had minimal success. This is certainly not the offense you want to be wasting stagnant QB play from, considering WRs Adam Thielen and Justin Jefferson are both two of the best in the business.
Sure, the Vikings are a decent bet to win the NFC North, but it's anything from a sure thing. This all hinges upon the health of the top guys in Green Bay. If anything happens there, Minnesota would immediately become the favorites to win this division.
Bears Odds to win NFC North (+475)
After drafting the young QB Justin Fields out of Ohio State, the Bears' offseason got a lot more exciting. Over the last few years, Chicago fans have had to endure the trials and tribulations of Mitchell Trubisky. Now, there is actually some sort of hope to look forward to in the future. Fields will have to battle it out with veteran QB Andy Dalton for the starting job. But, he should be able to take it over before the season's end.
Alongside Fields, there is plenty of excitement for WR Allen Robinson and RB David Montgomery. Both guys are expected to make fantasy owners very happy this season. Especially, by playing some or most of their games with a dual-threat QB. There are plenty of question marks at all other positions, but having those big three certainly helps.
The Bears have always been known for their defense, and it certainly helps to have guys like Khalil Mack, Roquan Smith and Danny Trevathan anchoring the linebacking corps. If these guys can get back to 100% health and stay on the field together at the same time, it could create a lot more problems for opposing QBs. At the end of the day, though, I don't think the defense will be enough to beat out the Packers.

Lions Odds to win NFC North (+2500)
The best thing the Lions have going for them is motivation — and the best chance to land the No. 1 pick in next year's NFL Draft. First-year Detroit head coach Dan Campbell will certainly have his work cut out for him.
It should be yet another unexciting season in The Motor City as QB Jared Goff will now be taking over the reins after getting traded for longtime signal-caller Matthew Stafford. Part of Goff's appeal was that he was playing in a magical offensive system under boy-wonder coach Sean McVay. We should all expect RB D'Andre Swift to be the most exciting player this team has, right alongside TE TJ Hockenson.
The Lions won't win many games this season, playing the AFC North and NFC West heavyweights; we can probably expect them to go 0-8 or 1-7 in those matchups. There should be absolutely no type of faith placed on Detroit to win this division. In fact, someone placed a $50 bet on the Lions to win the Super Bowl — don't be that guy.
Expert Pick: Packers (-150)
---
I don't mind laying these odds on the Packers to win the NFC North. After all, they are the most talented team in the division with the best QB by a country mile. As I have said a few times in this article, the only thing that will keep Green Bay from winning the NFC North is injuries. Rodgers and Adams are enough by themselves to win it out, and I do believe we'll see that once again.