Our NFL Computer Picks are chosen using an algorithm that analyzes historical sports data to give you the bets that offer the best value bets to beat the New Jersey sportsbooks. In this article, we'll provide you with our top Week 16 NFL Computer Picks. These matchups include the Cincinnati Bengals at Miami Dolphins, New Orleans Saints at Tennessee Titans and Dallas Cowboys at Philadelphia Eagles.
We also have a special computer picks edition for Saturday's games which you can check out.
Computer Picks Week 1

6
Cincinnati Bengals at Miami Dolphins (PK) – Total: 46.5
Sunday, December 22, 2019 – 1:00 p.m. EST
Week 16 Computer Pick: Dolphins (PK)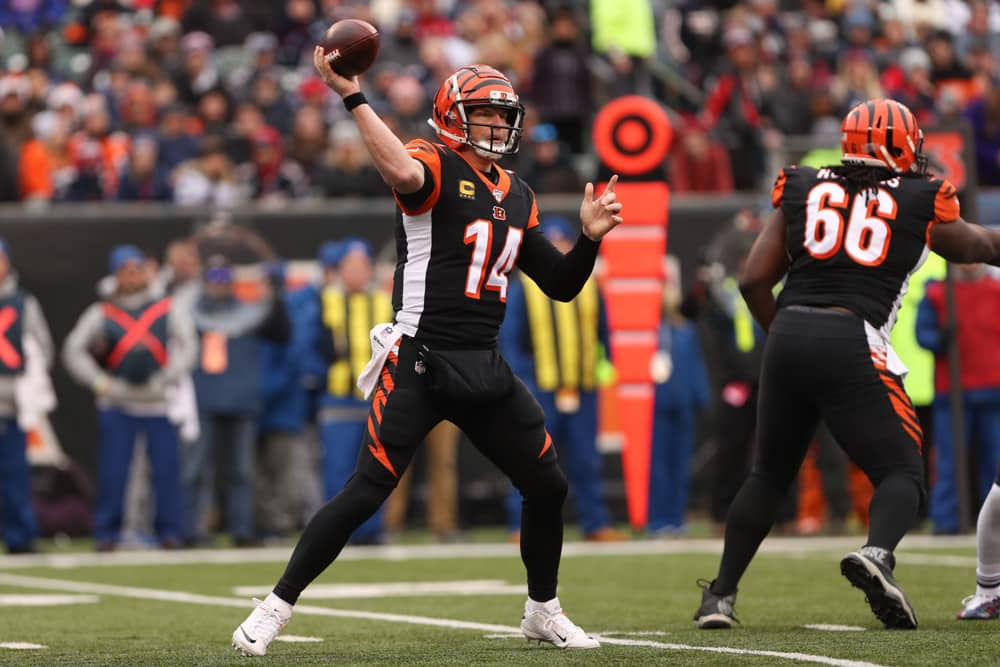 Two of the worst teams in the NFL get together as the
Cincinnati Bengals travel to face the Miami Dolphins. While people may not want
to watch this game, it does present a great opportunity to make a profit. For
that reason, our betting pick is for the Dolphins to win this game outright.
Let's look at some factors to see why we're on the home team.
Week 16 Betting Line: Bengals at Dolphins
It's surprising to see, but we don't even have to give any
points with the better team. The Bengals would love to lose this game and
solidify owning the No. 1 pick in the 2020 NFL Draft. Meanwhile, the Dolphins
have been playing their hearts out ever since the first month of the season.
This is just another chance for their players to showcase talents and see who
fits in the plan going forward.
Bengals Betting Form
The Bengals are 2-5-1 ATS in their last eight games and are well aware of their fate at the end of this season – likely having the NFL's worst record. Of course, that plays right into our hand for this bet, knowing a loss would assure them the upcoming No. 1 draft pick. Don't expect the Bengals' coaches to pull out any trick plays. Rather, we should expect the most vanilla game plan from them all season.
QB Andy Dalton had the Bengals playing well since returning as the starter. However, last week's loss to the Patriots put things right back into perspective. Dalton was picked off four times in the loss, and that type of performance is one that sends teams backward. There was a positive in that loss, though, as RB Joe Mixon ran for 135 yards. He now has the second-most rushing yards (491) in the NFL over the last five weeks. Only Derrick Henry of the Titans has more yards over that span, with 497.
Cincy's defense has actually been playing well over the last
few weeks. Generating pressure on the quarterback has been one of the bright spots
for this unit, but that might not matter much in this game. Miami's offense is
predicated on shotgun formations and quick passes. We just saw the Bengals
struggle at times with this against the Patriots last week, so look for that to
happen again.
Dolphins Betting Form
The Dolphins are 7-3 ATS in their last 10 games and it certainly
shows if you've been watching these games. While some of the final scores don't
look glamorous, they're still covering spreads and playing inspiring football. Look
for that continue again in the Fins final home game of the season. It'll be a
nice sendoff for a crowd that had to endure one of the worst Septembers in NFL history.
As we mentioned, Miami's offense runs on shotgun formations
and quick passes. QB Ryan Fitzpatrick will be able to find his receivers efficiently
enough to move the ball. And he has to, considering the Dolphins don't have a quality
running game. WR Devante Parker will be the main target once again; he's posted
at least 90 receiving yards in four of the last five games and a total of four
TDs over the last three games. Rookie RB Myles Gaskin did run for a season-high
43 yards last week. However, we shouldn't expect them to start changing the
game plan all of a sudden.
The Bengals offense hasn't scored more than 23 points in a
game all season. Look for the Dolphins to flourish on defense and put their team's
offense in favorable field position.
Week 16 Computer Pick: Dolphins (PK)
It's really no surprise that the Bengals will go "hard"
after this No. 1 pick in the draft. What's even more surprising is the line on
this game. It could very well be a tight game early on while the teams feel
each other out. However, we know the Fins are going to take control late when
the Bengals let their guard down. Next week the Bengals play their in-state rival
(the Browns), so they'll likely want to win that game a lot more.
New Orleans Saints (-3) at Tennessee Titans – Total: 50
Sunday, December 22, 2019 – 1:00 p.m. EST
Week 16 Computer Pick: Titans (+3)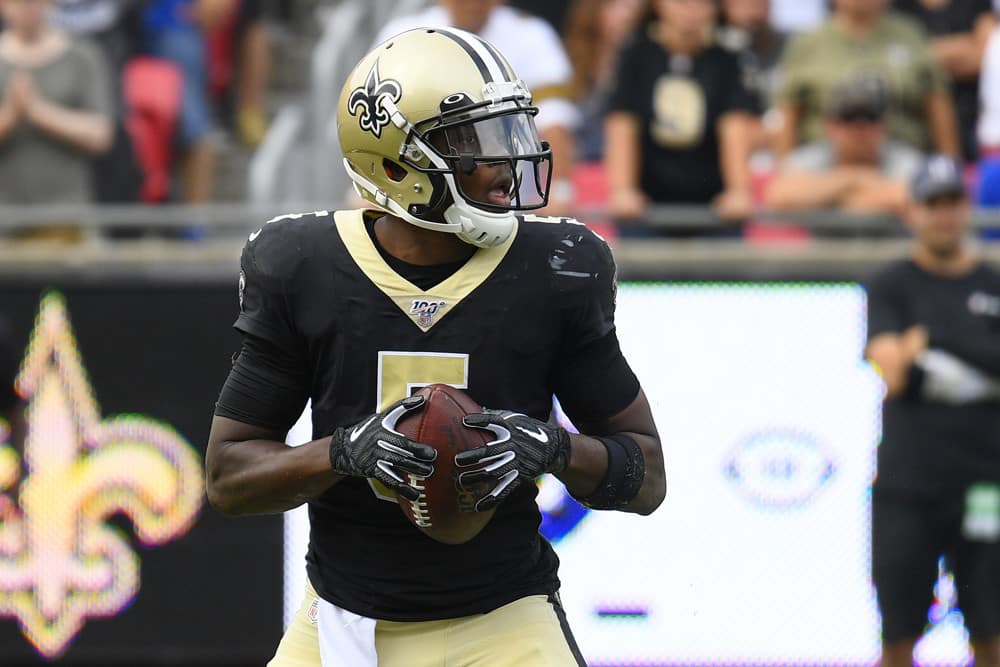 Fresh off a convincing win on Monday Night Football last week, the New Orleans Saints travel to Nissan Stadium to face the Tennessee Titans. There was a lot of fanfare and celebrations in that last Saints game, so we don't feel like they'll be ready for this game. Our top betting pick is for the Titans to cover the three-point spread. Let's dive into some numbers to see why we're going with the home underdog.
Week 16 Betting Line: Saints at Titans
At some books, this line actually opened as Saints -1, which makes a lot more sense to our level of thinking. It wasn't until the Saints had that huge win in primetime that the line moved two points. Then again, they did beat a Colts team that just simply did not show up to play. This Titans team knows their season is on the line, needing to win out in order to make the playoffs. We believe Tennessee will come out as the more inspired team in this one.
Saints Betting Form
While the Saints have won four of the last six games, they've been alternating ATS covers in each of those; this time up, they're due for a letdown. QB Drew Brees setting the all-time mark for TD passes last week allowed the Saints to let their guard down for a bit and celebrate. Coming into Sunday's game, we should definitely expect them to get off to a slow start. And the Saints might not be able to recover from that against a Titans team that can run the ball effectively. If New Orleans does fall behind, at least fantasy owners can expect a lot of passes to go toward WR Michael Thomas.
In the midst of last week's win, the losses of DE Marcus Davenport and DT Sheldon Rankins didn't seem to matter much. However, this is a new opponent this week. The losses of those two giants on the defensive line will certainly show against the Titans' dynamic offense. Tennessee will be able to run the ball, control the clock and keep Brees & Co. off the field for long stretches.
Titans Betting Form
Last week's loss snapped a four-game streak of the Titans covering the spread. Regardless, Tennessee is now 6-2 ATS over the last eight and will be playing at home for the second straight week. That's another benefit for the Titans, as the Saints will have to travel with a day less of preparation.
Speaking of that Titans running game, RB Derrick Henry leads the NFL in rushing yards over the last five weeks with 497. In fact, Henry ranks second in the league this season with 1,329 rushing yards and second in TDs (13). In addition to Henry's remarkable season, QB Ryan Tannehill has revitalized his career by moving to Tennessee. Since taking over as the starter in Week 7, Tannehill has thrown for 2,128 yards with 17 TDs and 5 INTs in eight games. In that span, the Titans are averaging just over 30 points per game. WR AJ Brown has been the main benefactor of Tannehill's success, and now has 100+ yard games in three of the last four.
Week 16 Computer Pick: Titans (+3)
The Titans have won three games outright as an underdog this
season. We believe they have a chance to make it four in this game, but we'll
play it safe and take the three points against a talented Saints team. The initial
line on this game was quite telling at Saints -1, and that is speaking volumes
to us.
Dallas Cowboys (-1.5) at Philadelphia Eagles – Total: 46.5
Sunday, December 22, 2019 – 4:25 p.m. EST
Week 16 Computer Pick: Cowboys (-1.5)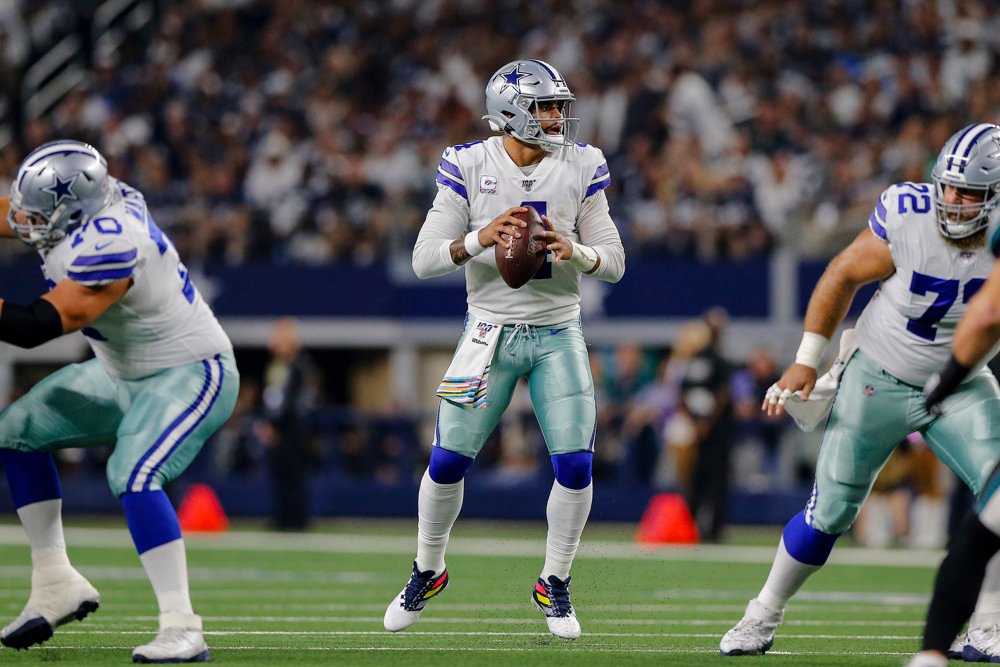 The NFC East is up for grabs as the Dallas Cowboys travel
into hostile territory to face the Philadelphia Eagles. Both teams are at 7-7,
with the loser of this game likely out of postseason play. Our betting pick is
for the Cowboys to cover the slight 1.5-point spread. Let's look at some of the
reasons why we're rolling with the road favorite.
Week 16 Betting Line: Cowboys at Eagles
We can probably expect this line to change more times throughout
the rest of the week. There's a key injury to the Cowboys quarterback that'll
likely affect things one way or the other, but he is expected to play. The line
did open with Dallas favored by -3 and now the public believes that'll be good
news for Philly. It's not great news for the Cowboys in the scope later down
the road, but modern medicine is a beautiful thing. We expect him to be ready
to go and lead the Cowboys to victory.
Cowboys Betting Form
After covering the spread in each of their first three
games, the Cowboys have gone 5-6 ATS over the last 11. Against Philly back in
Week 7, it was Dallas that dominated with a 37-10 victory.
QB Dak Prescott is dealing with an AC joint sprain in his
shoulder but is expected to play. The team will reportedly give him a cortisone
shot to make the pain disappear during the game. Because of that, Prescott
should be fine with only a few limitations. WR Amari Cooper is poised for a big
day against an Eagles secondary, who cannot seem to stop him. Since joining the
Cowboys, Cooper has 21 catches on 28 targets for 398 yards and 3 TDs.
Dallas will also rely on the legs of RB Ezekiel Elliott, who has at least 96 rushing yards and 140 total yards in each of his five career matchups against Philly. We could also see a few carries from backup RB Tony Pollard, who is coming off his second 100+ yard rushing game of the season. That ground attack can control the clock and not put the Cowboys defense in tough positions.
Eagles Betting Form
The Eagles luckily snapped a four-game streak of not covering
the spread last week. However, they are 5-9 ATS this season and 3-6 ATS over
the last nine. This is not a good football team right now, with plenty of injuries
racking up on the offensive side of the ball. The only thing that Philly has in
its favor is that this game will be played at home.
QB Carson Wentz has been very inconsistent over the last few weeks. Fortunately, the Eagles were playing the Giants and Redskins each of the last two weeks, and that allowed him to come from behind late and right the wrongs of earlier in the game. In all actuality, it's not all Wentz's fault. Philly regularly has wide receivers on the injury report; WR Nelson Agholor still hasn't practiced as of Thursday. Not to mention, the absence of OL Lane Johnson is just as crippling.
RB Miles Sanders emerged last week with a huge day, racking
up a total of 172 yards (122 rushing, 50 receiving) and 2 total TDs (1 rushing,
1 receiving). Coupled with fellow RB Boston Scott, these two will need to have
a big day if the Eagles want to keep things close.
Philly's secondary will end up being the weak link in this game. As we mentioned, Cooper has torched them in each of the last three meetings, and lesser QBs (Ryan Fitzpatrick, Eli Manning, and Dwayne Haskins) have all thrown multiple TDs against the Eagles in each of the last three games. If they can't figure it out, they're not going to the playoffs.
Week 16 Computer Pick: Cowboys (-1.5)
All in all, the Cowboys are simply the better team at the
moment. Most people seem to be scared off by Prescott's injury, but those
people probably never had a cortisone shot before. Prescott should at least be fine
physically for this week. If the Cowboys win, he can take it easy next week
against the Redskins.