The final four teams are set for the NFL Conference Championship weekend! In this article, we'll provide you with our top NFL Conference Championship Computer Picks on Sunday, Jan. 19, 2020. These matchups include the Tennessee Titans at Kansas City Chiefs and Green Bay Packers at San Francisco 49ers. Now, let's jump right in and view our top NFL Computer Picks for the Conference Championship games.
Best NFL Bet Of The Week
For those of you who wish to make the most of the NFL Conference Championship weekend. Our top betting offer of the week definitely comes from BetMGM. New customers win $200 when they bet $1 on a touchdown being scored in any Championship game. This seems like a no brainer to us!
NFL Divisional Round Computer Picks
Our NFL Divisional Round Computer Picks are chosen using an algorithm that analyses historical sports data to give you the bets that offer the best value bets to beat the New Jersey sportsbooks.
Jump to:
Tennessee Titans at Kansas City Chiefs (-7 | ML: -345) – Total: 52.5
Sunday, Jan. 19, 2020 – 3:05 p.m. EST
Arrowhead Stadium – Kansas City, MO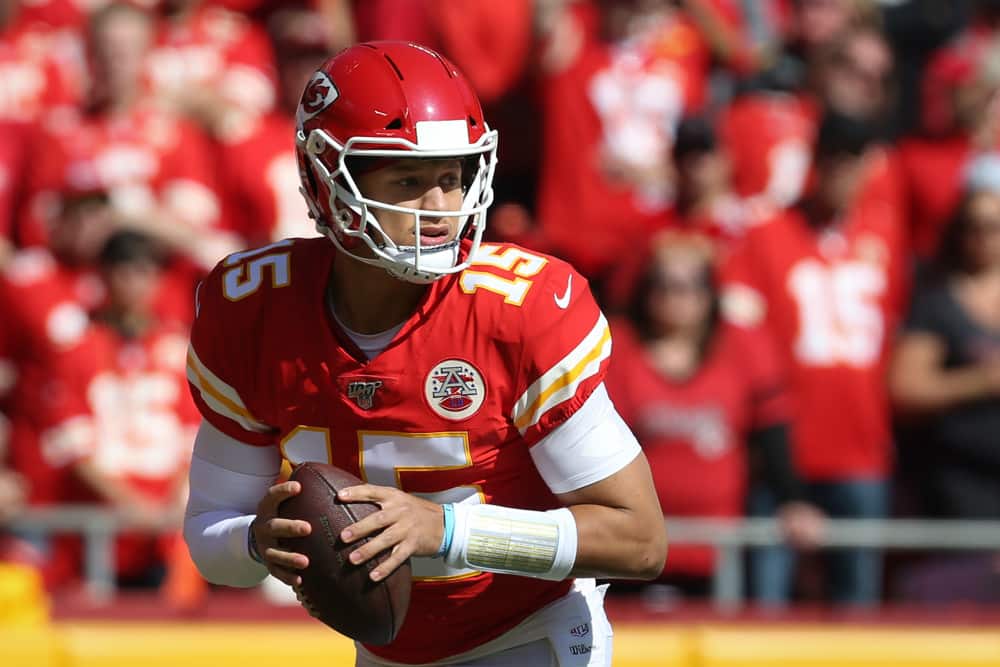 AFC Conference
Championship Computer Pick: Chiefs to cover the spread
The Conference Championship Games get kicked off with a matchup between the Tennessee Titans and Kansas City Chiefs. The two teams met earlier in Week 10 this season, and it was the Titans coming away with the 35-32 victory.
However, we see things being a bit different this time around in this playoff game. Our betting pick is for the Chiefs to cover the 7-point spread. Let's dive into the numbers to see why we're leaning on the favorite.
AFC Conference
Championship Betting Line: Titans at Chiefs
The spread on this game is at Chiefs -7, or
-7.5 at some books, and hasn't changed from that range during the week. As for
the total, we have seen that rise from 51 to 52.5, and even 53 at some books. The
public's highest percentage of bets for a team is on KC, at 62 percent, while 58
percent of those bets are on the total going over. It appears that everyone is
starting to believe the clock will strike midnight for Tennessee.
Titans Betting Form
After pulling two mega-upsets, the Titans
will look to make it three in as many tries this postseason. RB Derrick Henry
is playing incredibly well but you have to wonder when his massive workload is
going to take a toll. The former Alabama standout has 377 rushing yards on 64
carries (5.9 yards per carry) and one rushing touchdown – he even threw a touchdown
last week too. Dating back to Week 17, though, Henry has accumulated at least 30
carries and 180 rushing yards in three straight games. The fatigue factor is
coming at any moment.
The Titans are a whopping 9-2-1 ATS since QB Ryan
Tannehill emerged as the starter. Most of those games, however, were against subpar
competition and we can't say the same in each of these last two weeks. Tennessee
typically won't ask him to do much but he'll certainly need to be able to go
toe-to-toe against last year's MVP if needed. KC will certainly go all-in to
stop the run, so this could end up being a big individual performance for WR AJ
Brown. TE Jonnu Smith could be a factor, as KC allowed the third-most receptions
(96) to the position this season.
Tennessee's defense did a phenomenal job of
creating turnovers last week and capitalizing on them. However, this unit did allow
530 total yards to the Ravens, and that's not anything to be bashful over. Nonetheless,
they cannot count on the Chiefs making those same mistakes.
Chiefs Betting Form
The Chiefs pulled off an incredible comeback,
trailing 24-0, before reeling off 41 straight points en route to a 51-31
victory. With KC having that type of momentum late, there's no doubt that'll
carry over to this Sunday's game. Sure, Andy Reid had his fair share of playoff
troubles in years past, but this is a situation his team knows they have to
take advantage of. Especially with the Patriots and Ravens both out of the
playoffs.
QB Patrick Mahomes has a plethora of weapons
at his disposal. RB Damien Williams, WR Tyreek Hill and TE Travis Kelce are as
deadly of a trio as we've seen in the NFL. Last week, it was Kelce doing the
heavy lifting, with 10 catches on 12 targets for 134 yards and three
touchdowns. Williams also chipped in well with 68 total yards and three
touchdowns. We believe Hill will be the main weapon this week, after Ravens WR
Marquise Brown tore up the Titans in the same role last week.
KC's defense has been much better over the
last half of the season. Erase last week's 24-0 deficit from your memory, that
was nothing but a mirage. Of course, stopping Henry on the ground will be the
key aspect in this game. Putting tons of pressure on Tannehill and throwing
awkward coverages at him wouldn't hurt either.
AFC Conference
Championship Computer Pick: Chiefs to cover the spread
When these teams met in Week 10, the Chiefs outgained the Titans 530-371 in total yards. Tennessee benefited from a 53-yard fumble recovery and Henry 68-yard run for touchdowns. That being said, we expect KC to be a lot more disciplined this time around and advance to the Super Bowl. The Titans have exerted a ton of energy, and it's time for this team to finally meet their match in the AFC Championship Game.
Remember, if you're looking for a guaranteed winning bet this weekend. Our best bet of the week comes from BetMGM. New customers of BetMGM win $200 when they bet $1 if a touchdown is scored in any Game on Championship Weekend!
Green Bay Packers (+7.5 | ML: +275) at San Francisco 49ers – Total: 46.5
Sunday, Jan. 19, 2020 – 6:40 p.m. EST
Levi's Stadium – Santa Clara, CA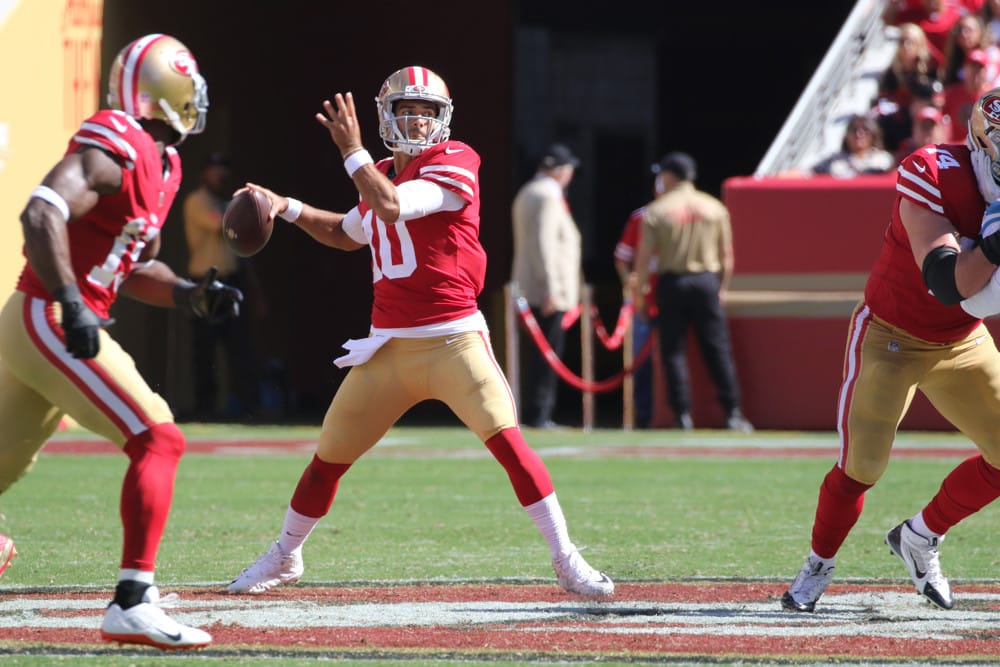 NFC Conference
Championship Computer Pick: Packers to cover the spread
The NFC Championship Game is also a rematch
of teams that faced off this season. Back in Week 12, it was the San Francisco
49ers beating the Green Bay Packers convincingly by the score of 37-8. However,
we believe that things will be different this time around. Our betting pick is
for the Packers to cover the 7.5-point spread. Let's dive into the numbers to
see why a turnaround is in store.
NFC Conference
Championship Betting Line: Packers at 49ers
The spread on this game is either 49ers -7 or
-7.5, depending on where you look. That hasn't changed much but the total made
a slight movement going from 45 to 46.5. The public's highest percentage of bet
on Sunday is on the total going over, which sits at 72 percent. In addition, 56
percent of the public bets are on the 49ers to cover – we're obviously going in
the other direction.
Packers Betting Form
The Packers will look to avenge that 29-point
drubbing back in late-November. It may not look like it from the final score,
but Green Bay had plenty of opportunities in this game. Had it not been for
some questionable calls early, we could have been looking at a much closer
game.
In that contest, QB Aaron Rodgers had absolutely
no time in the pocket. San Francisco's defense was ferocious in getting to him
with tons of pressure, so we should expect Green Bay to keep some extra guys in
to protect Rodgers this time around. We just saw the 49ers get to Kirk Cousins with
relative ease last week, and that's not lost on the Packers.
RB Aaron Jones could very well be the most
important piece for the Packers on Sunday. WR Davante Adams will likely draw all
sorts of coverage from the 49ers secondary. That could allow Jones and other
guys like WR Allen Lazard and TE Jimmy Graham to have solid outputs. Green Bay
will need to diversify its offense in order to have a chance, and we believe it'll
do so.
The Packers' run defense will play a major
role in this game. This is a defensive-front that can rotate numerous players
in and out to keep the bodies. Look for them to be stout up front and make the
49ers' quarterback beat them – which is not a recipe for success.
49ers Betting Form
The bread-and-butter approach for San
Francisco has been its three-headed rushing attack. RBs Raheem Mostert, Tevin
Coleman and Matt Breida will all find their hands on the football at some
point. We're never sure who is going to be the most productive of the bunch,
but this is how the 49ers do things – keeping it unpredictable. Since the
Packers have seen this already in person this season, they should be able to
neutralize the ground attack.
QB Jimmy Garoppolo had a solid performance against the Packers during the regular season, throwing for 253 yards and two touchdowns. He only needed to throw the ball 19 times last week, but that will not be the case this week.
Green Bay will certainly focus on stopping the run, which makes Jimmy G the most important part of this game. That might not be a good thing since the Packers can get to him and cause havoc. Also, we have to be cognizant of Garoppolo making too many mistakes, which he has done at times this season.
TE George Kittle had a solid stat line (6 catches, 129 yards, 1 TD) against the Packers during the regular season. However, his ankle has been a bit dinged up down the stretch and it did affect him last week.
Aside from the 49ers' running game, their
defense is the biggest strength. As we mentioned earlier, they were able to get
to Rodgers with relative ease in the earlier meeting this season. It's easy to
think that San Francisco will have a repeat performance, but we believe Green
Bay will adjust accordingly.
NFC Conference
Championship Computer Pick: Packers to cover the spread
There are a lot of people that are doubting the Packers and that's a huge mistake. 12-win teams that are at least +7 underdogs in the Conference Championship games are 3-0 SU / ATS. This could very well end up being a low-scoring game, and that'll allow Green Bay to keep this close and pull out the victory.
Super Bowl Computer Picks: Stay tuned…
Super Bowl LIV is the 54th Super Bowl will decide the NFL World Champion in the NFL's 100th year. The NFC champion San Francisco 49ers meets the AFC champion Kansas City Chiefs on Sunday February 2, 2020 at the Hard Rock Stadium in Miami Gardens, FL.
The Kansas City Chiefs head in to the Big Showdown as marginal favorites. The early points spread has them at -1.5 over a 49ers franchise not shy of Super Bowl glory, with 5 previous victories. A victory over a Chiefs team, whose fans haven't witnessed Super Bowl glory in precisely 50 years, would see them draw level with the Patriots and Steelers with 6 liftings of the Vince Lombardi Trophy.
Our Super Bowl Computer Picks will appear on US-Odds soon.