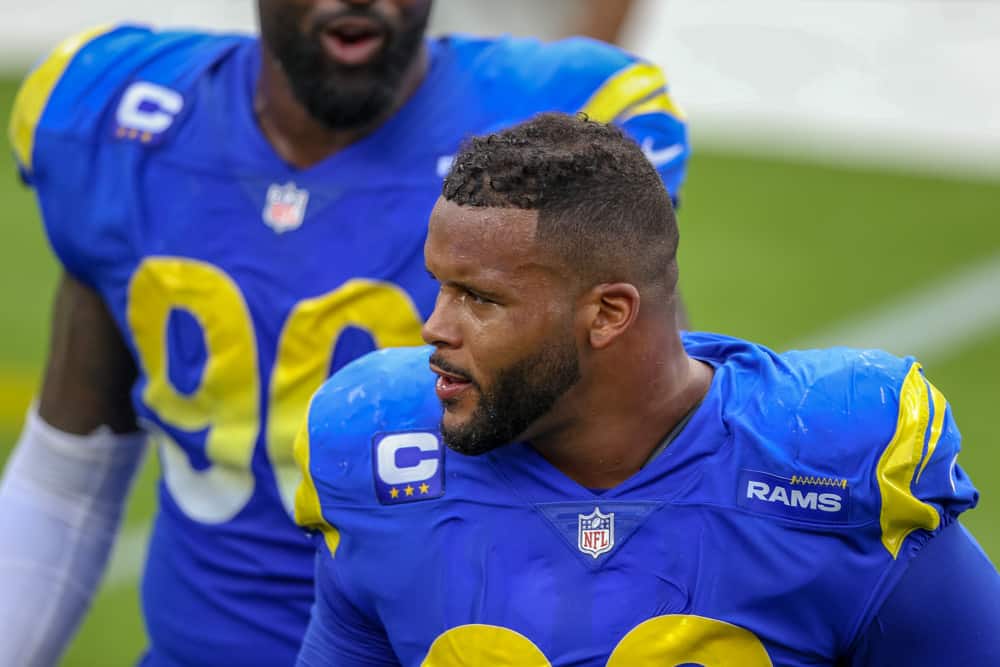 They always say that defense wins championships, and that was certainly evident as the Tampa Bay Buccaneers shut down Patrick Mahomes and the Kansas City Chiefs to win Super Bowl 55. In this article, I will sort through the 2021 NFL DPOY Odds to see if we can make some money on this always entertaining prop bet.
2021 NFL Defensive Player Of The Year Odds Analysis
---
Aaron Donald will look to win the NFL Defensive Player of the Year Award once again. As I mentioned earlier, he has won the award in three of the last four seasons. There's some stiff competition this year with Joey Bosa and former DROY winner Nick Bosa (+1200) both returning from injury while Chase Young (+1600) and Khalil Mack (+2000) are also names we should not forget about.

Jadeveon Clowney (+4000) is an absolute freak of an athlete, so getting these odds would be a great sleeper opportunity. This is going to be an incredible situation teaming up with Myles Garrett and Sheldon Richardson up front on the defensive line. Of course, for Clowney, it all comes down to staying healthy. He missed eight games last season and the hope is that he returns back to peak form.
Key Trends For NFL Defensive Player Of The Year
---
A defensive lineman has won this award in seven of the past 10 years, with Aaron Donald of the Los Angeles Rams and JJ Watt of the Arizona Cardinals (formerly with the Houston Texans) both winning this award three times in a span of four years. For these two guys, it wasn't really all about getting the quarterback. Donald's stats are never going to be that overwhelming as a defensive tackle, but his impact on the game is something that can never be taken away.
If a cornerback or safety is going to win this award, it would behoove them to have a record number of interceptions. For a linebacker, it's all about making total tackles, as opposed to getting sacks.

Expert Pick To Win Defensive Player This Year
---
Devin White (+3000)
It's amazing to me that Devin White is all the way down on the list at +3000. As the key member of the Bucs' Super Bowl-winning defense, he will look to make sure everyone knows last year was no fluke. It also helps White's benefit that he'll be playing on the same team as Tom Brady, who always gets the nationally-televised games. More exposure for White could be the only thing he needs to put him over the top and win this award.
2021 NFL DPOY Odds List
---