In this article, we'll provide you with our top Week 14 Monday Night Football predictions in the matchup between the Philadelphia Eagles and New York Giants. We study the betting lines, teams, and players to give you our recommended NFL betting pick to beat the New Jersey sportsbooks!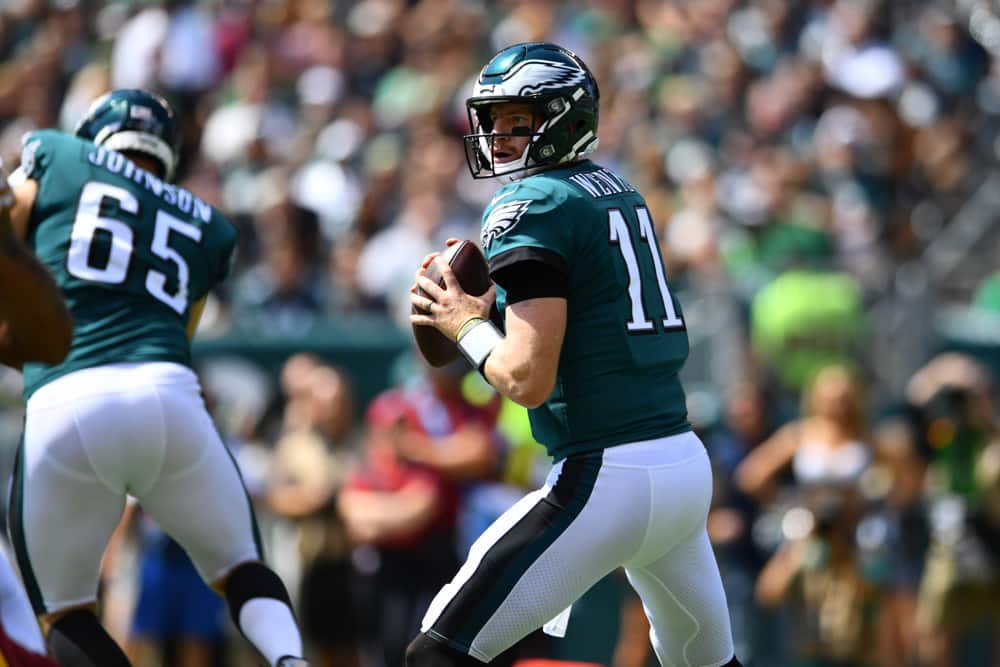 New York Giants at Philadelphia Eagles
Monday, December 10, 2019 – 8:15 p.m. EST

Week 14 MNF Prediction: Eagles -9.5
The New York Giants will head South on the New Jersey Turnpike for one of their two annual meetings with the Philadelphia Eagles.
An old foe will get himself into the rivalry once again. Given rookie quarterback, Daniel Jones will miss this game with a severe ankle sprain. Eli Manning will come back into the fray, which may or may not be a welcome feeling for Giants' fans. After all, he has a 10-20 career record against the Eagles.
Week 14 MNF Betting Lines: Eagles at Giants
Since both teams aren't playing great and there's a massive 9.5-point spread, a lot of bettors are unsure of which way to go. That's why we're seeing a solid 50-50 split in both public bets and all money wagered. You can't blame the people, considering we're not sure which football team we're going to get from either side.
However, these division games are usually high-spirited. Therefore, it is interesting to see a struggling Eagles team favored by this much for a second week in a row.
Eagles Betting Form
The Eagles are somehow still alive in the NFC East race. This is thanks to the subpar play of the Cowboys and the atrocity at the bottom of the division. Nonetheless, you have to win these easy games on your schedule, which is something the Eagles failed to do last week. Look for them to right the wrongs of last week and put a solid thumping on the Giants in primetime.
The schedule does favor Philly going down the stretch. Therefore, it would certainly behoove them to string a couple of wins together before the Week 16 marquee matchup against the Cowboys.
It's now or never for QB Carson Wentz and the boys. After watching the Cowboys lose in Chicago on Thursday. We think the Eagles put in a big performance and pull even in the division.
Giants Betting Form
Manning, of course, has led the Giants to their last two Super Bowl victories. However, things have not been pleasant for the veteran QB since. In fact, Manning hasn't even played since the Week 2 loss at home to the Bills. The Giants should have some of their better weapons back in wide receiver Golden Tate and tight end Evan Engram, but it may not make a difference.
The Giants' defense has been absolutely horrendous this season, and that'll ultimately be the difference in this one. Only two NFL teams are allowing more points per game than Big Blue.
Week 14 MNF Prediction: Eagles -9.5
Sure, the Eagles are really struggling right now, but the Giants are just not a good football team. Throw Eli into the equation, and that's the biggest recipe in this finished product of disaster. Look for the Eagles to apply pressure and make life difficult on him all night, resulting in turnovers and favorable field position.