In this article, we'll provide you with our top NFL betting picks for the Week 5 finale on Monday Night Football. In this game, we have the Cleveland Browns at San Francisco 49ers. We study the odds, betting lines, teams, and players to give you our recommended betting picks to beat the New Jersey sportsbooks.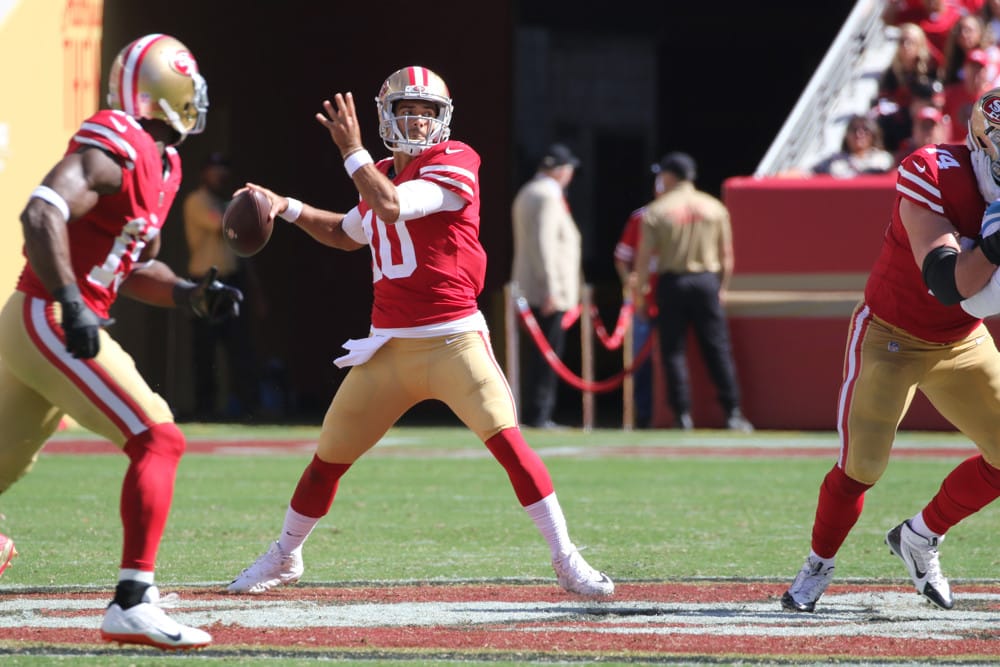 Monday Night Football sees a big matchup in Week 5. The Cleveland Browns hit the road again to take on the San Francisco 49ers. We don't see this matchup too often, as both teams are in different conferences. Nonetheless, there's one key factor as to why our betting pick for the 49ers is to cover the four-point spread against the Browns. Let's dive into the key facts and figures to see why.
Cleveland Browns at San Francisco 49ers (-4) – O/U: 46.5
Monday, October 7th, 2019 – 8:15 p.m. EST
Betting Pick: 49ers (-4)

TNF Week 5 Betting Lines: Browns at 49ers
We're seeing a nice mix of bets on both sides covering the spread. 55 percent of public bets are on the Browns while 53 percent of all money wagered is on the 49ers. In addition, we've seen the same sort of split on the total betting. With 57 percent of public bets are on the over while 54 percent of all money wagered is on the under.
Browns Betting Form
After a few weeks of scrutiny, the Browns had a fantastic win in Week 4 at Baltimore. They must think it's nice winning, considering no one has really questioned their play over the last week. Cleveland does face a tough opponent that's had plenty of time to prepare for them, so being on the A-game is quite essential.
QB Baker Mayfield still hasn't thrown multiple touchdowns in a game yet this season. That's disappointing considering he has two of the best receivers in the game. Last week, though, it was RB Nick Chubb that did all the heavy lifting by rushing for 165 yards and three touchdowns. He'll need a repeat performance if the Browns want to have a chance in this game.
The Browns' defense has looked well this season. Looking at the box score you might not see it that way. Nonetheless, it'll be interesting to see how they come out against the offensive guru that's had all the time in the world to prepare for them.
49ers Betting Form
Kyle Shanahan is one of the best coaches in football, there's no getting around that. With that being said, the 49ers are coming off the bye week and get yet another extra day to prepare since they'll be playing on Monday night. All of this preparation comes against a Browns team that has a first-year head coach coming off a highly-emotional win on the road against a divisional opponent and now has to travel across the country. Think things are looking up for the 49ers? We'd say so…
It's actually been San Francisco's running game that has led the team to a 3-0 record. The stable of running backs is everchanging and could get a nice shot in the arm if Tevin Coleman is able to play. Shanahan has dealt with a ton of injuries since becoming the 49ers' head coach. Yet, always seems to come out on top or, at least, looking respectable.
The defense could also get DE Dee Ford back for this game, which would be fantastic. They'll certainly need him to get some pressure on Mayfield so that he doesn't get the ball to his marquee playmakers.
MNF Week 5 Betting Pick: 49ers (-4)
A lot of the public will start piling on the Browns in this matchup, but not us. Shanahan with a ton of days to prepare is as good as it gets for bettors, and we're certainly going to take advantage of that. Look for the 49ers to be effective running the ball and then set that up for QB Jimmy Garoppolo to take it deep on some play-action passes.
Bettors can find the best odds on the 49ers at BetMGM. First-time customers get up to a $500 sign-up bonus when signing up for a new account.