In this article, we'll provide you with our top Week 12 Monday Night Football matchup between the Baltimore Ravens and Los Angeles Rams. We study the betting lines, teams, and players to give you our recommended NFL betting pick to beat the New Jersey sportsbooks!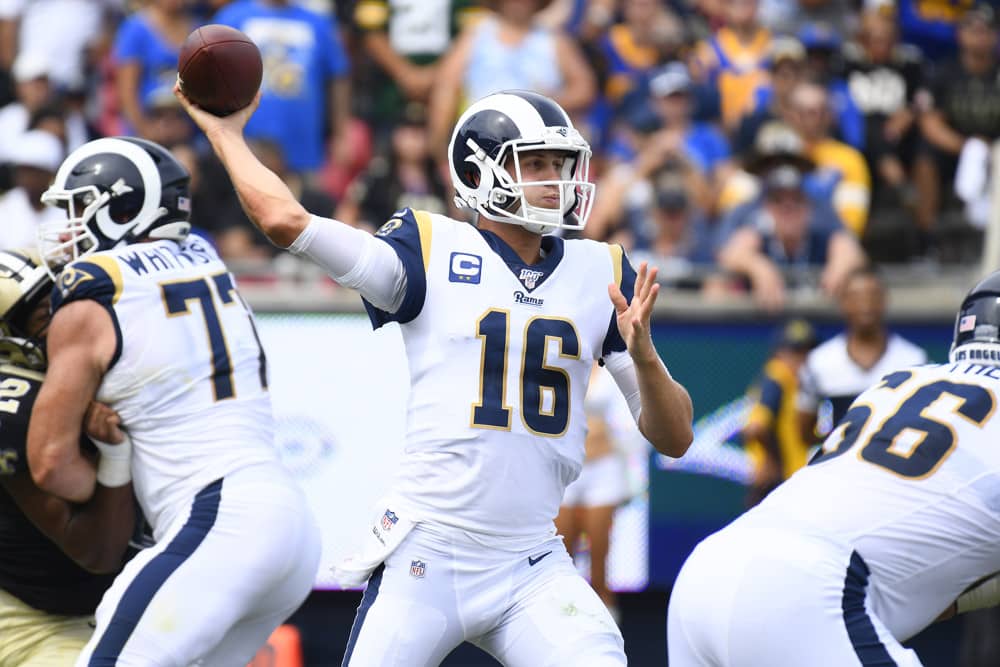 Baltimore Ravens (-3) at Los Angeles Rams – O/U: 46.5
Monday, November 25, 2019 – 8:20 p.m. EST

Week 12 MNF Pick: Ravens (-3)
We've got another marquee Monday Night Football matchup as the Baltimore Ravens travel across the country to face the Los Angeles Rams. There's a lot at stake for both teams in this game, which will make it must-see TV. Our top betting pick is for the Ravens to cover the three-point spread. Let's dive into the facts and figures to see why we're rolling with the road team in this one.
Week 12 MNF Betting Lines: Ravens at Rams
We're getting plenty of agreement on the Ravens in this matchup. On both the public bets and all money wagered, 80% of bettors are going that route. And how could you not place your money on the Ravens at this point? In three of the last four games, they've defeated some of the NFL's best teams in Texans, Patriots and Seahawks.
Ravens Betting Form
QB Lamar Jackson has the second-best odds to win the NFL's MVP award, and it's well deserved. He's completing 66.3% of his passes, has a 19 TD-5 INT ratio and 781 rushing yards with an additional six TDs on the ground. Not to mention, the offense is really humming along with at least 37 points in each of the last three games.
It seemed like an odd signing by the Ravens to get RB Mark Ingram before the season, but it has paid tremendous dividends. He hasn't been needed much in the last two games, considering they were blowout wins. However, look for the Ravens to unleash a well-rested Ingram in this one and get him closer to that 1,000-yard mark. Currently, he's got 667 yards and eight TDs on the ground this season.
As for the defense, this Ravens unit hasn't allowed more than 20 points in each of the last five games. In addition, they are tied for fifth in the NFL with 16 takeaways. The Rams got their star RB going on the ground last week, so stopping him will be of the utmost importance.
Rams Betting Form
As we mentioned, RB Todd Gurley tied his season-high 97 yards on the ground in last week's win against the Bears. He also added three catches for 36 yards. However, Gurley did fumble for the second week in a row, and that could be a cause for concern. The Ravens have been solid at taking the ball away, leaving our imaginations running wild at what could happen on Monday.
QB Jared Goff is expected to have all of his WR weaponry available for this game. WRs Brandin Cooks and Robert Woods will be a welcome addition back into the lineup, especially against a tough Ravens secondary. Nonetheless, we've seen this offense struggle for most of the season. We do not expect things to get any better in this matchup.
Speaking of things not getting any better, stopping Jackson will be a difficult task. In recent weeks, the Rams have faced some subpar QBs, and that won't be the case this time around. Look for Jackson to take another step toward making his case for MVP.
Week 12 MNF Pick: Ravens (-3)
At the end of the day, the Ravens have much better personnel and that'll be the key to victory. Look for them to establish the running game early and dominate the line of scrimmage. When the Ravens take the early lead, that'll force the Rams to go more into pass mode – and that's not a good thing.