In this article, we'll provide you with our top Monday Night Football pick between the Seattle Seahawks and San Francisco 49ers. We study the betting lines, teams, and players to give you our recommended NFL betting pick to beat the New Jersey sportsbooks!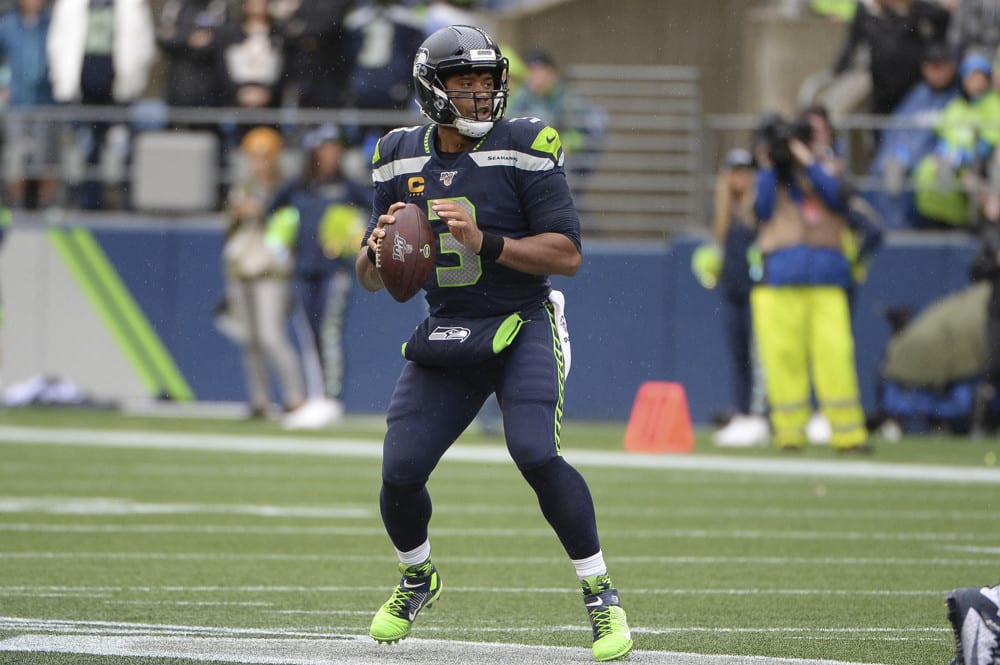 Seattle Seahawks at San Francisco 49ers (-6) – Total: 48
Monday, November 11, 2019 – 8:15 p.m. EST

Week 10 MNF Pick: 49ers (-6)
Two NFC West teams clash in a primetime showdown as the Seattle Seahawks hit the road to take on the San Francisco 49ers. As the only undefeated team left in the NFL, the 49ers still want to keep that mark alive and well. That's why our top betting pick is for the 49ers to cover the six-point spread. Let's dive into the numbers to see why we're heading in this direction.
Week 10 MNF Betting Lines: Seahawks at 49ers
It's quite surprising, but the Seahawks have taken the majority of bets so far. In fact, nearly two-thirds of both public bets and all money wagered are heading that route. Some sportsbooks have the 49ers at -6 or -6.5, which essentially means that we need them to win by a touchdown. Given how well the San Francisco defense has played, it should definitely be achievable.
Seahawks Betting Form
QB Russell Wilson continues to keep himself in the MVP discussion, and a win over the 49ers on the road would cement him there for the rest of the season. Wilson had a huge game in the Week-9 OT win against the Buccaneers, throwing for 378 passing yards and five touchdowns.
The Seahawks' offensive line will certainly have their hands full against a 49ers' defensive front that is loaded with former first-round talent. Throwing the ball won't come easy, and neither will running it. Head coach Pete Carroll and his offensive staff will need to come up with creative ways to keep that San Francisco front off-balance.
On defense, stopping the run against the 49ers is most important. Week after week, San Fran will come at the opponent with multiple RBs and dominate the line of scrimmage. Seattle has been above-average in terms of defending the run but ranks fifth-worst with 278.1 passing yards per game (278.1).
The Dallas defense has been solid this season, allowing the eighth-fewest total yards per game (324.9). This unit will be facing a QB making his first start on Monday Night Football so bringing pressure is certainly going to be part of the game plan.
49ers Betting Form
As we just mentioned, the 49ers' running attack is one of the best in football. In fact, only one team (Ravens) has more rushing yards per game (171.1). RBs Tevin Coleman and Matt Breida have been fantastic this season; they'll benefit even more from the return of OL Joe Staley/Mike McGlinchey and FB Kyle Juszczyk.
QB Jimmy Garoppolo is coming off his best game of the season, a 317-yard, four-TD performance against the Cardinals. The Seahawks' passing defense was already dissected in the section above, but it's worth noting that they've allowed 460 passing yards to Falcons QB Matt Schaub and 335 to Bucs QB Jameis Winston in each of the last two weeks.
The 49ers' defense ranks tops in the NFL with 241 total yards and 138.1 passing yards allowed per game. As we mentioned earlier, San Francisco's defense has numerous former first-rounders on the defensive line. Ratcheting up that pressure against a usually-elusive Wilson will be vital, and ultimately be the difference-maker in this game.
Week 10 MNF Pick: 49ers (-6)
The 49ers had an additional four days off before playing this game after playing last Thursday. In fact, the last time we saw this team with an extended break, they completely embarrassed the Browns on Monday Night Football. Not to say that kind of thumping will happen again, but we definitely like 49ers head coach Kyle Shanahan with extra time to prepare.