As we reach the final month of the NFL season there is much talk about two things. Who will win the Superbowl and who will win the MVP award?
Baltimore Ravens' quarterback Lamar Jackson is the lead MVP candidate with odds at -715, according to DraftKings Sportsbook. In fact, the odds suggest it looks like a foregone conclusion for Jackson to win the NFL MVP 2019 award. However, there's still time for other players to make their case in the final three weeks of the season.
Let's take a look at the MVP betting lines of who could come from behind and pull an upset in the NFL MVP race.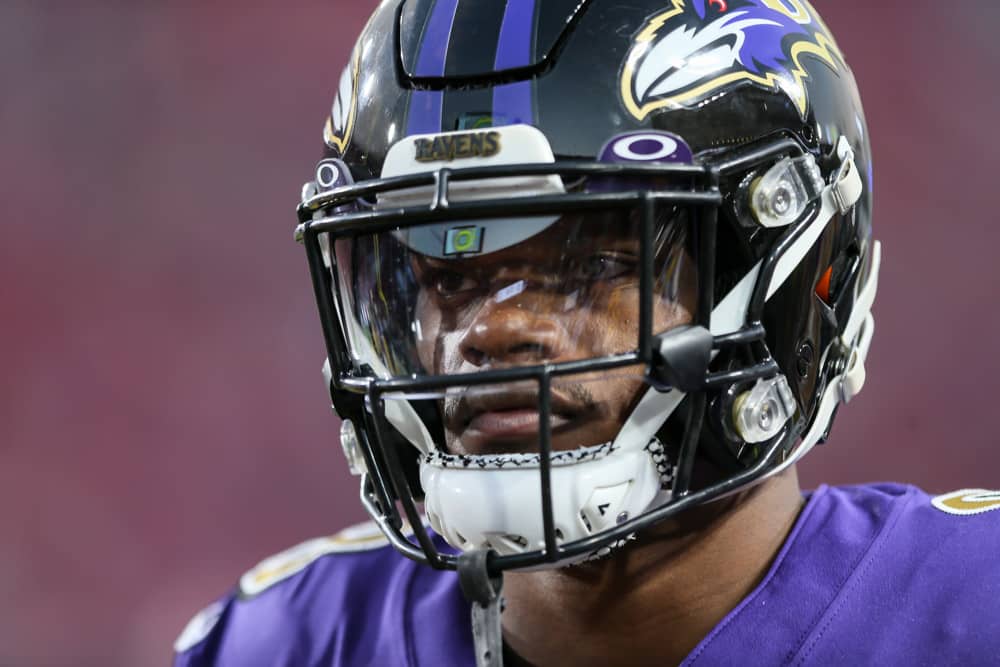 Odds information provided by DraftKings
Contenders To Beat Lamar Jackson to the NFL MVP 2019 Award
Russell Wilson – QB, Seattle Seahawks (+600)
Sure, the Seahawks just put up a brutal performance in primetime against the Los Angeles Rams, but +600 odds aren't terribly bad for Wilson. After all, Wilson looked like the clear-cut favorite a month ago with a 22 TD-1 INT ratio heading into the Week 10 matchup against the San Francisco 49ers. However, he's only posted 4 TD-4 INT over the last four games. If the Seahawks wind up edging the 49ers in the NFC, that'll certainly help Wilson's chances.
Deshaun Watson – QB, Houston Texans (+2500)
Watson and the Texans posted huge back-to-back wins at home against the Colts and Patriots. However, he followed that up with an upset loss to the Denver Broncos last week. Part of the problem is the offensive line, which was starting to look like they'd finally be able to help him out. Watson has now endured sacks over the last six games, with at least three in four of those.
The first step to winning the NFL MVP award would be winning the AFC South once again. He'd obviously need a few more things to fall into place as well, though.
Patrick Mahomes – QB, Kansas City Chiefs (+3000)
The NFL's reigning MVP certainly won't relinquish his award without a fight. Unfortunately, Mahomes missed a couple of games and the running game isn't nearly as effective since Kareem Hunt went to Cleveland.
Nonetheless, we know Mahomes is capable of putting up video game-like numbers at a moment's notice. He'll need more of that in the final three games in order to win the award. Mahomes does have a 21 TD-3 INT ratio this season, but only one TD pass in four of his last five.
Jimmy Garoppolo – QB, San Francisco 49ers (+6600)
While it's been the 49ers' running game doing most of the damage this season, Garoppolo has been fantastic of late. The former backup to Tom Brady has thrown for four TDs in three of the last six games, with three 300+ yard games in three over that span as well. Part of Garoppolo's slow individual start could be attributed to the team's potent running attack.
However, he did have to deal with an injuries to TE George Kittle and a number of their wide receivers. We've seen WR Emmanuel Sanders get healthier and have more of a rhythm with Jimmy G in recent weeks. Therefore, look for that success to continue.
Additionally, the 49ers could finish at 14-2 and that would help his case.
Michael Thomas – WR, New Orleans Saints (+10,000)
We'd be doing a disservice to ourselves by not putting at least one position-player on this list. And it's not like we're adding Joe Schmo to it. Thomas leads the NFL in receptions (121), targets (147) and receiving yards (1,424) – all while missing future Hall-of-Fame QB Drew Brees for a good chunk of the season.
In fact, Thomas is on pace to set the NFL single-season record of 143 receptions, set by the Indianapolis Colts' Marvin Harrison back in 2002. If Thomas can set that record, it'll put him in a much better spot.